Boasting best pipeline in Europe, moment of truth arrives for UK biotechs in 2018
A new report on the UK's bioscience sector shows it enjoyed a strong 2017, with international investment fuelling pipelines.
The UK has reaffirmed itself as one of Europe's biotech powerhouses, with 2017 figures showing its companies have the most pipeline candidates, and attracted the highest level of funding in Europe after Switzerland.
While Boston and San Francisco remain the twin leaders among global biotech clusters, the UK, in particular London-Oxford-Cambridge (the so-called Golden Triangle), is vying to be Europe's leader in biotech.
Looking at venture capital last year, £515 million ($736.8 million) was raised in the UK, compared to £154 million in France and £267 million in Germany. However Switzerland burst through this field with a mighty £1.194 billion raised. That said, most of this was for one company, Roivant. Taking this out of the figures left Switzerland with a more modest £363 million raised.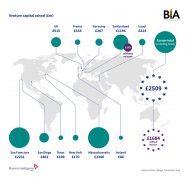 The pre-eminence of the US was illustrated by the £2.34 billion raised in Massachusetts and £2.23 billion in San Francisco. Even the more junior Californian cluster of San Diego raised £482 million. This, along with the rise of Switzerland, is challenging the UK's aspiration to be known as the world's third-biggest biotech cluster behind the two east and west coast US titans.
Switzerland also dominated in terms of the IPOs seen last year, with £1.052 billion raised, with France coming in second with a much smaller £240 million raised, and the UK in third with £234 million raised.
The UK BioIndustry Association (BIA) report, Pipeline Progressing: the UK's Global Bioscience Cluster in 2017, was able to point to a clear lead for the UK when it comes to number of candidates in the pipeline.
It found that the UK has the strongest pipeline in Europe across all preclinical and clinical stages, with 351 preclinical products in all, 43 in phase 1, 70 in phase 2 and 15 in phase 3.
The nearest competitors in terms of phase 3 assets were France, with 11 and Germany with six.
Also revealed was the fact that UK biotech company IPOs raised more than twice as much money in 2017 (£234 million) than the year before (£105 million), despite the global IPO market being muted.
UK biotech raised more on the public markets (£234 million raised in IPOs and £452 million from follow-on funding) than in venture capital (£515 million), a trend which the BIA says is a sign that these companies are maturing through the funding lifecycle.
Funding through the main London Stock Exchange remains rare, with 90% of biotechs preferring to list on the US-based NASDAQ.
Among the NASDAQ launch success stories from the UK last year were cancer specialists NuCana, gene therapy company Nightstar Therapeutics and respiratory-focused Verona.
The specialist exchange AIM remains the UK's best vehicle for a public launch, but doesn't have the same level of support as its US counterpart.
The UK government and other stakeholders are looking to encourage greater investment in the sector from institutional investors. There was good news on this score in 2017, with investment through vehicles that fund the sector including Arix Bioscience (£113 million) and Biopharma Credit (£606 million).
The data in the report was compiled with the help of Informa, and executive editor John Hodgson commented: "Two messages from the financial markets seem apparent. One is that some UK biopharma companies can readily compete for flows of international finance.
"The other is that UK investors continue to appreciate the potential of biopharma but currently prefer to explore it through vehicles that operate internationally rather than locally."
While these difficulties in raising funding persist, there is growing confidence that the sector could produce some globally significant breakthrough products.
Naturally, the uncertainty of Brexit and its potential threat to free trade and free movement of people was a major drag on the sector in 2017. This looks set to continue in 2018, though greater clarity, whatever the outcome of negotiations – will be welcomed.
John Hodgson commented: "Brexit brings uncertainty, at the moment principally about what it will bring. Until more is resolved, this environment raises investor risk one extra rung. That may explain why those in the UK who are keen on biopharma are looking for ways of making their money work globally."
The BIA's chief executive Steve Bates said this globalised outlook was helping to keep Brexit in context.
"We have seen that UK companies are more than capable of transcending the political issues and that there is a huge appetite both from UK and international investors for UK biotech."
The government-sponsored Life Sciences Industrial Strategy set itself the goal of creating four companies in life sciences with market capitalisation of £20 billion in the next 10 years.
This is clearly a very ambitious target, but denotes the growing confidence in the UK sector's pipeline.
A major obstacle to any UK biotech growing to this size is the expectation of biotech investors looking for an 'exit' once a company proves the value of its lead candidate or candidates, and the corresponding readiness of big pharma to buy out these firms.
Elsewhere in Europe, Belgium's Ablynx provides a current example of this trend, with Novo Nordisk currently in pursuit, now that the biotech firm is all set for its first FDA approval.
Also writing in the report, David Cox, healthcare specialist sales at Panmure Gordon, says 2018 is set to be a very busy year for UK life science companies.
He states some pivotal trial readouts could "potentially transform valuations in UK healthcare".
"Key events include the highly anticipated phase 3 result from Faron for its treatment of ARDS (acute respiratory distress syndrome). Another imminent high-profile readout is the interim (24 week) data from Summit Therapeutics' phase 2 PhaseOut Duchenne Muscular Dystrophy trial due in Q1.
"Both Faron and Summit could bring game-changing, first-in-class treatments to their respective indications, each having the potential to be a blockbuster."
While Brexit may create a bumpy ride at the macro level, the slings and arrows and unpredictability of clinical trials in novel medicines are also bound to create some surprises in 2018.
Read the full BIA report here: Pipeline Progressing: The UK's Global Bioscience Cluster in 2017