Deep Dive Digital Magazine
The Deep Dive Digital Magazine has fresh content on pharma and healthcare industry trends in an innovative and interactive layout.
Content can be written for you by pharmaphorum or supplied by you. We also offer responsive banner advertising through the journal within all non-paid content or a Deep Dive issue sponsorship. All options include a dedicated support marketing plan for 2 months post publication.
Want to get involved? Contact Adam Jeffery at +44 (0)1932 339 263, adam.jeffery@pharmaphorum.com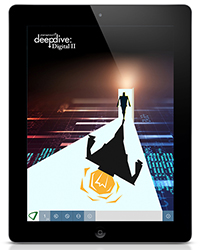 Digital II
There are an increasing number of digital companies with solutions entering the healthcare sector. These digital companies capture and analyse data, that can be used to improve clinical trial recruitment to real-world outcomes.
Patients and healthcare providers have technology to monitor symptoms and drug benefits over time. This is thanks to the abilities of hand-held and wearable devices.
Some pharma companies are blending digital into their company processes and others do not know where to start. This Deep Dive edition hears from the experts about how to navigate the challenges that still remain. There are some highlights of the companies and organisations shaking up the health space.