Digital Health: 2016 in review
Marco Ricci reviews some of the biggest digital health stories of 2016, and looks ahead to what 2017 may have in store.
Truth be told, the digital health market has grown year-on-year since around 2010 as the world we live in becomes gradually more entwined with technology.
In fact, such were the advances in 2016 that giving it the moniker of 'the year of digital' isn't too far from reality. The year saw some truly major steps towards digital health obtaining the mainstream status many believe it will adopt.
So how far did the digital health field progress in 2016? What was its biggest trend? And what does 2017 hold?
The biggest year of growth to date
To put the progress of the digital health market in perspective, it makes sense to first look at its financial growth of digital health startups. 
By July, the digital health startup market had already experienced its largest amount of funding ever, totalling around $3.9 billion – $1 billion more than at the same point of the year in 2015. By the end of Q3, which raked in an extra $2.37 billion, total funding in the market had reached $6.5 billion – tantalisingly close to the $7.1 billion funding record set in 2014. 
As expected, the total was soon shattered with the release of Q4 figures, stating that the total year's funding had reached a record-breaking $7.9 billion.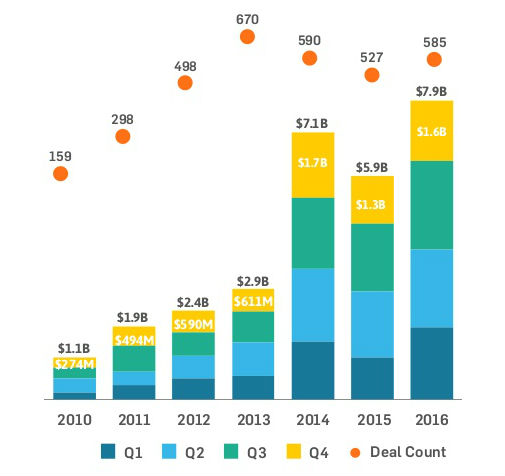 As well as its record-setting funding, 2016 also saw the most investors ever in the digital health market, reaching 865. 
Outside of the number crunching, the market is growing in a geographical sense too.
American hotbeds such as San Francisco and New York still head up the list of digital health startup stomping grounds, but more hubs are cropping up. The Boston Metro area was a close third in funding by the end of Q3, which also saw the emergence of new hotspots such as Washington and Dallas in the top ten most active funding areas.
Biggest deals of the year
One of the most high profile ventures of 2016 was Onduo, the $500 million alliance into diabetes digital health between Verily and Sanofi. Meanwhile Ping An Good Doctor – a Chinese medical service app raised $500 million in a Series A funding. The app gives users 24-hour one-on-one consultation with specialists from all medical disciplines, and already has 77 million registered users and over 50,000 doctors contributing to the service. Also in China is parenting website Babytree which stands as the third biggest digital health deal of 2016 at $448 million.
Alongside startup funding deals, numerous international collaborations are also forming, demonstrating the breadth and depth of digital health's potential. In the UK, Google DeepMind is applying its artificial intelligence to the NHS. Nokia is applying its tech to patient monitoring in Finland. Various health funds are being formed in Israel. German Merck launched a digital health accelerator programme in Nairobi. A Facebook chatbot to help pregnant women was launched in South Africa – to name a few.
So it's not just Silicon Valley that believes in the potential of digital health, its influence is spreading to all corners of the globe.
Blurring the line between technology and healthcare provider
One of the year's headline trends was the rise of artificial intelligence in healthcare.
The biggest player in this revolutionary field is IBM, whose Watson AI technology is transforming healthcare through better data analysis and decision-making. Its engrained multi-faceted technologies such as deep and machine learning are helping achieve the ideal vision of personalised healthcare, whether that be through improving cancer treatment decisions with Watson for Oncology, improving drug safety with Watson for Patient Safety, improving chronic disease management, or even repurposing old or failed drugs.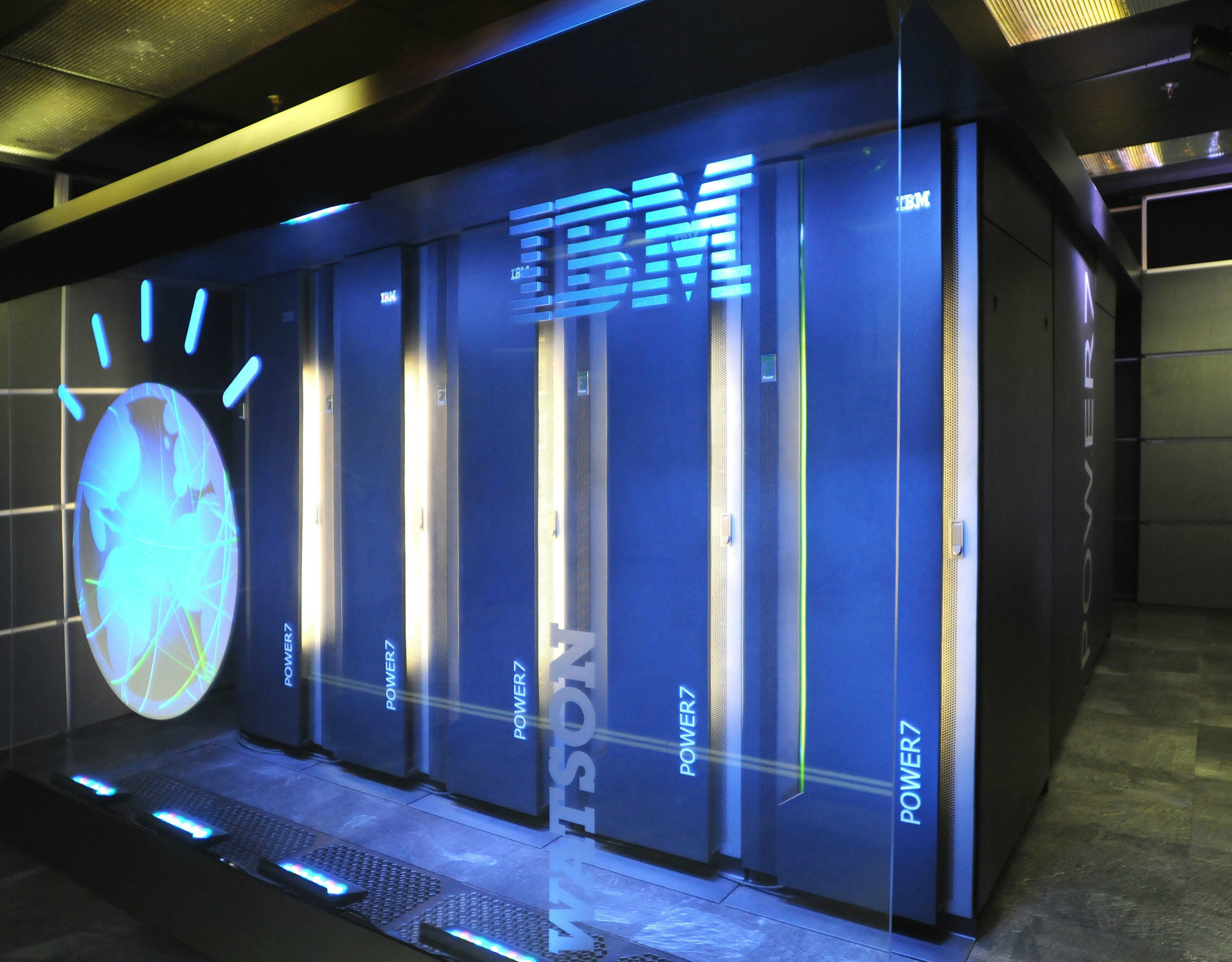 IBM's Watson computer forged many collaborations in 2016, from creating 'smart' hospitals to establishing links between indoor living spaces and wellbeing. 
Looking to rival IBM is Google. The formation of umbrella holding company Alphabet in 2015 enabled Google to ramp up its ventures into health, which it took full advantage of in 2016. Its DeepMind Health division is doing a similar job to IBM's Watson, applying AI to various health problems – like image analysis or the delivery of radiotherapy – whilst its life science division Verily continues to innovate in the diabetes market or create tools for Parkinson's patients.
Google's biggest rival in the smartphone software market, Apple, has also continued its push into healthcare. Focusing primarily on wearables and apps, Apple released its long-awaited Watch 2 aimed at the fitness and wellbeing market. At the same time, it had been plotting some major upgrades in its health apps offerings, communicating directly with the FDA to help develop an app capable of diagnosing Parkinson's.
Other, tech companies such as Philips and Siemens have also pursued their own digital health deals.
There are various smaller companies and research institutions applying the same tech to different facets of health: BERG Health is employing AI at the very core of its drug manufacturing process; Israeli startup Zebra Medical is applying machine learning to image analysis; and the University of Belgium and Cincinnati Children's Hospital Medical Center have proven the tech's worth in both cancer diagnosis and suicide prevention respectively.
Uncertain futures for some, certain disruption for all
As always with predictions, it's hard to tell exactly where digital health is going to end up in 2017. But from what we've seen in 2016, it is possible to make an informed guess.
Funding will continue to pour into the digital health market, reaching at least the amount we saw in 2016,  and possibly even surpassing it. Alongside the ongoing exposure of the public to digital health technologies through household names like Google and Apple, public figures backing the market will help to invigorate the market even further.
In the US, bills like the 21st Century Cures Act could help open the door to further digital innovation. President Obama has supported digital health via a variety of measures, including programmes like the Precision Medicine Initiative, Cancer Moonshot and the first ever White House Frontiers Conference – and these will add momentum to a digital revolution.
Of course, Donald Trump becomes the 45th US President on 20 January, and his reputation for unpredictability guarantees there will be surprises in 2017.
Much of the adoption of digital health hinges on the uptake and evolution of digital health records, and some fear that this could be disrupted by Trump's promise to repeal or substantially reform the Accountable Care Act (ACA). However many commentators in the field believe the need for cheaper, more rational healthcare decision making means digital health is here to stay. Indeed, the 21st Century Cures Act, which passed into law on 13 December, includes measures aimed at encouraging greater uptake and 'interoperability' between competing commercial IT platforms.
Consumer wearables
What perhaps isn't quite as certain is the future of wearables – at least, in the fashion they are known. Even market leader Fitbit is beginning to feel the pressures of retaining a loyal consumer base for its products, which is in part responsible for its gradual venturing into the clinical research space. Other companies like Apple and Samsung are seeing either plateauing or a drop in sales of their smart wearables, suggesting simpler, cheaper alternatives could lead the way in 2017.
Of course, these are just some of the many sub-markets of digital health that will experience change this year. Telehealth, mhealth, ehealth, medical devices etc. will likely bring their own surprises, both positive and negative. What exactly will they be? We'll just have to wait to find out.
To help give a steer on those big themes, the year kicks off with the Consumer Technology Association (CES) annual show in Las Vegas, and this huge expo hosts a dedicated digitalHealth Summit.  Among its key topics are:  advances in genomics and precision medicine, the sleep tech movement and 'megatrends' such as virtual reality (VR), 'tele-everything' and digital therapies.