Digital Health Round-up – DeepMind teams with UCLH, Google Glass start-up expands reach, and more
A round-up of this week's top digital healthcare news. Marco Ricci reports.
DeepMind continues NHS collaboration
DeepMind Health, Google's artificial intelligence (AI) specialist company, has extended its collaboration with the NHS to work on head and neck cancer.
Adding to its previous work with the Royal Free Hospital and the Moorfields Eye Hospital NHS Foundation Trust, DeepMind Health will deploy its machine learning capabilities to the process of segmentation – a key stage in the planning of radiotherapy delivery – at University College London Hospital.
Segmentation involves clinicians drawing around parts of a patient's anatomy on scans to help distinguish what tissue a radiotherapy machine needs to target and what to leave alone.
In order to achieve this, DeepMind's AI technologies will analyse 700 anonymised scans from former patients to develop a machine learning tool capable of cutting the segmentation time from around four hours to one.
Although DeepMind's projects have always had the best intentions, questions have been raised about data privacy in some of its past projects.
As part of its collaboration with the Royal Free Hospital, which intends to develop an app related to acute kidney injury called Streams, NHS England and Google reached a data-sharing agreement giving DeepMind access to an estimated 1.6 million NHS patient records.
Despite NHS England's insistence on the arrangement with DeepMind being the 'standard NHS information-sharing agreement set out by NHS England's corporate information governance department', many criticised the disclosure of seemingly unnecessary information in relation to the development of an app.
There will, no doubt, be similar concerns for this new venture, although both parties have insisted that the data will be used responsibly.
Google Glass start-up expands reach worldwide
Google's attempt at building an ubiquitous computer with its Google Glass project was a pretty big flop when it was launched in 2014. Undeterred by the lack of public interest, Google has pressed on with quietly developing it, and a number of start-ups are working on applications for its use in healthcare.
One of those start-ups is San Francisco-based Augmedix, a company that intends to use Google Glass to eliminate time spent filling out electronic health records.
The idea is that during a patient consultation, doctors wear Google Glass which records the visit automatically, taking notes on their behalf. The notes are simply reviewed before being integrated into patient health records. The company claims its solution can save doctors up to 15 hours per week while delivering a more personable experience for patients.
The actual filling out of the forms is performed by specially-trained 'scribes' who can also answer doctors' questions in real time. Patient information can also be pulled straight from patient records to doctors' Google Glasses, including lab results, medication history and allergies.
This week, Augmedix unveiled a partnership with global SD-WAN provider Aryaka to help boost its connectivity to a worldwide level.
The information recorded from a consultation is currently stored in a cloud data centre which is then accessed by the scribes. Aryaka's technology gives Augmedix access to a global private network that bypasses the public internet. The end result is a more stable, faster connection, giving 24/7 CCIE-level customer support.
Regardless of its teething problems, Google Glass is gradually gaining ground in healthcare. In 2013, the wearable was used in the world's first live-streamed surgery conducted by Venezuelan surgeon Rafael Grossmann. The feat was recently repeated by London cancer surgeon Dr Shafi Ahmed.
Alongside Augmedix, other start-ups are utilising Google Glass in innovative ways. Drchrono, a Mountain View, California-based electronic medical record company has developed what it refers to as the first 'wearable health record', which allows doctors to record consultation and surgical procedures with the patient's permission. Media can then be stored in the patient's electronic medical record.
Milan-based start-up Surgery Academy also launched a remote training platform in 2014 allowing medical students to join any operating room via Google Glasses worn by surgeons.
Perhaps most incredible of all has been the use of Google Glass in neurotechnology. Again in 2014, digital specialist This Place released the open-source app MindRDR which allows users of Google Glass to take pictures and share them on social media, purely from brain activity alone. The technology could help those with severe disabilities engage with social media.
Researchers at Stanford University are investigating adding face recognition technology to Google Glass to help people with autism by reading others' emotions in the Autism Glass Project, while researchers at Newcastle University are investigating how Glass can help people with Parkinson's disease.
PharmRight and Zipit team to take on medication adherence
Patient adherence to medication regimens is one of the biggest issues in healthcare today, with poor adherence often resulting in higher care costs and worsened prognoses.
With the advent of Internet of Things (IoT) technology, however, the issue may start to be overcome, with the development of an IoT medication dispensing unit platform from US-based health technology firm PharmRight.
PharmRight has announced that it is teaming up with technology solutions provider Zipit Wireless to develop the former's Livi IoT medicines dispensing system.  
The unit can store a 90-day supply of up to 15 different oral medications and prompts users when and how to take their medications through audio and visual alerts.
Zipit's cloud-based application enables easy scheduling of medication programmes, as well as recording all interaction with the Livi system, alerting caregivers via text or email when a medication hasn't been taken. The application also gives Livi access to a nationwide US wireless network, making setup more straightforward.
Livi's commercial release is imminent following PharmRight's registration with the US FDA in August. However it will face some considerable competition in the market, not least from tech giant Royal Philips, with its Medido medication dispenser.
In June, the company revealed data showing that around 96% of patients using the Medido device remained adherent to their treatment regimen. A 94% adherence rate was also seen in those with a two-or-more-a-day treatment regimen.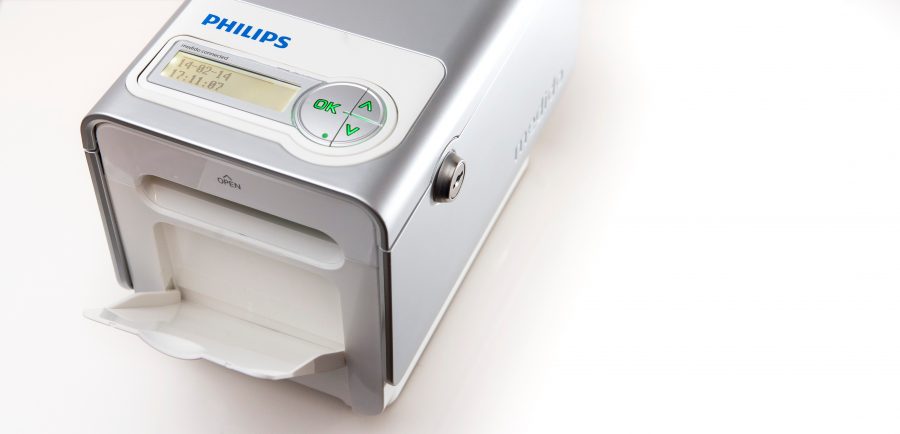 Philips is looking to release its Medido medication dispensing unit in the US and Europe by the end of the year. 
Also in the news: