Digital health start ups enjoy strong funding
Digital health start ups are attracting more financing than ever before, according to a new survey of fundraising in the first half of 2016.
Total investment into the sector has reached a record $3.9 billion high, beating the previous high of $3.5 billion set in 2014 and eclipsing the $2.9 billion set in 2015, according to the new report from Startup Health.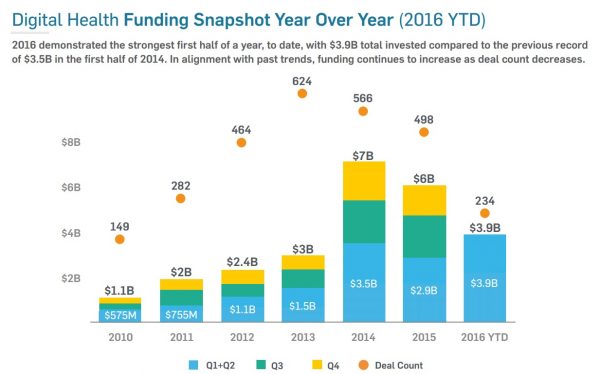 The biggest investment so far this year was seen in the $500 million Ping An Good Doctor deal, money that will go towards the development of a patient scheduling and navigation app.
The second highest was seen in a $400 million investment in wellness and insurance company Oscar whilst Human Longevity Inc.'s $220 million deal series B financing round in April completes the top three biggest investments so far this year.
So far, a total of 234 deals have been completed, however whether the number of deals will continue to decrease – as seen between 2013 and 2015 where the total number of deals decreased from 624 to 498 respectively – remains to be seen.
The most active markets in digital health have been the patient experience, wellness and personalized health sectors, with Livongo, Healthline and Guardant Health being some of the biggest deals in each market respectively. Out of the three, the personalized health sub-sector has seen the most growth, mirroring the growing interest in individualized healthcare options that has been seen in the healthcare sector as a whole over the past few years.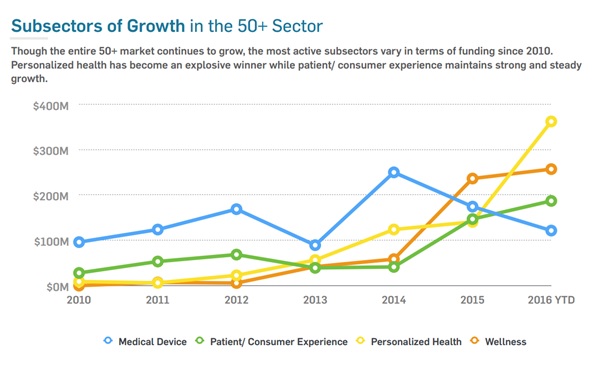 In the US, the most notable changes in the digital health market have been the emergence of funding hubs. Although the San Francisco Bay Area and New York City Metro Area still remain the dominant funding juggernauts they have always been (with funding deals totaling $967 million and $753 million respectively), a healthy group of new hotbeds have emerged in the likes of San Diego, Boston and Chicago.
Perhaps most encouraging of all the statistics presented in the report is the number of investors in 2016 to date. Totalling 446 single deal investors, and floating around the 450 mark for total unique investor deals to date, 2016 has seen a more than doubling of unique investor deals in the market since 2010, indicating a continuous growth in investor interest in the digital health field.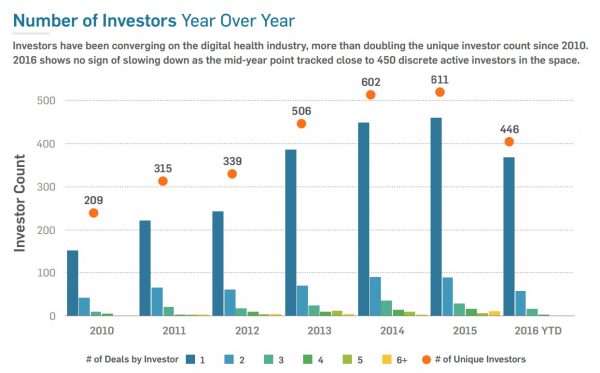 Click here to read the full Startup Health Insights report.
Don't miss your daily pharmaphorum news.
SUBSCRIBE free here.