Novartis to develop digital therapies with Pear
Novartis has joined with one of the rising stars in digital health, Pear Therapeutics, to develop digital therapeutics for patients with schizophrenia and multiple sclerosis.
The Swiss pharma company helped Pear raise $50 million in a funding round in January, and has now decided to strike a formal collaboration with Boston-based Pear.
Novartis is trying to bring about a digital transformation across its business, and now says it aims to be a "medicine and data science" led company.
In September, Pear's reSET became the first digital therapeutic approved by the FDA, as a treatment for Substance Use Disorder (SUD).
The companies will work together to find treatments that better address the full burden of schizophrenia and multiple sclerosis.
Pear's digital therapeutics are designed to deliver clinically-proven treatments, such as cognitive behavioural therapy to patients through mobile and desktop applications.
Once approved they may be prescribed alongside drugs and have the potential to treat a range of diseases.
They will start with a schizophrenia digital therapeutic, THRIVE, for patients with schizophrenia after promising results from early clinical studies.
The collaboration also covers a new digital therapy to address the mental health burden in patients with MS.
In January Novartis also announced it will scale up the use of Apple ResearchKit in clinical trials, having been an early adopter of the technology along with competitors such as GlaxoSmithKline.
The tool allows clinical trial participants to enter their own data remotely including via sensors that collect movement and symptom data, removing the need for patients to visit the clinic.
New CEO Vas Narasimhan has said that between 10% and 25% of clinical trial costs could be cut if digital technology were used to carry them out more efficiently.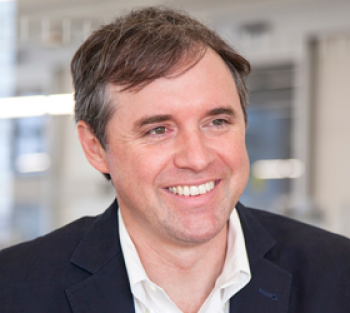 Novartis' Jay Bradner
Jay Bradner, president of the Novartis Institutes for Biomedical Research, who is leading the company's research digital transformation, said: "With widespread adoption of digital devices, prescription digital therapeutics could potentially play an important role in future treatment models for a range of diseases with high unmet medical need."
Pear's CEO Corey McCann said: "Novartis shares our vision for prescription digital therapeutics that work alongside drugs to deliver superior patient outcomes. We believe this collaboration further supports the clinical viability of prescription digital therapeutics as an emerging treatment modality and we are poised to execute on that opportunity."
Another pharma company emerging as a trailblazer in integrating digital health into is business is Roche. Novartis' Swiss rival recently acquired cancer data specialists Flatiron, as well as diabetes management platform MySugr.
Don't miss your daily pharmaphorum news.
SUBSCRIBE free here.