Deep Dive Digital Magazine
The Deep Dive Digital Magazine has fresh content on pharma and healthcare industry trends in an innovative and interactive layout.
Content can be written for you by pharmaphorum or supplied by you. We also offer responsive banner advertising through the journal within all non-paid content or a Deep Dive issue sponsorship. All options include a dedicated support marketing plan for 2 months post publication.
Want to get involved? Contact Adam Jeffery at +44 (0)1932 339 263, adam.jeffery@pharmaphorum.com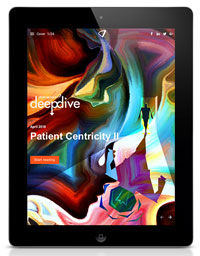 Patient Centricity II
The phrase 'patient centricity' has been a buzzword for some time in the industry, but how many companies are merely paying it lip service? Are there firms that truly understand and have taken steps to reorganise their approach, internally and externally?
Though patient organisations and charities may feel pharma has a long way to go, this edition of Deep Dive features many examples where companies have listened and partnerships have resulted in improvements to patients' lives – and pharma's bottom line.
Read this issue for advice from the experts on how to define patient centricity, build trust and develop strong relationships.