Deep Dive Magazine
Managing Editor – Linda Banks
pharmaphorum's Deep Dive digital magazine presents accessible, insightful content on pharma industry trends in an innovative, interactive layout.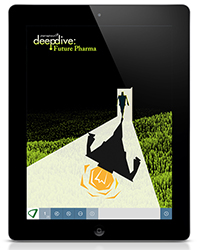 Future Pharma July 17
Healthcare is facing transformation – tech companies large and small are moving in to the sector and, in turn, pharma is partnering with tech companies to develop novel solutions for patient monitoring, adherence, improving clinical trials, big data analysis, and recording the real-world effects of therapies, to name just a few. Add proactive patients and tailored drug advances and the future looks both exciting and uncertain.
This edition of Deep Dive considers topics ranging from pharmacogenomics and regenerative medicine to the growing importance of the behavioural sciences to current applications for artificial intelligence (AI), augmented reality (AR), virtual reality (VR) and bioelectronics.