Deep Dive Digital Magazine
The Deep Dive Digital Magazine has fresh content on pharma and healthcare industry trends in an innovative and interactive layout, serving a circulation in excess of 40,000 with every issue.
Content can be written for you by pharmaphorum or supplied by you. We also offer responsive banner advertising through the journal within all non-paid content or a high-profile Deep Dive issue sponsorship. All options include a dedicated support marketing plan for 2 months post publication.
If you would like to get involved in future editions of Deep Dive contact Adam Jeffery at +44 (0)1932 339 263 adam.jeffery@pharmaphorum.com or visit our Advertise page.
The next issue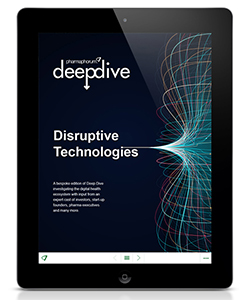 Deep Dive: Disruptive Technologies
AI
Chatbots
Data disruption
Mobile
IoT
Blockchain
Want to be included in the next edition?
Contact Adam Jeffery on adam.jeffery@pharmaphorum.com or tel: +44 (0)1932 339263.
Sign up to ensure you receive the next issue of Deep Dive. You can also register at the same time for pharmaphorum's daily and weekly news services, which will be delivered straight to your inbox.
The current issue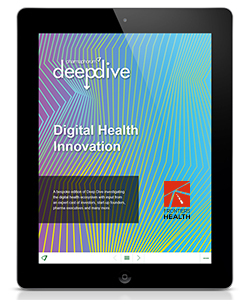 Deep Dive: Digital Health Innovation
This bespoke edition of pharmaphorum's regular Deep Dive digital magazine investigates the digital health ecosystem with input from an expert cast of investors, start-up founders, pharma executives and many more.
Produced in partnership with Healthware International, Deep Dive: Digital Health Innovation talks about the convergence of digital and traditional medicine, the pace of healthcare technology adoption and the transformation of patient outcomes.
There's advice on how to use digital technology to support patients on their empowerment journeys and how pharmaceutical companies can best work with health tech start-ups.
Continuing that theme the issue features Pfizer on its work with start-ups and Bayer on how its innovation team is injecting an entrepreneurial spirit to the pharma company's work.
The issue also looks at the development and potential of digital therapeutics, and emerging regulatory approaches within this exciting area.
As a whole the issue brings a wide range of insights to the core themes that will be covered at November's Frontiers Health event in Berlin.
Our future Deep Dives
late November / early December 2018: Disruptive Technologies
February 2019: R&D Innovation
April 2019: Access & Commercialisation
June 2019: Oncology
September 2019: Sales & Marketing Innovation
October 2019: Digital Health
December 2019: Patient Engagement
Want to get involved? Contact Adam Jeffery at +44 (0)1932 339 263, adam.jeffery@pharmaphorum.com
Previous issues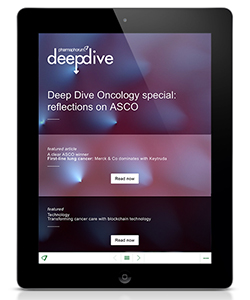 Deep Dive Oncology special: reflections on ASCO
Welcome to a special edition of Deep Dive focusing exclusively on Oncology. This is the first of a series of Deep Dive issues which combine unique insight and opinion with the best from a leading medical conference.
The conference in question this time around is the 2018 American Society of Clinical Oncology (ASCO) conference, which pharmaphorum's senior report Richard Staines attended in June.
Highlights from our Oncology special edition include an interview with Merck & Co's research chief Roy Baynes about how there could be more to come from Keytruda, plus further insights from ASCO into CAR-T cell therapies for drug cancer, reviews of the latest research in prostate and breast cancer drugs and how digital technology could help diagnose cancer earlier. Other highlights include an article from Witty Health on how blockchain technology could transform cancer care, whilst Matt Coffey, president and chief executive officer at Oncolytics Biotech talks about the oncolytic virus renaissance and how it is improving the efficacy of current immunotherapies. Plus, health economist Leela Barham reviews the latest ways to assess the worth of new cancer drugs, and the implications for pharma and patients too.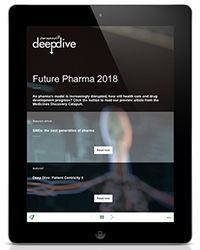 Future Pharma 2018
Welcome to the latest edition of pharmaphorum's Deep Dive magazine, once again bringing expert insight and analysis together to delve into a critical industry topic.
This issue brings forth evidence of what the likely future is for our industry, what this means for healthcare and how pharma can best navigate the sea change ahead to ensure a successful and sustainable future.
Highlights from the Future Pharma 2018 edition include:
Chris Molloy of the Medicines Discovery Catapult explains why the future of medical innovation lies with the industry's SMEs
Karen Taylor of Deloitte offers six predictions for the course of our industry into 2022, both evolutionary and revolutionary.
How Blockchain could enable a truly global healthcare ecosystem.
And a look into real-world examples of how nanotechnology is now advancing medicine, and the challenges faced.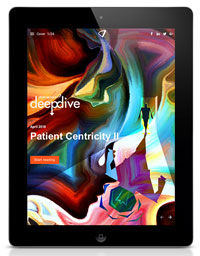 Patient Centricity 2018
The phrase 'patient centricity' has been a buzzword for some time in the industry, but how many companies are merely paying it lip service? Are there firms that truly understand and have taken steps to reorganise their approach, internally and externally?
Though patient organisations and charities may feel pharma has a long way to go, this edition of Deep Dive features many examples where companies have listened and partnerships have resulted in improvements to patients' lives – and pharma's bottom line.
Read this issue for advice from the experts on how to define patient centricity, build trust and develop strong relationships.