Deep Dive Digital Magazine
The Deep Dive Digital Magazine has fresh content on pharma and healthcare industry trends in an innovative and interactive layout, serving a circulation in excess of 40,000 with every issue.
Content can be written for you by pharmaphorum or supplied by you. We also offer responsive banner advertising through the journal within all non-paid content or a high-profile Deep Dive issue sponsorship. All options include a dedicated support marketing plan for 2 months post publication.
If you would like to get involved in future editions of Deep Dive contact Adam Jeffery at +44 (0)1932 339 263 adam.jeffery@pharmaphorum.com or visit our Advertise page.
Next issue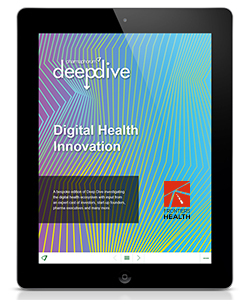 Deep Dive: Digital Health Innovation
This bespoke edition of pharmaphorum's regular Deep Dive digital magazine investigates the digital health ecosystem with input from an expert cast of investors, start-up founders, pharma executives and many more.
Produced in partnership with Healthware International, Deep Dive: Digital Health Innovation talks about the convergence of digital and traditional medicine, the pace of healthcare technology adoption and the transformation of patient outcomes.
There's advice on how to use digital technology to support patients on their empowerment journeys and how pharmaceutical companies can best work with health tech start-ups.
Continuing that theme the issue features Pfizer on its work with start-ups and Bayer on how its innovation team is injecting an entrepreneurial spirit to the pharma company's work.
The issue also looks at the development and potential of digital therapeutics, and emerging regulatory approaches within this exciting area.
As a whole the issue brings a wide range of insights to the core themes that will be covered at November's Frontiers Health event in Berlin.
The current issue
Previous issues