Medical Informatics and Rare Disease: a bridge between two worlds

Webinars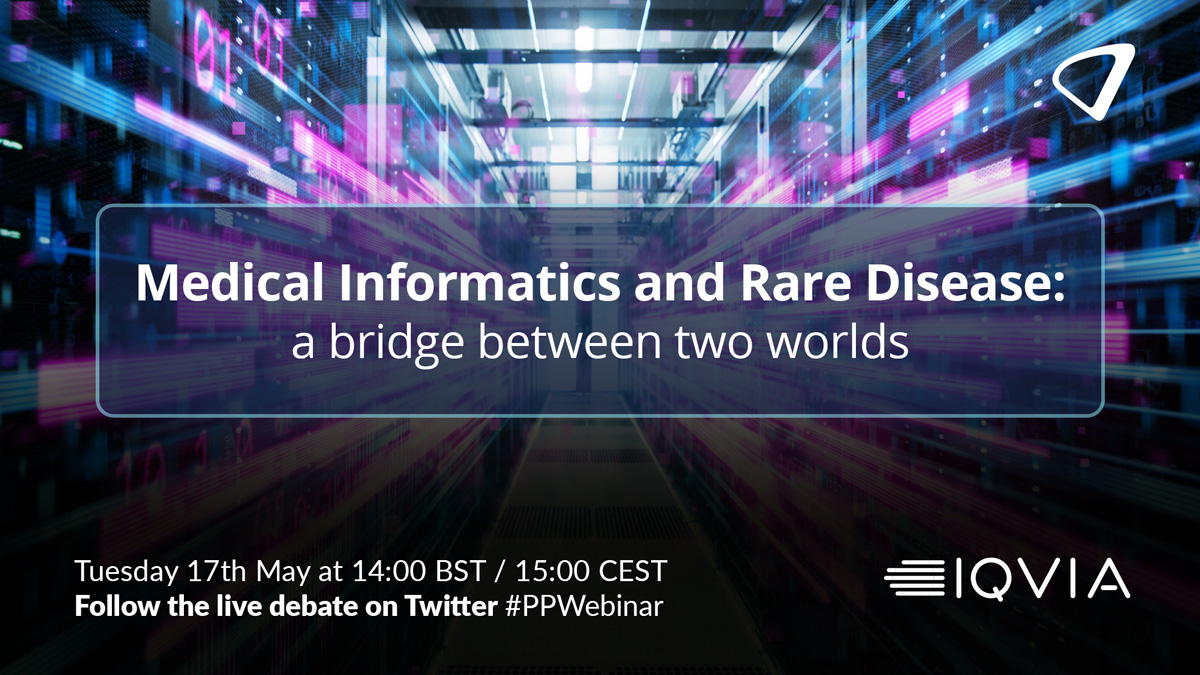 With more than 6,000 different diseases comprising the rare disease (RD) landscape, connecting patients and practitioners with the expertise needed to achieve the correct diagnosis can be a significant barrier to treatment.
As the severity, progress and treatment potential of RD varies from patient to patient, each condition needs to be addressed differently using specialist expertise. This is where modern technologies and data-driven medical informatics can bridge gaps in RD research.
Join us on Tuesday 17th May at 14:00 BST / 15:00 CEST for this webinar, sponsored by IQVIA, where panellists will be discussing the use of rare disease-specific software solutions and how medical informatics methods can be used to reuse healthcare data for rare disease-relevant research.
The webinar will also cover:
How the necessary routine and research data can be collected in registries in a further processable form by patients and healthcare professionals

Optimising and exploiting data for use in rare disease-specific research and studies

Analysing data spread across many health care facilities and patient registries in compliance with data protection
About the panel

Holger Storf heads the Data Integration Centre (DIC) at the University Hospital Frankfurt and leads the Medical Informatics Group (MIG) since November 2015. Additionally, he is the Co-PI for Frankfurt of the MIRACUM-Consortium, funded in the German Medical Informatics Initiative and project leader of different national and EU-wide Rare Disease Registry-Projects and Dr. Storf continues coordinating the technical activities of the OSSE-project (Open Source Registry System for Rare Diseases).

Dennis Kadioglu is the deputy head of both the Medical Informatics Group (MIG) and the Data Integration Center (DIC) at the University Hospital Frankfurt in Frankfurt am Main. His research focuses on the development of methods for improving the exploitation and integration of medical routine and research data for answering subordinate questions. He is known for the ongoing development and application of the software solution Data Element Hub (DEHub), which as a Metadata Repository holds reusable specifications about the data elements of a data set. In this field he contributes to various research projects like MIRACUM (funded in the German Medical Informatics Initiative by the German Ministry of Education and Research) and EJP-RD (funded in Horizon 2020 by the European Union) focusing on the development of adequate IT support to foster collaboration in medical research.

Josef Schepers is deputy director of the Core Unit E-Health and Interoperability within Berlin Institute of Health at Charité – Universitätsmedizin Berlin. In 2019 with others, he designed and since 2020 he coordinates the network "Collaboration on Rare Diseases" (CORD-MI) within the Medical Informatics Initiative of the German Federal Ministry of Education and Research. Twenty university hospitals participate in CORD-MI to make Rare Diseases visible and open up opportunities for care and research.

Michéle Zoch is research associate at the Institute for Medical Informatics and Biometry of the Medical Faculty Carl Gustav Carus, Technische Universität Dresden. Thus, she belongs to the Center for Medical Informatics at the University Medicine Dresden. Her research area is the secondary use of observational data of patients with rare and unclear diseases; with attention to the research data infrastructure and terminologies. She collaborated in projects like BIDA-SE ("Possible Uses and Clinical Benefits of Big Data Applications for Rare Diseases"), CORD-MI ("Collaboration for Rare Diseases") and SATURN ("Smart Doctor Portal for Patients with Unclear Diagnosis"). In 2021, she co-founded OHDSI Germany, which is as a national node of the Observational Health Data Sciences and Informatics (OHDSI) Europe.

Joanne Hackett (chair) is the head of genomic and precision medicine at IQVIA and previously was the chief commercial officer at Genomics England. Dr Hackett is a clinical academic, entrepreneur, investor, and a strategic, creative visionair with global experience spanning successful start-ups to Fortune 500 companies. Joanne is known for building innovation, driving personalised medicine and leading through fast paced, complex changing ecosystems and integrations. Joanne's goal is to contribute in bringing the world novel, cost effective and simple health care solutions, and she is particularly keen on building the case for prevention, open science and citizen genomics. Joanne has been publicly recognised for her relentless pursuit of revolutionising healthcare and has been named one of the top six Influential Leaders in Healthcare by CIO Look, the Accenture Life Science Leader of the year, Freshfields Top 100 Most Influential Women, One HealthTech Top 70 Women in the NHS, Pharmaceutical Market Europe's 30 women leaders in UK healthcare and BioBeat Top 50 Women in Biotech Award.