NHS drug deal could fund vital cystic fibrosis research – Vertex
Vertex's research guru has warned that it could take another 15 years to produce a suite of medicines that treat all strains of the disease, saying that a deal with the NHS will be crucial to future development.
In an interview with pharmaphorum, Vertex's senior research fellow, Fred van Goor outlined the huge efforts that it took for the company to find the first in a series of medicines to treat the inherited disease.
Vertex was the first company to produce a medicine tackling the root cause of cystic fibrosis (CF) – mutations in a gene that codes for ion channels in cells that produce mucus, sweat, saliva, tears and digestive enzymes.
This leads to abnormally thick mucus that builds up in the lungs and progressively reduces their function – as well as in various other organs.
Addressing mutations in the gene known as cystic fibrosis transmembrane conductance regulator (CFTR) took years of trial and error in the lab.
And van Goor, who has led development of CF drugs at Vertex since 2001 has warned that there is still much work to do to find ways to correct all the different mutations that lead to the disease.
Vertex's first-approved CF drug Kalydeco (ivacaftor) works by opening up the ion channels that are deficient in patients certain mutations.
In the several years it took to develop Kalydeco, which was first FDA-approved in 2012, Vertex had to screen around a million molecules, and make 700 candidate compounds in the lab.
Kalydeco only works in around 5% of the CF population – and Van Goor needed to develop "corrector" drugs for patients with other mutations, which ensure that the ion channels are expressed properly on the cell membranes.
Finding lumacaftor, the 'corrector' ingredient in Orkambi, which when added to ivacaftor allows around 45% of the population to be treated, required the screening of around 2 million molecules and thousands more candidate molecules to be made in the lab.
Vertex is now trialling a triple therapy that could help around 90% of the patient population.
But van Goor cautioned that correcting or treating the last few mutations should the triple therapy get approved is going to be increasingly difficult.
The last 5% of patients will be particularly tough as it will need a completely different type of drug, said van Goor.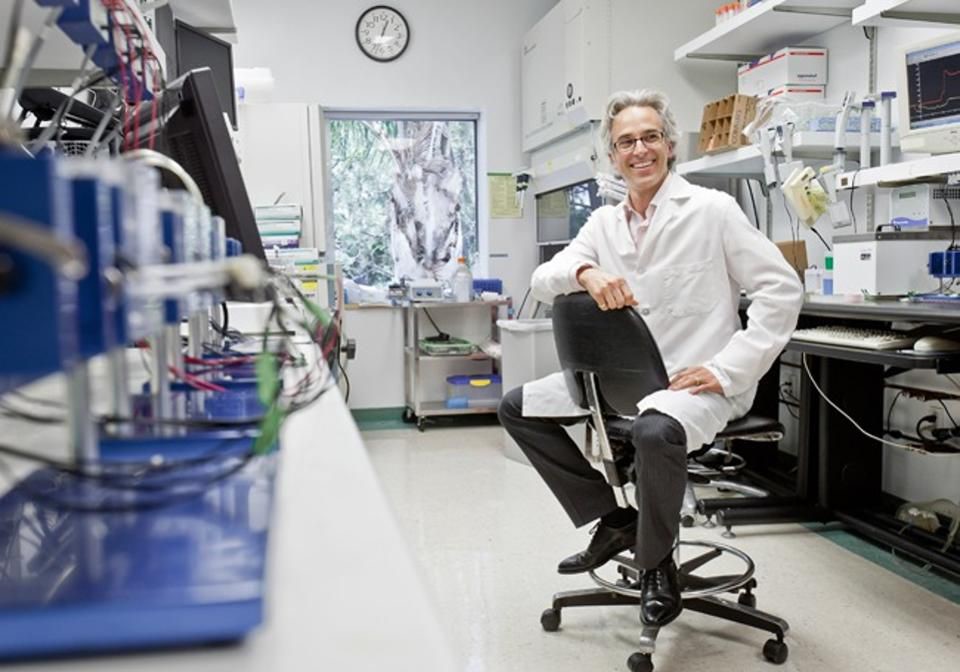 Vertex's Fred Van Goor
He told pharmaphorum: "The remaining 5% is challenging as our approach will be through nucleic acid based therapy. I don't see it happening for the next five, ten, or 15 years. Working on small molecule therapies took nearly 20 years and nucleic acid therapy is going to take some time."
NHS deal
This is why Vertex is trying to reach a deal with the NHS that will give patients access to approved and any future CF drugs in its portfolio is so important to Vertex.
Despite NICE's decision to reject Orkambi last year, Vertex decided to open a dialogue with the NHS, the Department of Health and the cost-effectiveness body to reach a deal encompassing the company's whole portfolio of CF drugs.
This resulted in Vertex making an offer covering all of its CF drugs last month.
The UK has the second highest number of CF cases in the world, around 10,000 people. The company is obviously keen to see a return on the huge investment it has made – but van Goor said that around 70% of revenues will be ploughed back into further research.
This will help van Goor achieve his goal of finding ways to treat the entire disease population, and improve the efficacy of existing medicines.
Getting drugs on the market also allows the company to gather real-world evidence and insights that cannot be gleaned during clinical trials.
"We are very excited about (the deal) for sure. What is important is that patients get access to our medicines," he told pharmaphorum.
Don't miss your daily pharmaphorum news.
SUBSCRIBE free here.