Digital Health Round-up – Trump's reign begins
A round-up of this week's digital healthcare news. Marco Ricci reports.
Donald's digital plans
What began as somewhat of a joke – the outside bet of Donald Trump becoming the next President of the United States – finally materialised with his inauguration last Friday.
So far, Trump has revealed little about his plans for healthcare or, specifically, digital health.
As reported in November, one of the biggest concerns for digital health came with Trump's insistence on repealing Obama's Affordable Care Act (ACA) – a bill that provides healthcare to around 12.7 million American citizens.
Within the ACA are the Health Information Technology for Economic and Clinical Health (HITECH) provisions, which supply healthcare providers with a slice of a $35 billion pot if they agree to adopt federally-approved IT solutions, such as electronic health records (EHRs). Unsurprisingly, the provisions have led to a dramatic uptake of EHRs by American hospitals.
One of Trump's first actions as President was to sign an executive order instructing federal agencies not to enforce any part of the law that poses a financial or regulatory burden on those affected by it – effectively beginning the ACA's dismantling process.
However, the exact details of Trump's 'repeal-and-replace' tactic for the ACA remain unclear. Many are unsure whether the process will be more of a re-modelling of what already exists, rather than a completely new system, considering the intricate nature of the Act and the possible consequences its full repeal could incur.
Another concern for digital health comes with the effect Trump's reign will have on Medicare and Medicaid – most notably, how it will impact the Centers for Medicare and Medicaid Services' Innovation Center.
Considering the Center's role is to 'support the development and testing of innovative health care payment and service delivery models', the repealing of the ACA would, quite literally, put an end to the center, impacting the introduction of plenty of digital health innovations.
In contrast, however, the recently passed 21st Century Cures Act could lead to greater innovation in the healthcare sector. The law puts aside almost $5 billion over the next 10 years for the National Institutes of Health – money which will help fund the Precision Medicine Initiative, the BRAIN (Brain Research through Advancing Innovative Neurotechnologies) Initiative, and the Cancer Moonshot 2020 programme.
Also within the legislation are guidelines to help drive innovation approval, including new devices and IT solutions.
As the law has been a Republican effort from the beginning, first put forward by Republican Representative Fred Upton, perhaps the future for US digital health is brighter than it seems.
Facebook founder initiative buys AI startup, looks to make services available to all
The Chan Zuckerberg Initiative – a scheme founded by Facebook CEO Mark Zuckerberg and his wife Priscilla Chan in order to "make the world better for generations to come by uniting the greatest minds to solve the toughest problems" – has purchased Canadian artificial intelligence startup Meta.
The Initiative now plans to develop Meta's technology into a free, internationally-available platform to help scientific researchers.
Since its foundation in 2010, Meta has developed its AI and machine learning platform to analyse scientific literature as it is published, providing researchers with the information most relevant to them.
The company's technology is already used in over 1,200 research institutes worldwide, but the Chan Zuckerberg Initiative's acquisition means the technology can be scaled up and made available to an even greater research population.
In an open letter on the company's website, Meta CEO Sam Molyneux stated: "As part of the Chan Zuckerberg Initiative, we will unite Meta's capabilities into a single, powerful tool that is available to everyone. We will provide a truly modern way for researchers to understand the state of scientific knowledge and what's happening, right now.
"The notion that scientific knowledge has out-scaled human efforts is well known, but while AI has solved information bottlenecks in other markets, it has yet to impact the speed of the research ecosystem.
"Going forward, our intent is not to profit from Meta's data and capabilities; instead we aim to ensure they get to those who need them most, across sectors and as quickly as possible, for the benefit of the world."
Virtual reality helps reduce fear and pain in children
Virtual reality (VR) could help address fear and pain in children caused by flu injections, according to a new US study.
The pilot study, performed by doctors at Sansum Clinics in both Santa Barbara and Lompoc, California, compared children wearing VR goggles during vaccination to those without. Those children wearing the goggles were shown images of ocean scenes.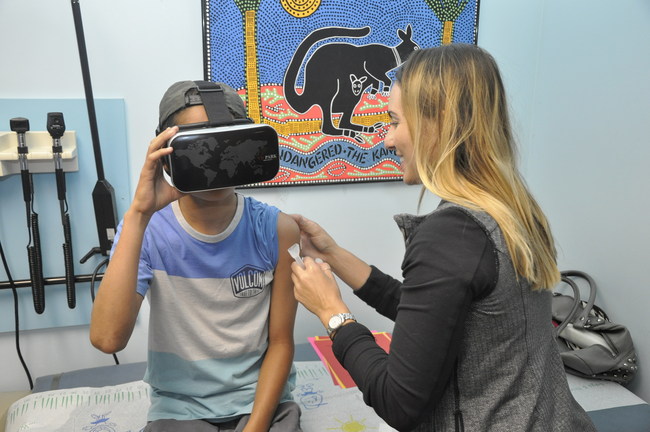 Children undergoing flu vaccinations at Sansum Clinic were given VR headsets displaying peaceful scenery.
Parents of the 112 children who used the goggles reported a 48% reduction in pain and a 52% reduction in fear. Sansum staff reported higher numbers – 75% less pain and 71% fewer exhibited signs of fear.
"We were fairly impressed with the numbers. They definitely show that the VR goggles facilitated the vaccination process for kids, parents and staff," said Dr Mark Silverberg, Sansum Clinic paediatric ophthalmologist.
VR has been touted as a potential game changer in the treatment and management of psychological conditions. Spanish/American startup Psious is using the latest set of VR goggles to treat common mental health issues such as phobias and general anxiety disorders.
The technology places individuals in hyper-realistic environments mimicking situations that are perceived as either fearful (as part of exposure therapy) or relaxing (as part of mindfulness and relaxation therapy).
Early last year, London-based surgeon Dr Shafi Ahmed used Medical Realities' Virtual Surgeon software to broadcast the world's first VR live operation. The company's intention is to revolutionise surgical training.
Also in the news:
About the author:
Marco Ricci is Staff Writer at pharmaphorum. Contact him at: marco.ricci@pharmaphorum.com or on Twitter @pharmaphorum_MR