Takeda breaks into top 20 largest pharmas with Shire merger
Takeda broke into the list of top 20 publicly traded innovative pharma companies after its $62 billion merger with Shire earlier this year, according to a new analysis using market capitalisation as a benchmark.
According to the analysis from GlobalData, Takeda's market cap grew to $63.4 billion in Q1 this year following its takeover of Dublin-based Shire.
Prior to the merger, Takeda was only 23rd on the list, and GlobalData's figures show that the merger increased the firm's market cap by almost 142% compared with Q4 last year.
Takeda's rise up the rankings also ejected struggling Biogen from the list which had its value cut shortly before the analysis was compiled on March 31st.
The failure of Biogen's phase 3 Alzheimer's drug, aducanumab, wiped billions from the company's share price.
Figures also show that further changes could be afoot in the top 20 with the merger of Celgene and Bristol-Myers Squibb, which is set to go ahead late this year or early in 2020.
With a combined market cap of around $140 billion, the merged company will likely break into the top 10.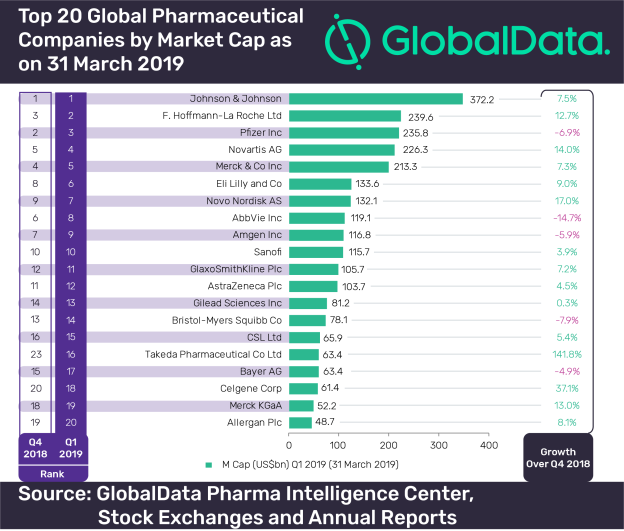 Compared with last year's Q4, Johnson & Johnson remains top of the list with a market cap of $372 billion, although not all of its income is derived from its Janssen pharma division.
Roche is second on the list with a market cap of nearly $240 billion, swapping places with Pfizer, which saw its market cap fall by nearly 7% to just under $236 billion.
Novartis climbed up a place compared with last year's Q4, with its market cap increasing to $226.3 billion, up 14%.
This allowed it to leapfrog US-based Merck & Co., which saw its market capitalisation grow by more than 7% to just over $213 billion.
The big fallers in the top 10 were AbbVie and Amgen, which saw their market caps fall by 14.7% and 5.9%, giving market caps of $119 billion and $117 billion, respectively.
Don't miss your daily pharmaphorum news.
SUBSCRIBE free here.