Towards patient centricity: Pfizer
In a new series Amanda Barrell looks at how different companies are turning patient centricity into a reality. This week she speaks to Pfizer's Dr Berkeley Phillips about streamlining processes and increasing patient consultation.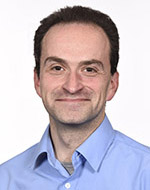 Patient centricity has become something of a buzzword in recent years, as the healthcare system places ever more importance on empowering people and working together.
But what does it mean in practice, and how is the movement shaping the pharmaceutical industry of the future?
In the first of our new Towards Patient Centricity series, we speak to Dr Berkeley Phillips, medical director at Pfizer UK, about the challenges and opportunities embedding the patient voice into the company's everyday work.
Seizing a unique opportunity
Now is a truly unique time for industry, the NHS and the wider healthcare community, as rapid medical and technological advances generate new, innovative, game-changing treatments.
Partnership working is the only way to ensure these new therapies and medicines get to the people who need them, in the way they need them, as efficiently as possible, says Berkeley.
"As a healthcare company, we exist to find breakthroughs that will change patients' lives and, to do that, it is critical that we are a patient-centred organisation," he says.
"That means ensuring patients are at the heart of our decision making, that we seek to understand their opinions and needs and that we engage with and involve patients to explore ideas and co-create solutions so that we can enhance their experience and outcomes through our treatment innovations."
There are huge benefits to working with patients at every step of the drug development pathway, from clinical trials to providing post-launch support, he adds.
In R&D, for example, patient involvement helps researchers design better trials. That includes using endpoints that are meaningful to the people who will end up using new medications, and structuring studies in a way that boosts recruitment and retention.
"We want people to stay in the trial because they have a positive experience and it is not overly burdensome for them," says Berkeley, adding that the patient voice was becoming a crucial consideration for regulators and policy makers.
"It's so important to involve patients and understand their experience of their disease and their treatment. When we do, we can incorporate their feedback and preferred outcomes in the development programme and understand their preferences for and assessments of new medicines and treatments."
All this information is "vital" during the regulatory pathway and during the licensing of a new medicine, as well as health technology assessment (HTA) value assessment and subsequent market access, he says.
Co-creating policy
Involving the patient community in shaping UK health policy is "critical" and the patient voice "needs to be heard more", says Berkeley.
"As those of us in the healthcare community seek to find new medicines, vaccines and treatments, we must hear the patient voice more in the policy landscape.  It is the policy framework that enables these treatments to get through to the patients and the health service in the right way at the right time."
The partnership between pharma and patient doesn't stop with market access, and, like many pharma and life sciences companies, Pfizer works with patients to provide information on its medicines and healthcare solutions.
Doing this well isn't without its challenges, but industry is aware of its responsibilities, Berkley explains.
"Of course, we are not permitted to advertise medicines to patients in the UK.  But it is both legitimate and appropriate that we provide high-quality information so patients understand their medicines, can take them safely and achieve the best possible experience and outcomes from them," he says.
"We want people to stay in the trial because they have a positive experience and it is not overly burdensome for them"
Meaningful consultation
As reported by pharmaphorum last month, Pfizer has introduced a mandatory period of patient and public consultation ahead of all its clinical trials. But it's not the only way the company is moving the dial on patient centricity.
Patient advisory boards and focus groups have been set up to ensure clinical trial endpoints are relevant, and influence the development of patient information documents, study recruitment plans and regulatory and HTA strategies.
Grant review committees now have patient representation and disease awareness information, patient support programmes and digital health interventions are co-created.
Navigating processes
One of the often-cited challenges around putting patient centricity into action has been concerns over whether initiatives are compliant with the Association of the British Pharmaceutical Industry's (ABPI) Code of Practice.
But while the internal processes of some pharma companies have become very restrictive over the years, the ABPI told us back in April that there was nothing in the code that ruled out working with patients. The trick, they said, was simply to see things from the patients' point of view.
Insisting on 60- or 90-day expense reimbursement terms, or using complex contracts originally designed for healthcare professionals, for example, are huge barriers to patient involvement.
Berkeley explained how his company had attempted to overcome these hurdles.
"We've worked to simplify the compliance processes and contractual agreements for interactions with patients and patient organisations. This is ongoing but we are making great progress by working closely with our legal and compliance colleagues."
His advice to other companies planning to boost patient involvement levels is to think big and start early.
"I'd say engage as early as possible with the patient community, but at a strategic rather than individual project level," he says, adding the patient centricity movement wasn't going away any time soon.
"In fact, I think it will accelerate as we move towards person-centred, patient-centred healthcare.
"Individuals will become more aware of their health through real-time monitoring with wearables and smartphone apps and become more responsible for their health data and self-management of their condition."
And as important stakeholders in the healthcare system, industry has a lot to gain from being part of this acceleration – not least engaged, compliant patients who are willing to share insights that could shape successful drug development.
How has your company been working to embed the patient voice into its everyday work? Email george.underwood@pharmaphorum.com to take part in pharmaphorum's Towards Patient Centricity series.