Adapting pharma marketing for the evolving consumer journey
The pharma customer journey is changing with every "like", share, review, post and measurable action. The great news for pharmaceutical marketers is they live in a digital world where access to data from offline and online channels means they have access to insights to help stay ahead of the customer journey.
But what if marketing budget and resources simply can't keep up with consumers' demand?
A recent webinar hosted by pharmaphorum and Tag (the global creative production and sourcing partner to brands and agencies) compared the pharma and retail industries to see how marketers can adapt to the changing customer journey.
Digital marketing still dominates for pharma marketers
Tag recently conducted an online survey of pharma marketers across Europe and the US asking them which marketing channels and techniques are most important to them. We asked the same question on the webinar and received similar results.
"Messaging is going to have to adjust no matter what path companies take post-Brexit"
Most respondents in both surveys said that, given additional budget, digital is their preferred channel for investment. With an estimated 81% of Americans owning smartphones and around one-in-five American adults considered 'smartphone-only' internet users, this result was not surprising.
While augmented reality and AI trailed, it does beg the question of whether newer technology is an emerging trend. Are pharma customers demanding new methods of communication and engagement? And are marketers prepared to offer the same brand experience across all channels?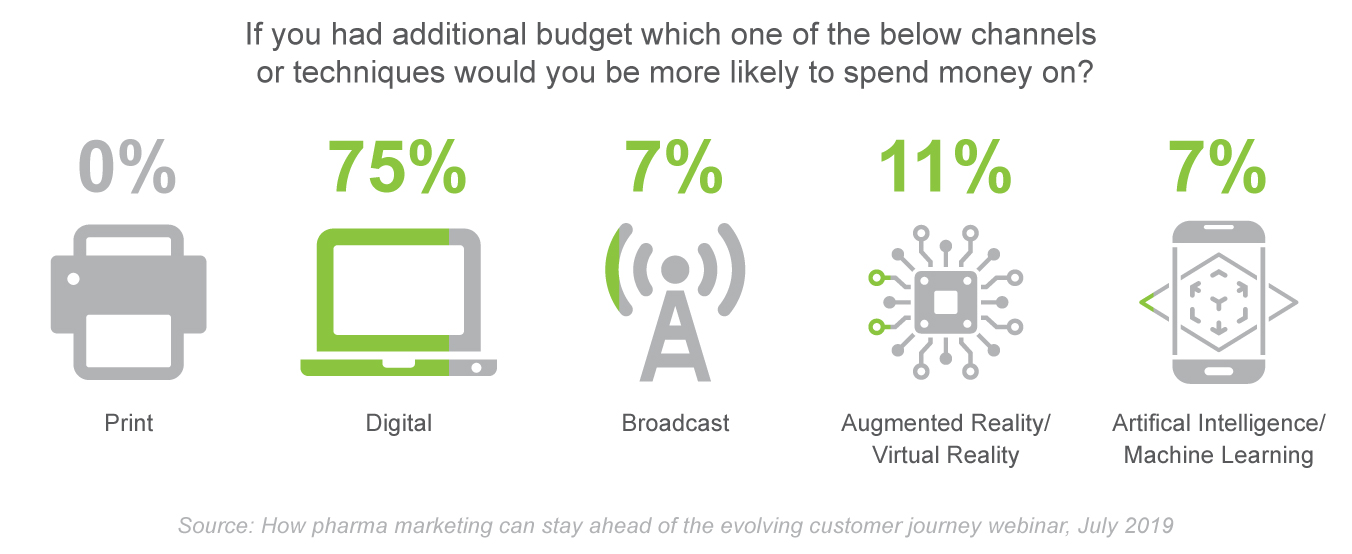 A challenging marketing ecosystem
"The customer journey in pharma is becoming more complex," said Robb DeFilippis, Tag's managing director, life sciences, as he opened the webinar. "Who are we referring to when we're talking about the customer? Is it the patient, the provider, the payer? The answer, of course, is that it could be any combination of them at one point or another."
Robb outlined what he sees as the biggest challenges facing pharma marketers today, starting with slowing growth in the sector and ongoing policy shifts.
"According to a recent report, the US market is only going to witness a growth of 9% in 2021, compared to 12% in 2015," he said. "That could result in smaller budgets for marketers. We're hearing of marketers looking to implement wiser spending, optimising messaging through integrated channels, or creating material once and using it many times.
"Meanwhile, policy changes are a regular event. Policymakers and payers are increasingly mandating what doctors can prescribe. What we're seeing is that pharma marketers have to react very swiftly and efficiently to alter messages or create new materials as a result of these changes."
Something else that consistently confronts pharma marketers, he said, is achieving launch excellence – particularly for label updates and the high volume of marketing material they require, usually on compressed timelines.
There can be delays in making providers aware of new medicines or indications and in turn these could slow their path to the patients who need them. With time management also mentioned as a challenge for pharma marketers, the chance of such delays occurring are increased.
Something that may compound these issues is the UK's exit from the European Union. "Messaging is going to have to adjust no matter what path companies take post-Brexit, and clearly the time and budgetary constraints that are going to be put on marketers to address that will be significant," Robb said.
Insights from the consumer sector for better patient outcomes
The webinar revealed how major consumer brands are dealing with similar challenges, albeit within a less regulated environment.
Consumer brands too must operate effectively within the digital space and for them the concept of 'experience' is increasingly seen as key to success. Brands that are able to create a positive experience around their products and shops are winning, but for that they must have brand consistency.
It's another area that is a challenge for pharma, Robb noted. "It becomes obvious when you walk into a physician's office and see materials that don't follow the same brand guidelines or graphic standards as others, often because they are produced by different partners. All of these things combine to provide a fragmented experience."
Another requirement common to both the pharma and consumer sectors is speed-to-market. Quite often organisations will react to market conditions rather than being proactive and getting ahead of trends by using tools such as social listening.
Robb urged marketers to work to free up time to focus on high-value strategic work that can ultimately contribute to positive patient outcomes. This, he said, can improve speed-to-market by ensuring that assets don't have to be renegotiated for reuse and repurposing every time, thereby creating delays and extra costs.
Marketing success in today's pharma landscape
Pharma marketers face many challenges today in adapting to the evolving customer journey, but the potential problems presented are not without their solutions.
Outlining some of the ways that marketers could respond, Robb suggested five practical tips as a starting point:
Take a look at your brand(s) voice(es) across tactics to ensure the same customer experience is presented across all channels
Dig into your marketing communication spend to identify potential cost savings that can be redirected to improve marketing strategies and/or patient experiences
Consolidate marketing assets to drive efficiencies and free up time to focus on the high-value strategic work that can contribute to positive patient outcomes
Use data to develop patient insights to drive digital engagements and optimise the customer experience
Look to experienced marketing production partners to facilitate launch excellence.
Despite the challenges, there appears to be huge opportunities for marketing excellence in pharma — if companies are willing to harness innovative new strategies, break down silos and introduce new efficiencies.