Medicine, Media, Metamorphosis: How M3 is championing medical communications for modern healthcare
Sales & Marketing
CEO/President
Itaru Tanimura
Headquarters
Tokyo
Number of Employees
8,000 globally
Established
2000
 
Area of Focus
Provides services to healthcare and the life sciences industry
Reach
6,000,000 HCPs globally
---
Thanks to the rapid advancements in medical science, people are living longer than ever before. But an increasingly ageing population comes with added complexities, and HCPs are under immense pressure to remain abreast of the latest developments that could help their patients to live better, for longer. 
As a major source of health-related information and innovation, pharma companies have a duty to keep HCPs informed and educated on the latest medical advancements that may improve the welfare of their patients. Equally, a hugely pressurised, time- and cost-constrained healthcare environment has led HCPs to demand better access to educational content that is not confined to the walls of a conference room.
"When I entered the industry, one of my most simple and obvious learnings was the fact that doctors are people, and no one has perfect knowledge," explains Tak Matsuoka, Managing Director of M3 (EU) Ltd. "Many potentially life-threatening diseases are treatable if they are diagnosed early enough, but they are easily overlooked or misdiagnosed due to a knowledge gap."
The role of technology in bridging this gap between pharma and HCPs, and by extension their patients, is evident and it is a challenge that M3 has wholeheartedly risen to.
"Proper medical communication can fill that knowledge gap and has the potential to save countless lives. This is what motivates the team at M3 every day, that our work could help save the lives of people we know and love," says Tak. 
About M3
M3 stands for "Medicine, Media, Metamorphosis", and the company is committed to driving excellence in the ever-evolving world of medicine, using innovative media to bring about a positive transformation of HCPs' clinical practice and patient outcomes.
Drawing on more than two decades of healthcare industry experience, M3 is a global leader and provider of digital solutions in the medical communication field. Initially founded with investment from Sony Corporation, the company has achieved global growth through its expansion of services and acquisitions of best-in-market companies. 
As a company that has worked in the digital space since pre-pandemic, M3's core working culture has remained consistent throughout.
"We remain focused on our three action agendas: 1. Be obsessed with clients and quality of work; 2. Embody a CEO mentality – everyone in the company is important enough to be able to effect positive change and come up with new ideas; and 3. Be respectful to those you work with." explains Tak.
The company's ethos has enabled M3 to continue to grow and thrive despite the challenges faced by many organisations in recent years due to the global pandemic. In fact, the pandemic helped to champion the validity of digital education, which is a core component of the M3 provision. 
M3's achievements to date are impressive and include ranking #6 on Forbes' 'Most Innovative Growth Company' list in 2018, placing on Forbes' 'Asia's 200 Best Over a Billion' list in 2019, and ranking most recently on Forbes' 'Global 2000' list of the world's largest public companies in 2022. With a global annual revenue of $1.7 billion, M3 has offices in multiple locations around the world, including Tokyo, London, Oxford, Fort Washington, and Seoul. 
Bridging the knowledge gap
Due to budgetary and time constraints, HCPs are not always able to attend conferences or expert seminars. M3 bridge this gap by providing access to the latest information through conference highlights, keynote speakers interviews, and clinical data summaries in which the content focus is determined by an independent key opinion leader. Resources such as journal watch, guideline updates, and a medical news service complete the full 360° view of the latest medical developments, all at the fingertips of M3's HCP members. 
Research has suggested that knowledge application in realistic situations is the most effective means to facilitate the practice and learning of complex skills . M3 has integrated this insight into its work, building education modules that simulate real-world decision-making in a gamified way to improve HCPs' performance in clinical practice. M3's non-parametric learning algorithms, the medium in which it creates bespoke learning journeys for every user, deliver maximum engagement.
The M3 way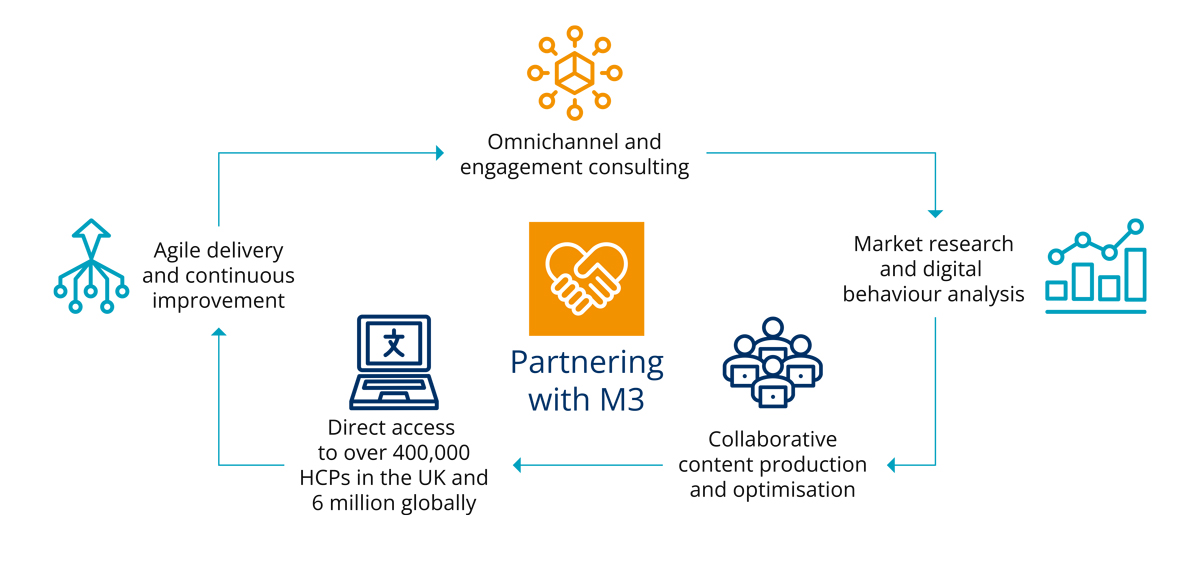 M3's provision of services to its clients rests on five core capabilities: omnichannel and engagement consulting, market research and digital behaviour analysis, collaborative content production and optimisation, direct access to 6 million HCPs globally, and agile delivery and continuous improvement.
Omnichannel and engagement consulting
By virtue of running multiple online doctor communities globally, M3 as an organisation is close to doctors. Combined with 20+ years of experience working with pharma, M3 is uniquely well-positioned to feed into its clients' omnichannel strategy and activities and advise clients on what is likely to work well in the digital and 'hybrid' space. 
Market research and digital behaviour analysis 
To support its clients in understanding their market and customers, as well as to supercharge and track the delivery of impactful, highly targeted campaigns, M3 offers a range of full-service market research solutions. This means that M3 provides  clients with continuous support, for the full length of a project – and beyond: from the initial briefing stage with the client team, all the way through to a final results read-out, and subsequent support to disseminate findings and generate buy-in.
M3's market research capabilities are global, and cover: HCPs, payers, patients and or their carers, as well as senior stakeholders and experts; qual, quant, and mixed methodologies (including the use of secondary data); and all stages of a product's life-cycle, from development to LOE (loss of exclusivity, i.e., patent expiry)
M3 is positioned to deliver unique research solutions. An example of this is the UK's monthly GP Omnibus survey, which gathers a set of 1,000 regionally representative completes every month from UK GPs, on a range of topics, combining fieldwork speed with the analytical power that a dataset of that size can support.
Collaborative content production and optimisation
Quality content is required to build trust and credibility with HCPs, and this is as true in an online setting as it is in person. Specifically, this means that content needs to be informative and engaging, in a format that is easily accessible, and – most importantly – relevant to local clinical practice. To tick these boxes, medical content must be developed based on the fact that 'one size does not fit all'.
Building on concepts derived from two decades of MedComms experience and supported by the latest insights from primary market research, M3 in-house teams support clients by developing and producing high-quality content that can be, crucially, localised to each market and health system, and further tailored to customer segments or 'personas'. 
The specificity of the content, built on a detailed understanding of each relevant audience segment and arranged into tailored customer journeys, leads to best-in-class HCP engagement and subsequent impact. 
M3 is not just a channel, it can develop or adapt content and provide insight to optimally engage clinicians. The skilful and experienced team of medical writers, designers, and web developers capitalise on in-house, independent market research to optimise the impact the resources will have on the educational development of HCPs. All resources are developed in the local language to maximise resonance and deliver deeper more meaningful engagement. 
Direct access to 6 million HCPs globally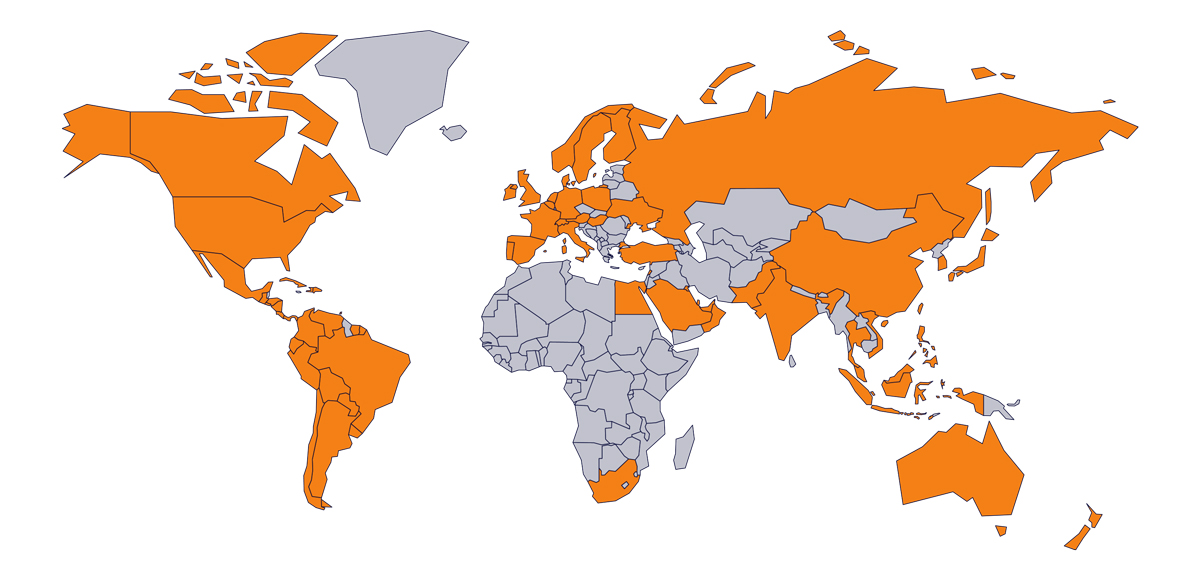 M3 is the largest 'network of networks' for HCPs across the globe, with more than six million verified doctors – and this number is growing every year. 
M3's platforms have distinct identities and approaches to drive HCP engagement within their respective markets, built on a deep understanding of their memberships, and a desire to create an optimal member (i.e., HCP) experience. For example, M3 includes within its industry-leading network: Doctors.net.uk and Data4NHS in the UK, iDoctus in Spain and LATAM, and Vidal in France, to name but a few. In the UK, Doctors.net.uk has over 250,000 users and an average dwell time of 15 minutes per session; Data4NHS has the largest NHS personnel database with over 152,000 records and is the only database with 100% NHS email addresses, providing direct access to the NHS.
The outcome: through M3 networks, pharma companies can engage verified HCPs with high-quality information directly, helping to close the knowledge gap and optimise patient outcomes.
Agile delivery and continuous improvement
With a long and successful pedigree in MedComms, M3 strives to do better every single day. The company achieves this through putting 'agile' delivery and continuous improvement methodologies at the heart of its work, through the concept of 'Plan. Do. Check. Act'. 
Campaigns are data-driven and meticulously planned from the start. When they go live, they are closely monitored and measured to allow for timely course correction if required, and to gather ideas for how to make the next 'round' even better. This monitoring takes place both through secondary data tracking (e.g., dashboards that track a range of engagement metrics), as well as through additional primary research that tracks a campaign's behavioural impact, beyond engagement numbers. 
By leveraging unrivalled data to underpin present and future campaigns, M3 can generate superior value for all members of the health ecosystem. 
The future of M3
Looking to the future, M3 aims to gain wider recognition as a global leader and provider of digital solutions in the medical communication field. The company already disseminates information for most pharmaceutical brands to the majority of healthcare professionals globally, but there is far more that can be achieved.
"There are always more doctors and more pharmaceutical clients we can be working with to shrink knowledge gaps in healthcare," explains Tak.
To find out more visit www.eu.m3.com