Discover the future of Pharmaceutical Freeze Drying Technolog
Partner Content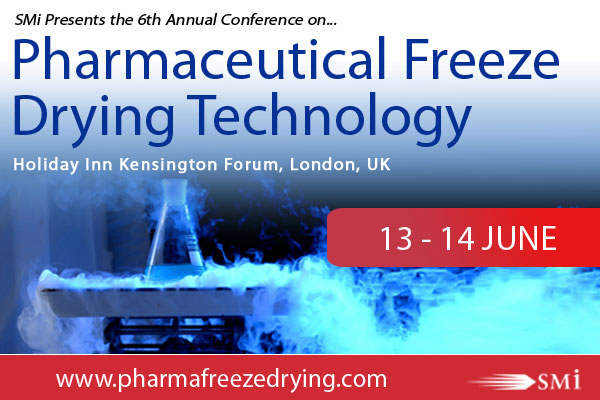 THE NEED FOR ADVANCED CAPABILITIES IN THE BOOMING PHARMACEUTICAL FREEZE DRYING MARKET
An understanding in critical factors such as drug consistency, product quality, biological stability and improved formulations, are vital to ensure productivity and marketable success through pharmaceutical lyophilisation. Following on from this, SMi's 6th annual conference on Pharmaceutical Freeze Drying Technology will once again gather an audience of principle scientists and industry specialists to discuss the latest technological innovations when it returns to Central London between the 12th and 14th June, on a 2 day conference, plus workshop!
KEYNOTE:
OPTIMISATION OF INDUSTRIAL FREEZE DRYING CYCLE - Day 1 | @11:00
Be prepared with the tools to learn about different freeze drying processes in biologics and the optimisation of cycles. Benefit from Mostafa Nakach, Head of Pharmaceutical Engineering, Sanofi, who will be presenting a keynote presentation on these methodologies on both traditional products in order for you to outline the concrete benefits of them.
Discover key considerations in Two "old" products of the 60's (called "A" and B"), the manufacturing process, new freeze dryer knowledge, simulation and process modelling.
WHO ELSE WILL YOU MEET?
Through expert guidance from an industry KOL's, the programme for Pharmaceutical Freeze Drying is shaping up to be highly interactive and engaging!
FEATURED TALKS INCLUDE: NIBSC – MHRA | Sanofi | GSK | Janssen | Boehringer Ingelheim | Bayer | Sanofi-Aventis R&D
With the event growing year on year, Pharmaceutical Freeze Drying Technology will provide ample networking opportunities for our global audience of senior industry specialists.
RECENT BOOKINGS INCLUDE: NIBSC | Sfm Medical Devices Gmbh | Zambon Group SpA
Take a look at last year's attendee list to see who you could meet this June!
Further information and the complete brochure is available at: www.pharmafreezedrying.com/phpr
SMi presents the 6th annual conference:
Pharmaceutical Freeze Drying Technology
Date: 13th – 14th June 2018
Workshops: 12th June 2018
Location: Holiday Inn Kensington Forum, London UK
Website: www.pharmafreezedrying.com/phpr
---end---
Contact Information:
For all media inquiries contact Pav Solanki on Tel: +44 (0)20 7827 6048 / Email: psolanki@smi-online.co.uk
About SMi Group:
Established since 1993, the SMi Group is a global event-production company that specializes in Business-to-Business Conferences, Workshops, Masterclasses and online Communities. We create and deliver events in the Defence, Security, Energy, Utilities, Finance and Pharmaceutical industries. We pride ourselves on having access to the world's most forward-thinking opinion leaders and visionaries, allowing us to bring our communities together to Learn, Engage, Share and Network. More information can be found at http://www.smi-online.co.uk