Sidekick and Pfizer prep launch of DTx for atopic dermatitis
News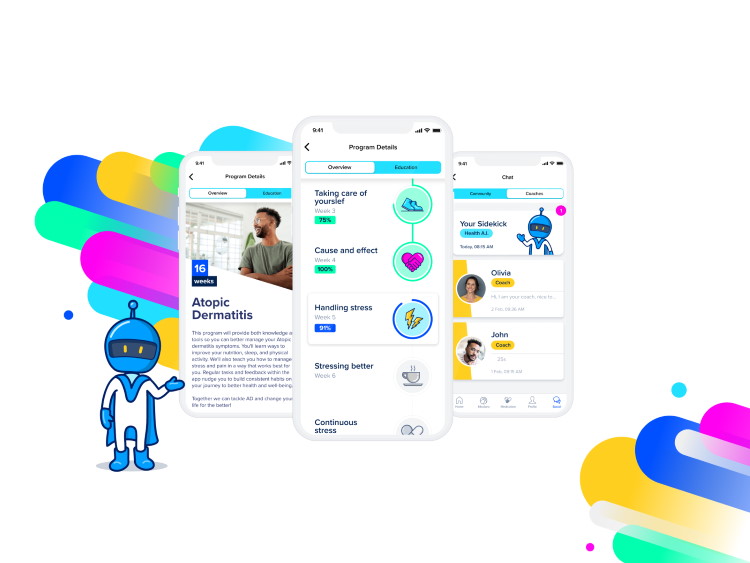 A long-running partnership between digital therapeutics (DTx) developer Sidekick Health and Pfizer has resulted in a new app to support patients with atopic dermatitis, which will start rolling out in Europe and Japan later this year.
Sidekick specialises in developing gamified digital health apps. Its alliance with Pfizer has already led to the launch of a series of medication management and lifestyle software programmes aimed at five chronic diseases.
The new app addresses a skin disorder – commonly known as eczema – that affects up to 14% of adults worldwide and causes relentless itching that can seriously impact patients' quality of life.
In the last few months, Pfizer has won approvals in the EU and US for JAK inhibitor Cibinqo (abrocitinib) as a treatment for moderate-to-severe atopic dermatitis in adults who cannot get relief from other therapies.
The new DTx takes another approach to enhancing the treatment of the skin disease, specifically by trying to improve patient adherence to therapy using gamification and behavioural modification, underpinned by an artificial intelligence algorithm that personalises the treatment.
In a feasibility study, the approach has been shown to improve medication adherence in 83% of users with chronic illnesses, according to Sidekick.
Moreover, an independently-funded feasibility study in atopic dermatitis showed a reduction in skin lesion severity and extension by over 40% and a near 50% reduction in the overall severity of symptoms in app users.
There were accompanying improvements in medication use and reported quality-of-life scores in the study, which will be published in a peer-reviewed dermatology journal shortly, said the partners.
"At Pfizer, we recognise patient care goes beyond medical advances and we are proud to be working with Sidekick to put their technology in the hands of people who need it most," said Ana Paula Carvalho, head of international developed markets for Pfizer's inflammation and immunology  business unit.
"A holistic approach to treating the individual, not just the disease, is essential in order to advance the standard of care for patients and to empower them to live their best lives," she added.
The new launch comes shortly after Sidekick raised $55 million in second-round financing that, according to the company, will help it forge additional partnerships in the coming months.
Along with the Pfizer collaboration, it is also working with on an app/medicine combination for patients with peripheral artery disease.
The atopic dermatitis app will launch first in the UK, followed by Belgium, Norway, the Netherlands, Sweden, France, Ireland, and Japan later in 2022.