Fitbit shares continue to drop as Ionic receives lacklustre reviews
Fitbit Ionic, the wearable firm's Hail Mary attempt to claw back interest in its products, has so far failed to have its desired effect as mediocre reviews have led to a fall in share prices.
Unveiled to the public last month, the Ionic smartwatch combines the activity tracking features of previous Fitbits with more advanced health features like a blood oxygen sensor, a more accurate heart rate monitor, and pairing with blood glucose monitors.
As well as being its first venture into the smartwatch market, the product is intended to be Fitbit's initial steps into the healthcare arena, moving away from the wellness features faltering in their ability to pull in new customers.
But as lukewarm reviews have come in over the past five days, the company has seen a drop in share prices of almost 8%.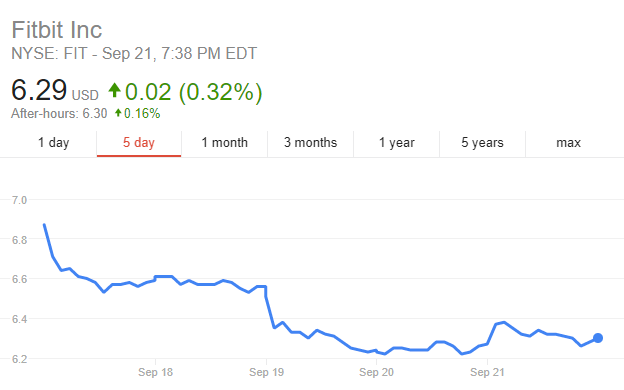 Reviews have focused mainly on consumer aspects of the Ionic, highlighting an apps library containing a sparse selection of third-party apps and limited notification capabilities.
Its more health-focused capabilities are receiving a generally good reception, outside of its blood oxygen sensor which won't be available until product launch. The device could therefore still remain a legitimate future option for clinical experimentation, akin to how the firm's fitness trackers have been used in trials in the past.
The drop continues the firm's two-year fall from grace as the world's biggest wearables provider. Opening at almost $50 per share in 2015, stocks fell almost 50% last year, leading to CEO James Park announcing a major upheaval in company operations.
Since then, it has been ousted as the leader in worldwide wearables by China's Xiaomi and lost major ground to its direct smartwatch competitor Apple.
Although due for US, UK and Australia release next month, lacklustre pre-release reviews can have a major impact on sales. Bad news for an upcoming period that could prove make-or-break for Fitbit.
Don't miss your daily pharmaphorum news.
SUBSCRIBE free here.