Celltrion to develop coronavirus antibody and fast test
South Korea's Celltrion has joined the many pharma companies fighting the COVID-19 coronavirus outbreak, saying it is working on an antibody-based antiviral and a self-testing diagnosis kit providing results within 15-20 minutes.
Best known as a manufacturer of biosimilars – which are near-copies of previously approved biologic drugs – Celltrion is turning its hand to producing therapies against the virus that has killed thousands of people and disrupted economies across the world.
The company said it has been selected as a preferred developer for a monoclonal antibody project to treat and prevent COVID-19 by the Korea Centers for Disease Control.
Celltrion has built a library of antibodies from the recovered patients in Korea, which are thought to be involved in neutralising the virus and may contribute to recovery from COVID-19.
Korea was one of the first countries affected by the pandemic and is screening the library to identify antibodies that are most effective at neutralising the SARS-CoV-2 virus that causes the disease.
Once identified these will form the basis of an antiviral treatment, with pre-clinical and clinical trials planned around Q3 this year.
Celltrion is going further and planning a 'super antibody' that can attach and neutralise all coronavirus related strains, such as those causing COVID-19 and SARS, enabling further protection against unforeseen or unexpected mutations.
This could contribute towards preparedness for potential future pandemics, Celltrion said.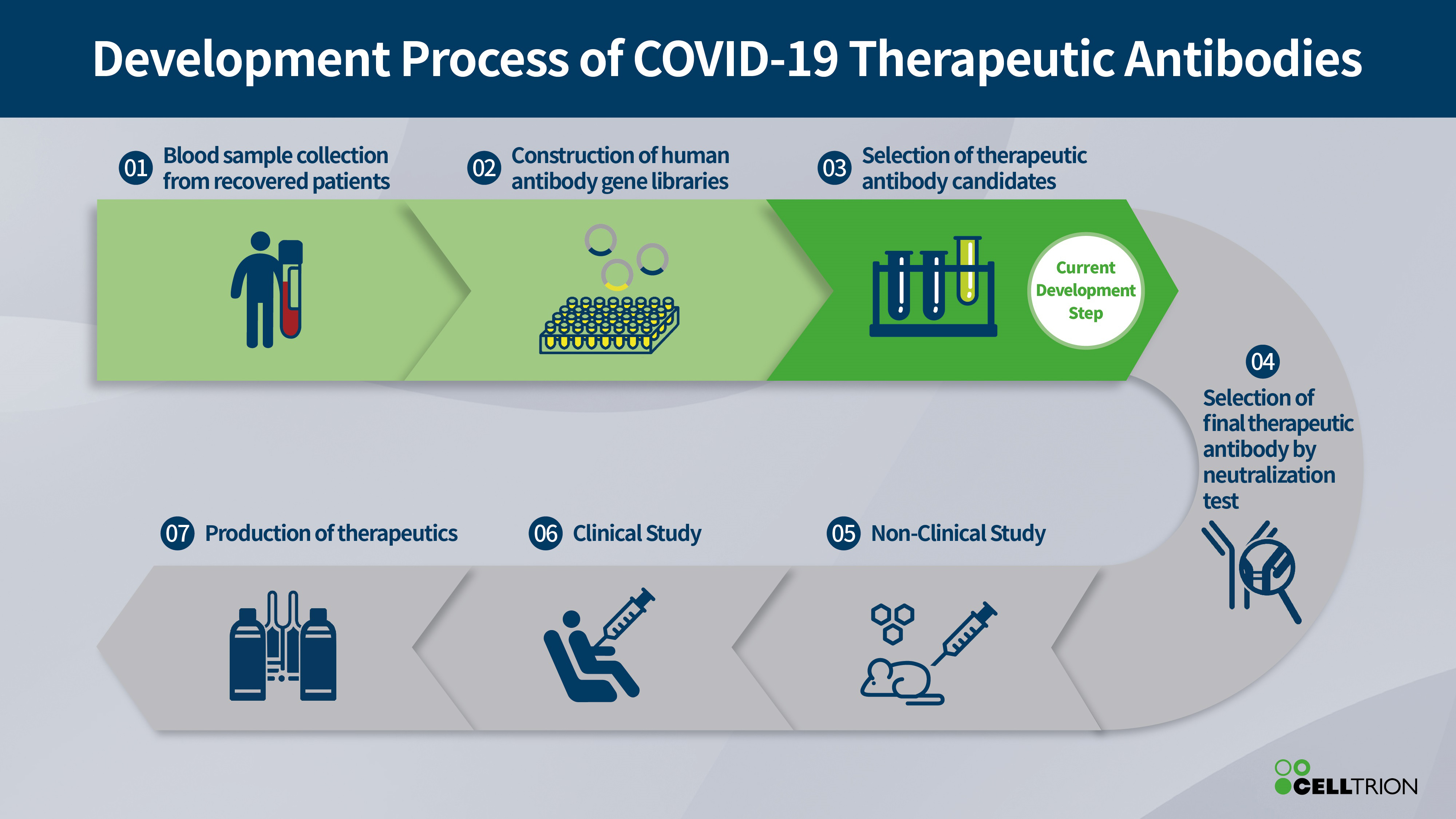 Japan's Takeda is also working on a therapy based on antibodies from previously treated patients, although this is based on harvesting the blood plasma of recovered patients for the antibodies, rather than producing a genetically engineered monoclonal antibody like Celltrion.
While Takeda's approach is proven and will require less scrutiny from regulators, Celltrion's approach could allow it to scale up production without the need for large numbers of donors.
Diagnostic test
Celltrion also aims to launch a rapid self-testing diagnostic kit in the summer of this year, focusing on the gene that codes for the spike (S) protein that allows the virus to enter host human cells.
The kit is designed to show results within 15-20 minutes, with optimised sensitivity, specificity and improved accuracy features. Once it has gained a CE mark, the rapid self-testing diagnostic kit will become available throughout Europe through Celltrion Healthcare.
Celltrion plans to apply for device authorisation from the FDA in the US and other regulatory authorities after acquiring relevant data.
Don't miss your daily pharmaphorum news.
SUBSCRIBE free here.