After Celgene deal, BMS shoots up pharma market cap rankings
Bristol-Myers Squibb $74 billion takeover of Celgene saw it shoot up the list of top 20 pharma companies by market cap into the top 10, according to a new analysis by GlobalData.
BMS had the biggest growth spurt – rising from 13 to six after closing the Celgene deal in November – but the overall picture was a rosy one for pharma's biggest companies with 16 of them increasing the market cap, and four doing so with double-digit growth.
Two of the other biggest gainers were Japanese companies. Takeda climbed from 20 to 17 in the wake of its acquisition of Shire in January 2019.  Meanwhile, Daiichi Sankyo – which signed a massive $6.9 billion licensing deal with AstraZeneca for HER2 drug Enhertu (trastuzumab deruxtecan), was also up three places to 20, displacing Allergan which is now part of AbbVie.
Daiichi Sankyo also gained thanks to the approval by the FDA in August of Turalio (pexidartinib), its small-molecule kinase inhibitor for treatment of tenosynovial giant cell tumour (TGCT) which "boosted its market performance," said GlobalData analyst Madeleine Roche.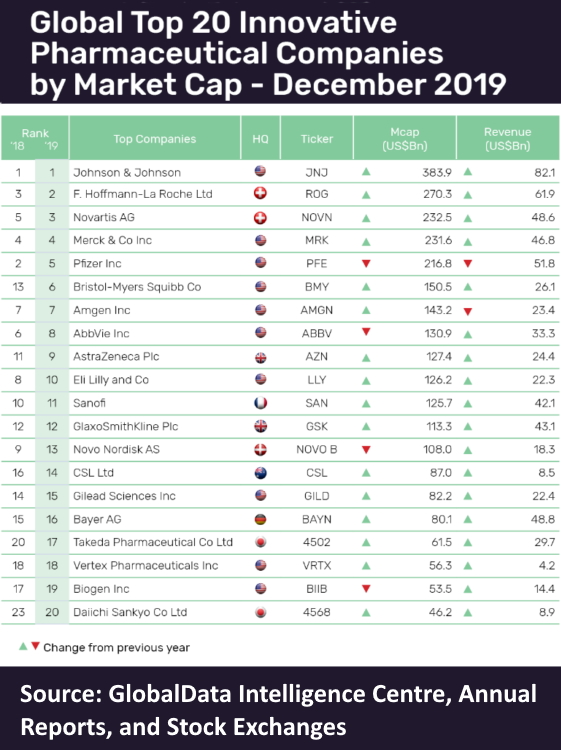 Johnson & Johnson, Roche and Novartis were the top three pharmaceutical companies by market cap in 2019, says GlobalData, with J&J retaining the top spot, Roche up one to number two, and Novartis rising two positions. Merck & Co/MSD retained its number four slot, but Pfizer dropped three positions to five – the biggest decliner among the top 10 pharmas.
Others dropping down the rankings included AbbVie and Biogen, both down two, but Denmark's Novo Nordisk had the worst time of it, down six places from nine in 2018 to 15 last year as it coped with continued pricing pressure – and a tougher competitive environment – in its important diabetes franchise.
Average price to earnings (P/E) for the group was 35.9, with seven companies above the average which GlobalData says signified "optimistic investor sentiment."
Roche says the top 20 continue to invest in R&D, with an overall R&D/sales average of 19.2% and with Vertex Pharmaceuticals, Gilead Sciences and Eli Lilly top of the three with averages of 42.1%, 39.8% and 25.1%, respectively.
Vertex's significant investment in R&D in 2019 paid off with the earlier-than-expected approval of three-drug cystic fibrosis combination Trikafta (ivacaftor, tezacaftor and elexacaftor) towards the end of 2019, she added.
Don't miss your daily pharmaphorum news.
SUBSCRIBE free here.