13th PM Society Digital Awards - celebrating creative innovation
Events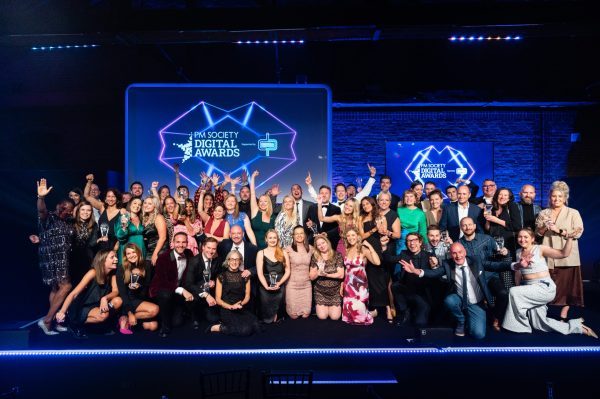 Although a tone of respectful sobriety lay over the PM Society Awards this year, as the nation's citizens came from far and wide to London to pay their final respects to Her Majesty Queen Elizabeth II, Thursday 15th September was, nonetheless, in equal measure an evening that paid serious homage to the best and brightest in creative digital innovation and its effectiveness within the healthcare arena.
As Colin Williams and Caroline Benson, co-chairs of the PM Society, commented, "We were very cognisant and respectful of events unfolding beyond the awards, but after much consideration and speaking with attendees, we decided to go ahead and we're so glad that we did. The awards remained a sell-out, and all the hard work that went into putting this event together meant that we were still able to come together as an industry to celebrate all of the fantastic digital work that continues to be delivered."
Celebrating developments in digital activities across multiple areas, including healthcare professional education, patient support, disease awareness, and pharma promotion – some 41 agencies and 37 client organisations gathered at The Brewery in Central London last Thursday night to applaud and award those companies and individuals which are, quite simply, excelling in the creative digital space.
Certainly, things have come a long way since the era of the Retro Computer Museum, which presented a comparative step back in time as nominees arrived for the evening, desktops of old whirring away with games long since forgotten, the suggestion of comparison to the toying with creative ideas and concepts palpable as the black-tie event got underway.
Speaking with some of the attendees before the winners were announced, Gilead said it had been absolutely thrilled with the injection of creative innovation into its operations (the 30 years in 30 days project that OPEN Health designed for it went on to win Silver for the Internal Communications category and Bronze for the Meetings & Events category).
Meanwhile, Prescript Communications – which had designed Novartis' Kesimpta Digital Training Portal, the Bronze winner of the Internal Communications category – said that the company itself had been fortunate to undergo its own creative digitalisation makeover process before being approached for the project, having foreseen developing trends.
And LiNK Health Group and 9LABS founder and CEO, Daniel Gibbs said that he was honoured to have some of the best in the business on his team. In addition to 9LABS winning Gold in the Innovation category, LiNK Medical (part of LiNK Health Group) won Silver in the Building Digital Communities category for its Rare Diseases University (RDU) project.
Overheard amongst the tables towards the night's close was the utterance, "Tomorrow, tomorrow is when the hard work begins." Apt words at a digital innovation event, indeed.
…………………………
Decided by a panel of judges that included industry experts, healthcare professionals, agency leaders, and digital specialists, the PM Society Digital Awards 2022 went to the following companies:
BRAND PROMOTION (sponsored by Initiative Health):
Leukomed Sorbact NICE project, for Essity by Mole Digital
INTERNAL COMMUNICATIONS (sponsored by Page & Page and Partners):
The World of Knowledge Race, for Allergen Aesthetics, an AbbVie Company, by Makara Health and Actando
INNOVATION EFFECTIVENESS (sponsored by Wilmington Healthcare):
Accelerating clinical trial recruitment in IBD, for Arena by Havas Lynx Group
EXTERNAL COMMUNICATIONS (sponsored by mms360):
Spread Your Wings for DEBRA, for DEBRA by PRECISIONeffect
AGENCY DIGITAL TEAM (sponsored by Medscape Professional Network):
Performance.io
MEETINGS & EVENTS (sponsored by bamboo):
Immersive Launch Event, for GENENTECH by BBH
PATIENT PROGRAMMES (sponsored by Cuttsy & Cuttsy):
Suffering behind the selfies – Patient recruitment for IBD trial, for Arena by Havas Lynx Group
INNOVATION (sponsored by Digital Peloton):
Polarix.io: Revolutionizing the Scientific Communications Platform, by 9LABS
DIGITAL PROJECT or ACCOUNT MANAGER (sponsored by astellas):
Jess Collins, OPEN Health Group
ANIMATION (sponsored by brainsell):
Digital Consultation Animation, for Chiesi by VCCP Health
EVOLVING CAMPAIGNS FOR SUCCESS (sponsored by pharmadoctor):
The Ozempic patient app, for Novo Nordisk by Syneos Health
HCP EDUCATION, TRAINING & SUPPORT (sponsored by Ashfield MedComms):
Needs driven education for HCPs in LMICs, for Novartis by MedShr
HEALTHCARE CHARITIES, PAIENT ASSOCIATIONS & the NHS (sponsored by Open Health):
Vaccine Facts Website, for South East London CCG by ZPB Associates
BUILDING DIGITAL COMMUNITIES (sponsored by earthware):
Together in Respiratory, for Chiesi by Initiative Health
FILM (sponsored by four Health):
The Invisible Opponent, for Campaign Against Living Miserably (CALM) by Seven Stones / AMV BBDO
Multichannel OR omnichannel campaign (sponsored by PRECISIONeffect):
40,000 clicks to a new accredited e-learning platform – eCademy, for Merz Aesthetics UK & Ireland by LTF Digital
PHARMA DIGITAL PARTNER (sponsored by M3):
Steve Hunt, Chiesi UK