The top pharma companies by revenue 2018
New analysis from GlobalData has revealed the top 20 pharma companies by revenue for 2018, with Johnson & Johnson, Roche and Pfizer leading the pack, but Takeda, Celgene and AbbVie seeing strong growth.
GlobalData called 2018 'another great year' for the industry as 16 of the top 20 publicly traded pharma players globally reported year-on-year (YoY) growth in their revenue.
GlobalData analysed the YoY change and compound annual growth rate (CAGR) for revenue, operating profit and net profit of the global publicly traded pharma companies over the past five years and selected the global top 20 firms based on 2018 revenues and the innovative nature of their revenues.
The data is taken from the GlobalData Pharma Intelligence Center's Financials, Deals, and Drug Sales database and Consensus Forecast database.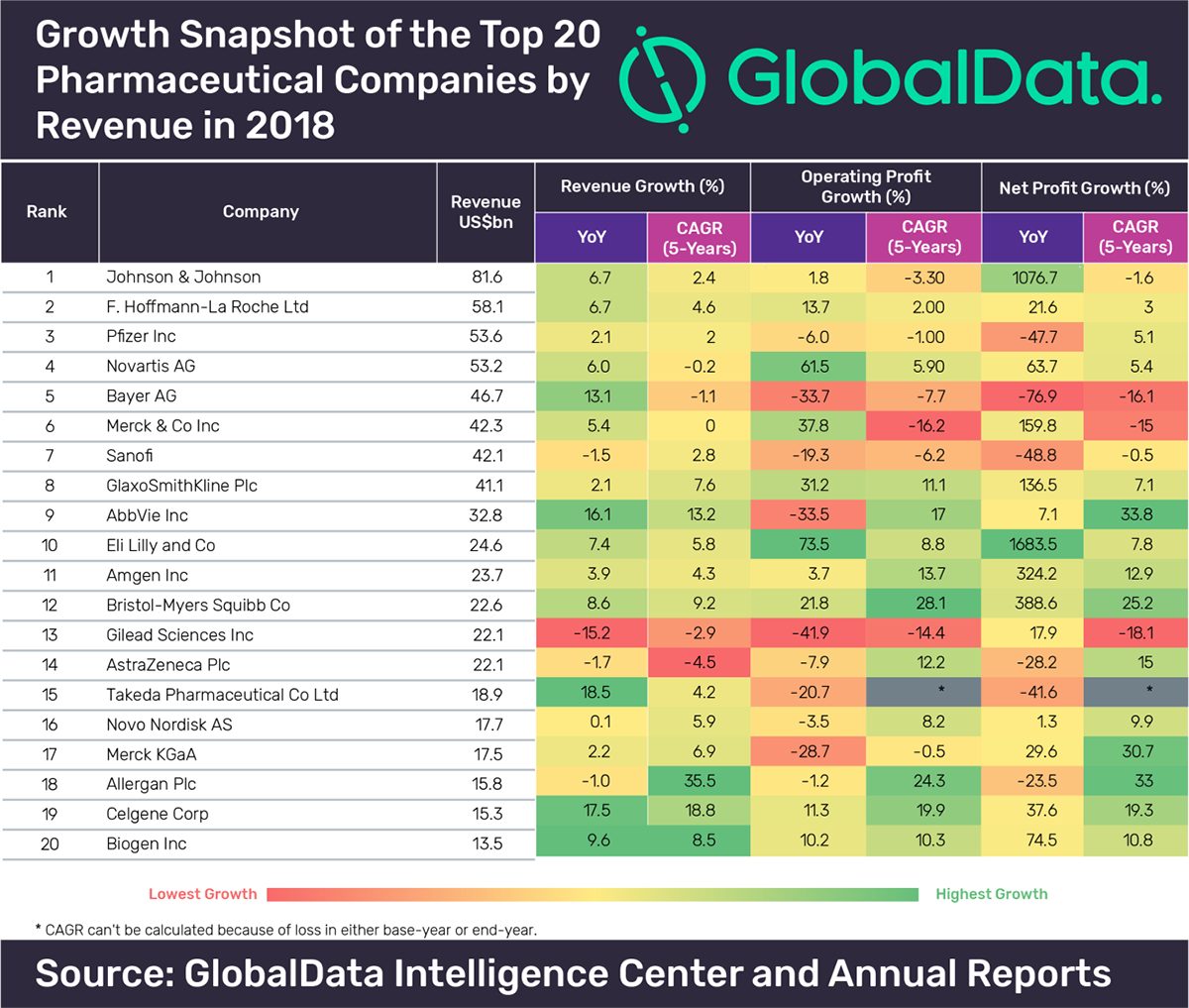 In 2018, 16 of the top 20 publicly traded pharmaceutical players globally reported year-on-year growth in their revenue, with three companies – Takeda, Celgene (currently under a merger agreement with Bristol-Myers Squibb) and AbbVie – reporting over 15% YoY growth.
Takeda's revenue increased by 18.5% to $18.9bn, driven by the strong performance of its key drugs Entyvio (vedolizumab) and Ninlaro (ixazomib).
Takeda hopes its future growth will be driven by the acquisition of Shire in January 2019, one of the biggest pharma mergers in several years, and one of the first in what is seemingly a new trend of companies looking for mega-mergers rather than smaller 'bolt on' deals to boost pipelines with drugs from biotechs.
Celgene's revenue grew by approximately $2.3bn, a 17.5% increase from 2017, as a result of increased sales of Revlimid (lenalidomide), Otezla (apremilast) and Pomalyst/Imnovid (pomalidomide), prompting the potential acquisition by Bristol-Myers Squibb, which is expected to be finalised later this year.
The deal looked to be on shaky ground after a group of shareholders expressed concerns about Revlimid's upcoming patent expiries in key markets, and whether the merged company will be able to get enough new drugs approved to make up for the shortfall in sales.
But the settlement of a patent dispute and a few new approvals for Revlimid have worked in the drug's favour, and it is expected to generate sales of $10 billion this year.
AbbVie's revenue grew by $4.5bn, a 16.1% increase from 2017, mostly as a result of strong performances by Mavyret (glecaprevir/pibrentasvir), Imbruvica (ibrutinib) and Humira (adalimumab).
Humira, though, is no longer exclusive and is set to face significant biosimilar competition in the coming years, so this may be one of the last times the drug can be relied upon a key driver for the company. In fact, the drug's patent expiries have already been blamed for missed revenue forecasts in 2019.
Gilead Sciences was the biggest loser among the top 20 players, with a 15.2% decline in revenue due to the weak performance of its hepatitis C virus (HCV) drugs including Harvoni (ledipasvir + sofosbuvir) – with a 72% YoY decline in sales – and Viread (tenofovir disoproxil fumarate), which saw a 71% YoY decline in sales.
Part of this is down to rival HCV drugs continuing to offer competition to Gilead's treatments and forcing the company to offer them at discounts to their (controversially-high) list prices.
A more fundamental reason is simply that the efficacy of these treatments means that many of the sickest patients have now been cured, and healthcare systems have less urgency about treating milder cases.
Despite the fact that Allergan, which is currently in the process of being acquired by AbbVie, reported negative revenue growth in 2018, it has recorded a CAGR of 35.5% in revenue since 2014 due to a series of inorganic growth initiatives, including the reverse merger with Actavis.
"This may be one of the last times Humira can be relied upon a key driver for AbbVie"
Tax reforms aid profitability
On the profitability side, 10 out of the top 20 companies reported over 25% growth in net profit.
Eli Lilly, Johnson & Johnson, Bristol-Myers Squibb, Amgen, Merck & Co, and GlaxoSmithKline reported more than 100% growth in profits.
Some of this was down to the US government's tax reforms, which cut corporate tax rates and encouraged the repatriation of company cash stored overseas.
Lilly was back to profitability as a result of this repatriation opportunity, and Johnson & Johnson was also a major beneficiary, with the provisional amount of approximately $13.6bn associated with the tax legislation.
Bristol-Myers Squibb, Amgen, Merck & Co, and GlaxoSmithKline profit growth was also mainly attributed to tax reforms, which significantly brought down their effective tax rates along with a stronger operating performance, lower restructuring costs and lower asset impairment charges.
In 2018, the six players that reported YoY declines in profitability were Bayer, Sanofi, Pfizer, Takeda, AstraZeneca and Allergan.
Impairment losses, acquisition costs and restructuring costs mainly led to the drop in net profits seen by Bayer.
Sanofi and Pfizer's profits dipped almost 50% in 2018 due to the divestment of Sanofi's Animal Health business in 2017 and Pfizer's non-recurrence of $10.7bn in tax benefits, as recorded in Q4 2017 to reflect the December 2017 enactment of the Tax Cut and Jobs Act.
Over the past five years, Gilead Sciences, Bayer, and Merck & Co reported negative CAGRs of 18.1%, 16.1%, and 15% respectively.