NICE becomes latest champion for digital health
Richard Staines gives his weekly round-up of the latest developments in digital health.
NICE has become the latest organisation to champion digital health, recommending that the NHS should trial an online and mobile programme to treat depression.
Deprexis has been developed by Gaia Healthcare and is already used in Germany where it is marketed by Servier.
Around 200 people in England could be the first to benefit from free access to this digital therapy, which will be trialled for up to two years.
People can log in to the online programme at any time to complete modules of cognitive behavioural therapy (CBT), avoiding the need to attend therapist appointments in person. A therapist can see what part of the programme each person is using and they can exchange messages via a secure messaging system.
The recommendation follows a call from NICE to digital health companies to submit products to treat anxiety and depression last year.
It is part of NHS England's Improving Access to Psychologic Therapies programme, which began in 2008 and provides access to these services for around 900,000 people each year.
Following an assessment, NICE has produced its first ever digital psychological therapy briefing, concluding that Deprexis could be an effective alternative therapy for adults with depression.
Although costs in the UK have yet to be agreed, a German health economic study showed that total health costs reduced by around £970 per head when people were treated with Deprexis.
Another study showed total healthcare costs decreased by 32% in patients treated with Deprexis, compared with 13% in a usual care group.
However, at a cost of £290 per person for Deprexis, compared with £110 per patient for a six-month course of antidepressants, the digital technology does not produce direct cost savings compared with conventional drug therapy.
But NICE said that Deprexis requires no training costs, and may be delivered using a lower grade of staff, freeing up more experienced staff to deal with patients with more serious conditions.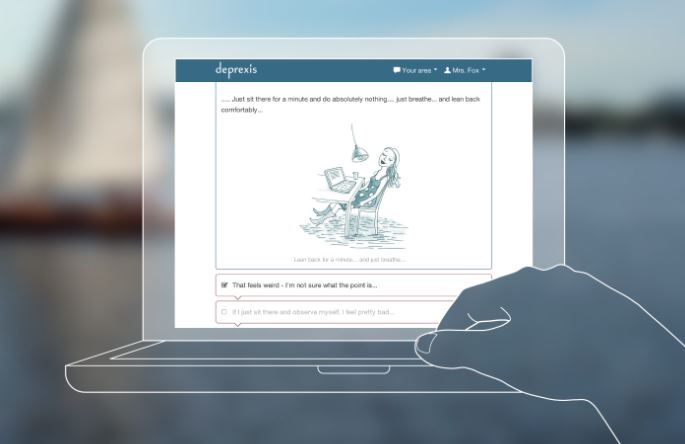 Deprexis is much cheaper than face-to-face individual CBT, which costs around £560.
A technical assessment said Deprexis needs to tweak the technology to bring it up to NHS standards – but a remediation plan produced by the manufacturer is acceptable.
NICE said Deprexis is well written and forms a good framework for CBT therapy to treat depression.
Gaia Healthcare is one of many digital health firms targeting depression – last year Takeda began a collaboration with UK-based Cognition Kit on an app to monitor depression.
Novartis and Apple scale up clinical trial collaboration
Novartis says it will scale up the use of Apple ResearchKit in clinical trials, as part of its efforts to bring about digital transformation across its business.
Jacob LaPorte, global head of Digital Development at Novartis, is leading this change in its R&D operations, where a huge range of technologies have the potential to revolutionise how drugs are discovered and developed.
Most big pharma companies are now investing in digital technology to open up clinical trials to more patients via remote monitoring technology, a shift which promises to make recruitment easier and to cut costs.
Novartis says it is the vanguard of this change, and LaPorte is now pushing to scale up digital tech in trials after successful pilot studies.
Talking to journalists at the company's global headquarters in Basel, Switzerland, LaPorte spoke enthusiastically about the potential of technologies, including maturing fields such as big data and advanced analytics, as well as emerging platforms such as artificial intelligence and blockchain.
LaPorte said: "What we're doing is changing our culture right now. Our aspiration is to become a medicines and data science company.
"We think a cultural change is going to be required to do that, and we are heavily focused on becoming more agile and better able to relate to our partners."
One of these partners is Apple, which launched its ResearchKit in 2016, a software framework for apps which is helping to digitise clinical trial data collection and analysis.
Novartis has been one of the early adopters of ResearchKit in pharma (along with others such as GlaxoSmithKline), and LaPorte says the technology has already proven its value in making clinical trials more efficient and patient and investigator-friendly.
The broader adoption of the Apple ResearchKit (ARK) by Novartis would be a major boost for Apple's ambitions in clinical trials, where it is competing with lots of other tech companies, many of them specialists in the clinical trial field.
ARK allows clinical trial participants to enter their own data remotely including via sensors that collect movement and symptom data, removing the need for patients to visit the clinic.
Novartis is using ARK in its ongoing ELEVATE MS study, and in a feasability trial in another disease area.
LaPorte said Novartis is now ready to scale up the technology's use, but the partners need to develop the system further.
Sanofi looks to digital health for streamline trials
Sanofi also hopes to use digital health to make trials cheaper and more effective – and has found another partner to help it.
Global health data firm TriNetX said it is working with the pharma company, using patient electronic health records to optimise trial recruitment.
The records will also help make the trials more efficient and could give insight into improving their design.
Based in Cambridge, Massachusetts, TriNetX said that it will draw on data including demographics, diagnoses, procedures, medications, labs, oncology and genomics.
Its technology is based around a cloud-accessible database, and aims to reduce the complexity of trial design.
The company can analyse billions of clinical facts about its patient population to support real-time modelling of proposed trial protocols.
Researchers can quickly visualise how these protocols would be expected to operate in a real trial, allowing them to make rapid modifications if needed.
The technology uses predictive analytics so researchers can forecast the expected size of the patient population that might meet the study criteria.
TriNetX says the technology can also help identify institutions that could be trial sites, and also find eligible patients who might otherwise be missed.
Since last March Sanofi has been working with Science 37, a Los Angeles-based company that oversees digital trials.
Then last July it partnered with Evidation, a firm that identifies and monitors 'digital biomarkers' in patients to better understand therapeutic outcomes and the different factors that may affect them.
EU moves towards electronic patient information
The European Medicines Agency late last year published an action plan to improve patient information leaflets, including a drive towards electronic information.
And representatives of generics and biosimilars companies at the Medicines for Europe conference in London this week said that electronic systems could be read by smartphones, encouraging patients to get up to speed on the benefits and side effects of drugs.
Having the electronic system would also allow continuous updates, such as new uses for medicines, updates on safety, or changes to manufacturing arrangements.
For those patients with no smartphones or computers, pharmacists could print out a conventional paper leaflet.
Katarina Nedog, senior manager for safety and regulatory affairs at Medicines for Europe, said that electronic patient information is still only a "long-term vision".
Medicines for Europe is working with the European Federation of Pharmaceutical Industries and Associations (EFPIA), representing branded drug manufacturers, on proposals for the system.
Europe is already moving towards an electronic system to help reduce counterfeit medicines, and prevent tampering, under the Falsified Medicines Directive.