Latin American healthcare: impact of ageing, chronic conditions & obesity
This second article in the three-part series examining healthcare trends in Latin America considers the effects of ageing, chronic conditions and obesity on the region.

Latin America is experiencing steady and significant ageing of its population – largely driven by the expansion and modernisation of healthcare provision and the ensuing rise in life expectancy. The confluence of continued technological progress and dropping fertility rates has led to growing concerns about the sustainability of all publicly-financed social welfare programmes, particularly healthcare.
Latin America's geriatric base is a pressing issue for the public and private healthcare systems. In 2010, 10% of the region's population was over 60 years old. By 2040, this number is expected to more than double, reaching 21%. The phenomenon is not unique to Latin America; other countries dealing with similar issues include the US (where projections indicate that 22% of the population will be over 60 by 2040) and Japan (where 25% of the population is currently over 60). The burden of ageing demographics has led the Japanese healthcare system into crisis, which serves as a cautionary tale to even the best managed health care systems elsewhere.
As the number of working-age adults decreases as a proportion of the total population, the ageing population will result in a net economic burden, particularly considering that seniors account for a disproportionate amount of healthcare costs. These costs will be partially responsible for Latin America's expected rise in healthcare expenditure, to an average of 4.6% per year by 2018.
Source: GHI analysis based on data from www.populationpyramid.net
Chronic diseases
Chronic diseases are the principal cost driver associated with ageing population, as over 80% of adults over 60 have at least one chronic disease. Such diseases require long-term treatment and routine visits for lifestyle management.
The growing number of so-called 'empty nesters' is a segment of interest as they seek greater independence and invest more in their health than previous generations, resulting in higher 'out-of-pocket' expenditure.
In a culture where family bonds play a central role, the home healthcare market presents vast opportunity, particularly as an alternative to building more long-term care facilities. Home care solutions are expected to grow by 8.7% between 2015 and 2020.
Medical devices
Medical device manufacturers will benefit from supplying equipment for home healthcare solutions, such as ventilators, oximeters, blood pressure and arthritis devices, and glucose monitors. Simplifying products to minimise the learning curve will be critical to gaining uptake among the elderly, and adapting these products to work in concert with mobile technologies will lead to efficient monitoring. Latin America has seen rapid uptake of mobile technologies and the region is ready for its implementation for healthcare use.
Whereas traditional telemedicine initiatives in Latin America focus on connecting hospitals to each other, combining mobile technologies with the home healthcare market will enable family members to monitor valuable information.
Constant patient data recording and automated analysis will help create electronic medical record (EMR) systems. Health professionals will be able to better detect at-risk patients and increase lifestyle management, particularly for less-mobile elderly patients.
With the public sector limited by financial constraints, private providers have the opportunity to capitalise on this trend, pioneering the patient-centric movement to improve the quality of life for older people.
Targeting the undiagnosed and unaware
The prevalence of infectious diseases in Latin America is reducing rapidly. The most resilient, such as AIDS, tuberculosis and malaria, account for less than 10% of deaths in the region. Chronic diseases, however, are the principal causes of death for countries such as Chile, Argentina, Mexico, Brazil and Uruguay. Other countries in the region are expected to follow suit, thus elevating the burden region-wide.
These non-communicable diseases (NCDs) place strain on healthcare resources because they require regular and sophisticated treatments. This is particularly true for higher age groups.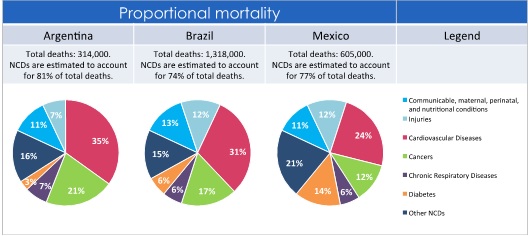 Dissatisfaction with public health systems means that many seek out the services they need for their chronic conditions privately. Private care providers and equipment suppliers can capitalise on this trend.
Awareness programmes
Prevention and awareness are the main strategies to combat chronic diseases and, indeed, public healthcare systems have been focusing on such activities to maximise returns on taxpayer-funded expenditure. Outreach programmes such as social events and international collaborations have been successful. The 2014 World Diabetes Day in Mexico City is a model for the kind of prevention the region needs. Involving more than 15,000 people, the International Diabetes Foundation (IDF) used the day to educate the population about lifestyle choices and provided services such as simplified blood sugar testing, healthy cooking workshops, and exercise classes. The region is ripe for similar awareness-raising events.
Awareness programmes are a cost-effective way to reach at-risk populations and avoid the need for sophisticated treatments for chronic diseases. The key to their success is empowering local communities and ensuring proper outreach to unaware populations by focusing on crowd-pleasing activities with tangible health benefits. When properly designed, these can potentially find large numbers of undiagnosed or uneducated patients and help prevent costly health expenditure.
According to the Diabetes Atlas, it is estimated that, of the 392 million patients with diabetes in the world, 46% are undiagnosed. The Prospective Urban and Rural Epidemiology (PURE) study released in late 2014 revealed low awareness rates for hypertension throughout Latin America. In Argentina, Brazil, Mexico and Chile, only 57% of people with hypertension are aware of their condition. Unsurprisingly cardiovascular, respiratory diseases, cancers and diabetes are the main causes of death in these countries.
Wearable technologies
Yet the disease profiles for Latin American countries also provide a focus for designing high-impact awareness and prevention programmes. Health-coaching applications and wearable technologies can work in concert with prevention and are expected to continue expanding up to 2025. Surveys indicate consumers are ready to lead healthier lifestyles and will use wearable technologies as a way to exercise smarter, eat healthier, and track their medical history. As Latin American consumers continue to drive mobile adoption, awareness campaigns may adopt technological components. For example, the Pan American Health Organisation (PAHO) created smartphone apps and online courses to deliver practical information used in the management of population health. Such technological progress will make outreach programmes more effective than ever.
Awareness is the cornerstone of prevention. But, more importantly, at-risk patients are empowered through understanding. Prevention-related activities will help counter chronic diseases through the power of information, promoting early detection and improving quality of life. They also relieve some of the pressure on expenditure for acute symptoms such as strokes and myocardial infarctions.
The obesity problem
Now recognised as a worldwide epidemic, obesity is responsible for negative effects, not just health-wise, but also from a cultural and social standpoint. Obesity is the fastest-rising non-communicable disease (NCD) in the world, and now afflicts over 56% of adults in Latin America, well above the global average of 34%. It is a leading indicator of future health problems, so the spread of obesity cannot go unmanaged.
Eating habits, globalisation, stress and sedentary lifestyles are the root causes of obesity in the region. Following in the footsteps of North American eating habits, the sale of ultra-processed foods grew by 48% between 2000 and 2013. Sedentary lifestyles are the result of growing work constraints and busy schedules associated with urbanisation, as well as a lack of space for physical activity. The double burden of malnutrition creates the unique situation where nutritional deficiency exists alongside obesity. Food insecurities and low incomes drive this double burden in countries such as Mexico and Argentina.
Latin America has some of the highest obesity rates in the world. Mexico overtook the US in 2013 as the world's most obese country and is expected to continue to see a steady rise in its obese population. In 2015, over 70% of Mexico's overall population and 57% of children were considered overweight. Venezuela, Argentina and Chile have similar rates. This situation places an enormous burden on the healthcare sector, as obesity is a precursor to more severe health issues.
Source: GHI Analysis based on WHO Infobase, OECD Health 2014, and foreignpolicy.com
The same high-fat and sodium diets that lead to higher body mass indices also cause plaque build-up, hypertension, inefficient insulin uptake and musculoskeletal conditions. Though one of the easier risk factors to manage, the conditions resulting from obesity place a huge strain on Latin America's healthcare systems, most notably in the form of cardiovascular diseases and diabetes.
Products that can monitor, record and display health statistics such as blood pressure, glucose levels, calories, and weight can influence behaviour and reverse the effect of harmful non-communicable diseases before complications arise. These products can promote prevention through awareness by demonstrating the gradual consequences of harmful diets, which otherwise go unnoticed. With healthcare mobility solutions expected to grow by 25-30% annually up to 2020, demand is likely for products such as wearables and smartphone applications, among others.
This is part of a much larger trend towards patient-centric healthcare. By empowering individuals to hold themselves accountable for managing their personal health, there is potential for much greater knowledge dissemination (e.g. nutrition education) as well as effective incentives for behaviour change (e.g. weight loss). Products that enable individuals to micromanage their own health indicators (e.g. achieving a target heart rate) make it easier to detect progress – and relapses. Such mobile solutions also offer greater patient adherence and the promise of vast amounts of data resulting from constant communication between healthcare providers and patients.
Effective health management across large populations is not far off. There are opportunities for both public and private institutions to collaborate in this space, whether via awareness campaigns, wearable devices, integration of electronic medical records (EMR) or other solutions.
Addressing the overweight and obese populations of Latin America goes hand in hand with efforts to prevent chronic diseases. For instance, helping a family reorganise the food budget and make time for physical activity is less costly than medication for a chronic disease or the emergency care that is sometimes needed. Such preventative care against obesity could ease the burden on Latin America's healthcare systems.
For a full list of references please contact the author.
The third part of this series will investigate the trends in diagnostic and patient monitoring devices in Latin America.
About the author:
Guillaume Corpart is managing director of Global Health Intelligence and a veteran of market intelligence in emerging markets. Global Health Intelligence has the world's largest hospital demographics database in emerging markets and helps companies succeed in their growth strategies. For more information contact: gc@globalhealthintelligence.com
Read the first part in this series from Guillaume Corpart: