Latin American healthcare: devices and technology
This final article in the three-part series examines the trends in diagnostic and patient monitoring devices, including wearables, mHealth apps and wireless technology.
Medical devices
The penetration of devices in Latin America has progressed at break-neck speed. Internet and smartphone usage rates are now on a par with North America, Europe, and Southeast Asia. Already home to over 155 million smartphone users in 2015, the region is expected to maintain growth rates of over 20% per year in the near future. By 2019, it is estimated that 42% of the population will possess a smartphone device, and the majority will have internet access.
Successful technologies will soon permeate daily life to promote simplicity and convenience. They are desperately needed in the healthcare sector, where the ageing population, rise in obesity, and increase in chronic diseases have accelerated demand for expensive, sophisticated and long-term treatments. The need is all the more acute as public health sector resources are severely strained.
Two target demographics stand out for adoption of effective healthcare technologies: the 'technology converts' and the 'digital natives', who are forecast to represent 75% of Latin America's population by 2020.
As the population ages, more people face chronic diseases, such as cancers and arthritis, where complications can arise and require multidisciplinary care. Older people will benefit from diagnostic and monitoring equipment promoting remote (or home) healthcare, allowing management of chronic diseases at a distance. The home healthcare market is expected to grow by 8.6% annually and will reach a value of $17.5 billion by 2020. The services and products for this market (e.g. blood pressure and blood glucose monitors, hospice care, therapy) will bring services usually administered at a doctor's surgery directly to patients.
Attractive markets
The countries with concentrated use of mobile technologies are the most attractive target markets. Argentina, Brazil, Chile, Colombia, Mexico and Peru account for approximately 84% of all smartphone users region-wide, making them ripe for adoption of mHealth software solutions.
Wearable devices (wearables) such as fit-bands, smart watches and augmented reality glasses are 'gadgety' elements that will help bring population health management to consumers. Surveys show a preference for using these devices to improve health by eating and exercising more smartly, and tracking medical information.
Though market studies suggest Latin America is not yet ready for wearable devices, the region is forecasted to follow in the footsteps of more developed market, with alluring growth prospects of up to 41% annually by 2018.
mHealth apps – healthcare and medical smartphone applications (apps) for patients and healthcare professionals (HCPs) are the most promising for Latin America. Apps dealing with diabetes management and blood pressure & ECG management are expected to be the fastest growing sub-segments. The global mHealth solutions market is expected to reach $59 billion by 2020, growing 33% annually, and Brazil and Mexico are expected to offer the largest opportunities region-wide.
Wirelessly connected devices such as blood pressure cuffs and infusion pumps are the next frontier. Their attractiveness is their ability to straightforwardly collect data, present it to patients and transmit it to physicians. Automation and ease of use are key attributes, as they are mainly designed for the elderly and people with diabetes.
Each of these markets will promote the adoption of a more holistic approach to healthcare, which will eventually lead to an industry-wide shift away from routine medical checkups to data-driven, 'as needed' appointments. People will be able to monitor their health automatically and manage their data and health-related decisions whenever they want. This represents a genuine paradigm shift in healthcare, paving the way to leaner, connected and personalised health systems.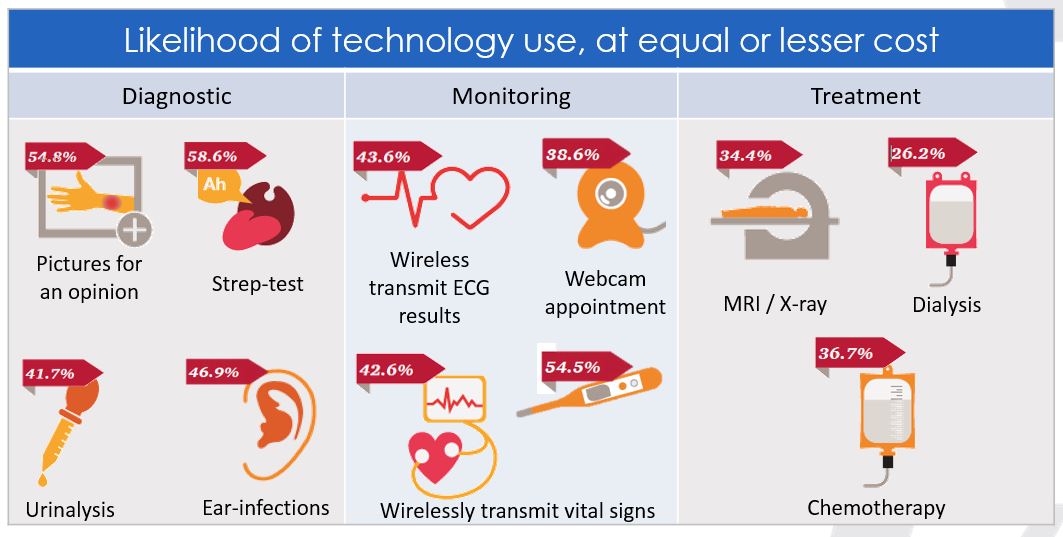 Source: GHI Analysis based on HRI/CIS Wearables Consumer Survey (2013), US.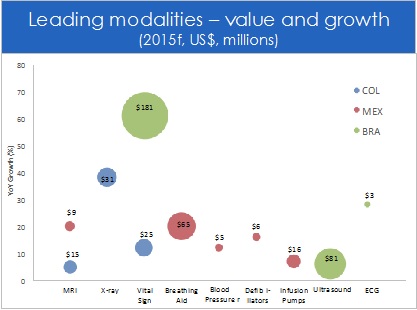 Source: Global Health Intelligence, 2015.
Examining medical device import trends offers intimate insight regarding the pressures and demands affecting the industry. This analysis reveals opportunities for global players and regional leaders alike.
Speciality medical devices
In 2015, imports of capital equipment for the medical field contracted slightly from $5.2 billion to $5.1 billion year-on-year (YoY). Despite stagnant numbers, there are still a number of profitable opportunities in the management of ageing and obesity. Deaths stemming from chronic diseases are projected to reach 84% by 2030, which will continue to be the primary driver for capital equipment imports in coming years.
Mexico, Brazil, Argentina and Colombia account for over 80% of the region's import and sales of capital equipment. All have made efforts to revitalise their healthcare systems.
Despite the worsening economic climate, the Brazilian government allocated funds to teaching hospitals and improving speciality services in 2015; Mexico has initiated plans to streamline medical imports and proposed initiatives to migrate systems to electronic medical records (EMRs); and Argentina has initiated a National CyberHealth Plan to expand patient outreach.
So suppliers can expect sustained interest in capital goods, particularly diagnostic and patient monitoring equipment. Given the financial constraints of payers, second-generation and certified refurbished equipment may gain traction.
In Mexico, infusion pumps dominate imports, displaying a 7% YoY increase. Ventilators and nebulizers, plus defibrillators, experienced the highest growth, with a 20% YoY increase (market value $98 million), and a 23% YoY increase (market value $9.4 million), respectively. Blood pressure monitors saw a 2% YoY increase to reach a market value of $11.6 million.
Brazil's highest-growth products were electrocardiograph machines, up 28% to reach $4.0 million, and ultrasound machines, up 6% to a market value of $107 million. Meanwhile, Colombia had a 5% YoY growth in MRI machines, reaching $15 million by year-end 2015.
Obesity
Mexico, Venezuela and Argentina have populations among the most obese in the world; bleak overweight rates in Brazil, Colombia, and other countries foreshadow the same trend elsewhere in the region. The obesity epidemic and an ageing population mean rising rates of related problems (e.g. diabetes, cardiovascular diseases, blood vessel blockage). Hence the significant potential for the diagnostic and treatment capabilities of infusion pumps, defibrillators, MRIs, electrocardiographs, blood pressure monitors, and ultrasound machines, which address the acute and chronic symptoms of these diseases and their associated risk factors.  Suppliers should expect growth in products for insulin management, hypertension, atherosclerosis, embolism/thrombus formation, and decreased pulmonary function.
Additional opportunities exist in aligning portable patient monitoring devices with government awareness and education campaigns. Existing government programmes could use these devices to further public health objectives. Such is the case with Mexico's National Strategy for Prevention for Control of Overweight, Obesity and Diabetes and Brazil's School Education Programme, which also encourage awareness and lifestyle changes.
As urbanisation and medical technology advances extend life expectancy and decrease the need for acute care, long-term strategies and solutions are required. Equipment and device manufacturers will witness greater growth from products that provide mobility, portability and care outside traditional healthcare facilities.
Diagnostic and patient monitoring equipment
Despite the current unfavourable economic climate, high growth is anticipated in diagnostic and patient monitoring equipment. Latin American countries are expected to lead the global growth of X-ray devices to 2019. Additionally, the capnography equipment market is expected to grow by 15% annually up to 2021, led by Brazil, Mexico, Colombia and Argentina. Blood glucose monitoring and insulin delivery products are showing growth estimated at 6.3% per year to reach $2.3 billion by 2020, led by Brazil and Mexico, owing to the rise in respiratory diseases, diabetes, and cardiovascular disorders.
Products featuring digitised automation and/or portability are increasingly popular. For instance, portable X-ray machines represented nearly 20% of all the X-ray machines entering Mexico in 2015, a market segment expected to grow by 7.6% per year up to 2020. Similarly, electronic blood pressure devices are replacing manual sphygmomanometers. Simplicity and convenience are the main drivers, with bracelet-type blood pressure devices favoured, enabling patients to read their blood pressure at the click of a button.
The traction wearables are gaining in Brazil and Mexico suggests further opportunities to come. Brazil is the fourth-largest smartphone market in the world, with 46% of its populations aware of wearables. Samsung's wearables are leaders throughout the region. Similarly, Mexico's wearable sensor market is expected to increase by 40.61% annually from 2014-2020.
The adoption of smartphone technology and apps has allowed care providers to take advantage of customers' willingness to reinforce patient-centric healthcare. This has created a market for products that monitor patients and collect information to be analysed and used for early detection and treatment, particularly in chronic diseases such as diabetes and cardiovascular issues.
Though home care devices are at the earliest stages in emerging economies, the market is expected to grow at over 8% per year up to 2020.   Portability and mobility will help popularise products for at-home services, such as mobile X-ray facilities (already in existence in North America and Europe), and give patients more options to manage their own health.
Recent efforts by governments to modernise and connect their healthcare sectors wirelessly give opportunities to suppliers providing telehealth-like communication between doctor and patient. Patients could use smartphone apps and wearables to manually enter data their physicians can access; the devices could automatically transmit the data. Use at home reduces patient visits and saves patients and healthcare institutions time. By bringing healthcare services and solutions to the patient, inclusivity is maximised and patient monitoring is consistent, reducing costly professional intervention.
The global market for mobile healthcare solutions and wearables is expected to grow at 25%-30% CAGR between 2015 and 2020. Though adoption in Latin America may be slow owing to the high cost of devices and a lack of awareness, suppliers can jump-start this growth.
For a full list of references, please contact the author.
About the author:
Guillaume Corpart is managing director of Global Health Intelligence and a veteran of market intelligence in emerging markets. Global Health Intelligence has the world's largest hospital demographics database in emerging markets and helps companies succeed in their growth strategies. For more information contact:gc@globalhealthintelligence.com
Read the first and second parts in this series from Guillaume Corpart:
Healthcare opportunities in Latin America
Latin American healthcare: impact of ageing, chronic conditions & obesity