AstraZeneca may have hit rock bottom, but can it rise to new heights?
Views & Analysis
Back in 2014, Pascal Soriot CEO of AstraZeneca managed to stave off a takeover bid from Pfizer with a bold promise to return the company to growth and achieve revenues of between $41 to $42 billion by 2023. But will the company really be able to double its revenues in less than five years, asks Richard Staines.
[caption id="attachment_14218" align="alignnone" width="160"]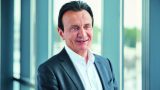 Pascal Soriot[/caption]
In a conference call with journalists, AstraZeneca's CEO Pascal Soriot got to deliver the good news – sales are finally increasing again after almost a decade of decline after the Anglo-Swedish company endured one of the worst patent cliffs in pharma.
Patent expiries are something that all pharma companies must negotiate, but AZ has been particularly badly affected.
Unlike some of its rivals, many of AZ's older drugs were oral medicines based on small molecules that are easy for generic manufacturers to copy, making them vulnerable to cut-price competition immediately after their legal protection has expired.
This was the case with both Crestor (rosuvastatin) and Nexium (esomeprazole), used to treat cholesterol and stomach acid reflux respectively, which were two of the company's biggest selling drugs before their patents ran out.
Manufacturers of the first generation of biologic medicines that launched in the first decade of this century have been protected to some degree by the fact their drugs have been difficult to copy as they are manufactured using cells, instead of the giant chemistry sets used to make conventional drugs.
Roche is a prime example – its MabThera/Rituxan (rituximab) cancer and inflammatory diseases drug has been off-patent since 2013 in Europe but only encountered competition from cheaper biosimilars in the EU last year, such are the challenges producing accurate copies of antibody-based drugs.
And AZ's British rival GlaxoSmithKline has been propped up for years by Advair (fluticasone+salmeterol), even though the patent on its drug expired in 2010 and the protection on its Diskus inhaler expired two years ago.
Toughing it out
In contrast AstraZeneca has had to tough it out while revenues from old medicines dried up, and it waited for a new generation of drugs to come on stream.
However, according to Soriot said there is now cause for optimism at AZ, where staff are looking forward to a much-delayed move into a new headquarters in Cambridge next year.
He told journalists on a conference call earlier this month: "We have reached an important inflection point. We are now on track for low single digit growth for the full year. That growth will accelerate on the momentum from the new products."
New drugs are finally beginning to produce some strong revenues, and there could be more to come as the company's pipeline begins to produce results over the coming years.
The star of the show at the moment is Tagrisso (osimertinib), which was originally developed to treat a group of lung cancer patients whose cancer had become resistant to established tyrosine kinase inhibitors therapies such as Iressa (gefitinib) and Roche's Tarceva (erlotinib).
But the drug surprised AstraZeneca as it turned out to be better than Iressa and Tarceva when used in untreated patients with EGFR mutations.
Soriot also noted that the drug also crosses the blood-brain barrier, so has an effect on brain metastases – something that the company did not foresee when it was first developed.
The drug is currently pulling in revenues that equate to around $2 billion per year, but this could double according to Soriot. Some analysts expect annual sales to be even higher, at around $6 billion.
AZ has also blazed a trail in the poly (ADP ribose) polymerase (PARP) inhibitor class with its ovarian cancer drug Lynparza (olaparib), which the company just filed in a new maintenance therapy use in the EU, Japan and China.
An FDA filing is due before the quarter is up in an indication that could add a further billion to sales.
Mainly off the back of these two drugs, AstraZeneca now has one of the fastest growing oncology franchises in big pharma, Soriot said.
Breathing easy after respiratory disease success
Soriot was also keen to point out that AstraZeneca is not just a cancer company and noted the "remarkable success" of respiratory diseases drug Fasenra (benralizumab), approved last year in a severe form of asthma.
He said: "We have launched Fasenra in the US, Germany and Japan, and everywhere we launch we do extremely well."
According to Soriot, Fasenra is now the "leading biologic in class in terms of new patient starts" – indicating that the drug is competing well against two rival therapies in the interleukin-5 inhibitor class from GSK and Teva, with Nucala and Cinqaero respectively.
The consensus opinion is that Fasenra has an advantage over GSK's rival from the same class, Nucala, because of its eight-week dosing schedule, compared with four weeks for the GSK drug.
But there have been setbacks – AZ's Imfinzi (durvalumab) has been approved in several niche cancer indications but has so far come up short in the important first-line non-small cell lung cancer (NSCLC) use.
Overall survival data from AZ's phase 3 MYSTIC trial is due before the end of the year, Soriot noted, but the Imfinzi and tremelimumab combination being tested in the trial has already failed to produce a benefit when measured against one of the trial's endpoints of progression-free survival.
This casts doubts about the combination's prospects in this indication, given the strong results from Keytruda that have given Merck & Co such a firm foothold in first line NSCLC.
From a batch of 22 phase 3 trial readouts in 2018 there have been five failures, including anifrolumab in lupus – and while this kind of attrition rate is to be expected AZ will surely need nearly all of its late stage trials to succeed if it is to meet its revenue goal.
For all of 2017, AZ's annual sales were just under $22.5 billion – and with 2018 looking to be below or around this level the company must nearly double its revenues to hit the target set in 2014.
The company has been propping itself up by selling off older drugs, and while this has produced some handy one-off windfalls this strategy will not work forever.
AZ's sales peaked at just over $33.5 billion in 2011 – to achieve its sales targets AZ will have to eclipse this figure over the next couple of years through growth generated by new drugs.
There are also doubts about whether Soriot will stay around to finish this daunting job – earlier this year he said he was one of the "lowest paid" CEOs in big pharma after a shareholder revolt on his pay package.
Soriot was strongly linked with the vacant CEO seat at Teva before Kare Schultz's appointment last year, and again faced questions about his long-term commitment to the task during the results call.
Soriot's pay is linked with the company's performance, and it remains to be seen whether he will stay around if the recovery runs out of steam as the pharma faces off the impact of Brexit and the ongoing focus on drug prices in the US.
Questioned by reporters about his commitment to AZ, Soriot said: "I am enjoying what I am doing. There are a lot of exciting things happening, I have no plans to move on."