2018 in review: How patient centricity led to new drugs that tackle unmet need
Views & Analysis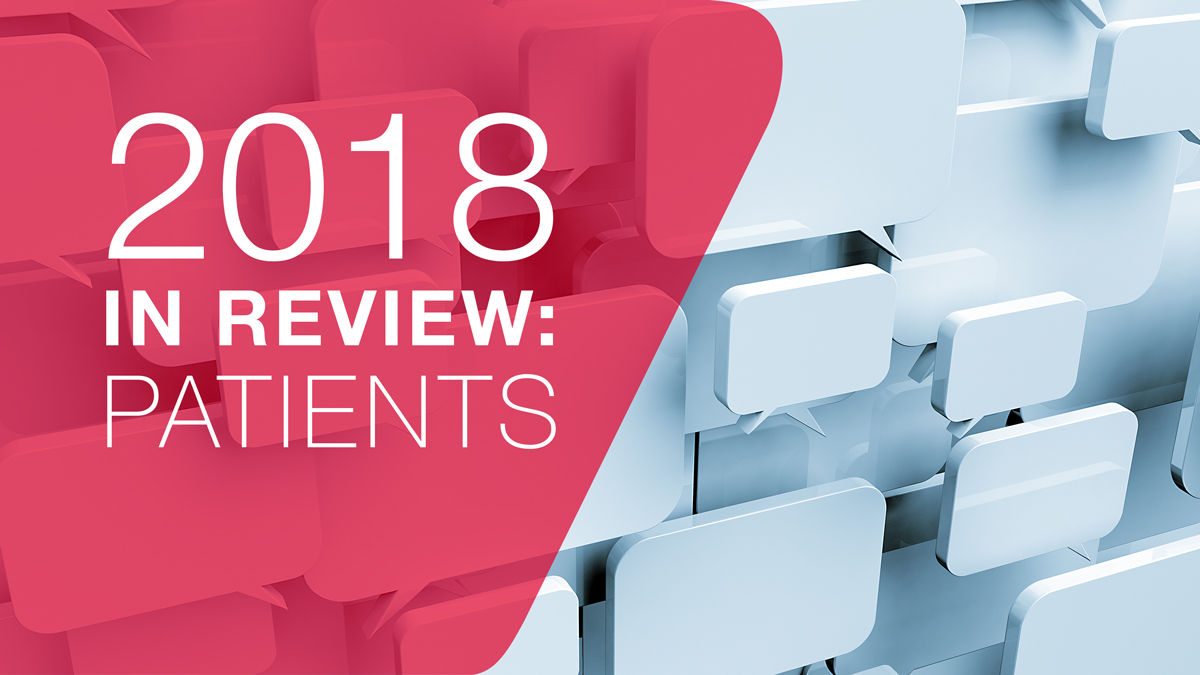 The trend for working with patients, advocacy groups and appraisal authorities has yielded potentially life-changing results for patient centricity in 2018.
It was a year of new hope for millions of people living with underserved conditions, as the pharmaceutical industry made huge strides towards tackling unmet need.
Collaboration, innovative trial design and listening to the patient voice have led to a slew of proposals, trials and even approvals of medicines for all-too-often forgotten conditions.
Correcting genes
Back in February, we reported on Sangamo's ground-breaking trial of zinc finger nuclease in the rare and incurable Hunter syndrome.
Two people with the condition, caused by mutations in a gene that resides in liver cells and encodes the iduronate-2-sulfatase (IDS) enzyme, volunteered to be the first humans to try the drug.
So far, there have been no safety issues connected to the one-off infusion, which inserts a corrective gene into the liver cells' DNA, and the volunteers' liver function tests have remained within normal limits.
It's early days for the study, but so far so good, and Sangamo is hopeful that the therapy could be effective in a range of genetic conditions.
Vertex is also looking at gene-correcting therapies, with the aim of reducing the burden of living with cystic fibrosis (CF).
Speaking to pharmaphorum in March, senior research fellow at the company, Fred van Goor, said that it was trialling a triple therapy that could help around 90 per cent of patients.
However, with so many mutations in the gene that causes the condition, there is a mountain to climb, he said.
Ensuring market access
Not only does it mean it could take 15 years or more to develop treatments for everyone with CF, but it also presents access issues.
After its combination therapy Orkambi was ruled to be not cost effective in people with two copies of the F509del mutation, Vertex struck a deal with the Department of Health and NICE to cover all its CF drugs.
"What is important is that patients get access to our medicines," van Goor told pharmaphorum.
Vertex was not the only company asserting its commitment to underserved patient populations in 2018.
As we reported in March, UK-based Amryt Pharma acquired two orphan-disease treatments and plans to extend their benefits to more people.
Expanding indications
The company is planning a paediatric study for Lojuxta, which is licensed to treat the rare, life-threatening Homozygous Familial Hypercholesterolemia (HoFH).
The other product, AP101 is a promising candidate for the rare skin condition epidermolysis bullosa.
Joe Wiley, chief executive, said the company was planning to study its use in other severe partial thickness wound conditions. These include Toxic Epidermal Necrolysis and Stevens Johnson Syndrome, two types of a rare skin and mucous membranes disorder.
"(Studies) are being planned in parallel in order to maximise the potential value of the AP101 asset for Amryt, our shareholders and, most importantly, for patients," said Wiley.
"We can offer patients what they need as we seek to improve their quality of life with more effective wound care."
Collaborative success
Working alongside patients to understand and tackle unmet need is a growing theme – and one that looks to be paying dividends in Parkinson's.
In June, Sunovion said its under-the-tongue film had hit target in a late stage trial, and could be on the market as early as next year.
APL-130277 is an on-demand, oral alternative for use during "off episodes" – these are periods of the day when standard treatment is "wearing off" and symptoms worsen.
Todd Sherer, CEO of The Michael J Fox Foundation for Parkinson's Research, said: "Through our ongoing work with people living with Parkinson's disease, we know the community is eager for more treatment options that may help alleviate OFF episodes, which are often disruptive to their daily lives."
Living well with a rare disease
Quality of life is an important outcome for patients, and Sunovion is not the only example of companies working to offer improvements.
In August, the European Commission approved Novelion Therapeutics' Myalepta making it the only treatment for leptin deficiency, a complication of lipodystrophy.
The ultra-rare, incurable disease restricts a person's ability to store fat in their body. It is associated with several critical metabolic problems and can cause critical organ damage if uncontrolled.
Sir Stephen O'Rahilly, professor of Clinical Biochemistry and Medicine at Addenbrooke's Hospital, Cambridge, said the approval was a "significant milestone".
"Patients with lipodystrophy have previously relied on lifestyle changes and medications, like insulin injections to manage the condition's associated complications," he said.
"For the first time, we will be able to offer patients in Europe a treatment option that addresses one of the fundamental aspects of the condition itself."
Continuing the trend
We enter 2019 in a strong position, as a growing understanding of both medical science and of the everyday impact of disease combine to give rise to ever more innovative, impactful treatments.
And pharmaceutical companies, healthcare systems and people living with previously underserved conditions all stand to benefit.
Read more of pharmaphorum's 2018 in review: