Collaborating to fight NASH
Eric Hughes, Global Development Unit head at Novartis for Immunology, Hepatology & Dermatology, believes that collaboration is going to be key to finally finding a treatment for non-alcoholic steatohepatitis (NASH). We spoke to him to find out more.
What do you see as the main difficulties still remaining in NASH?
NASH is a complex disease in the sense that it involves fat accumulation in the liver, the inflammation of that fat and then the fibrotic process after that. So there are many different, important steps in the disease process that we need to treat. Attacking just one of those alone is going to be hard, and we know that it's going to take a combination to treat the disease as a whole.
Novartis has been in this business for a little while and we're fortunate to have a broad portfolio of compounds for NASH, with our farnesoid X receptor (FXR) agonist tropifexor as its backbone, but we also realise that collaboration is going to be key to bringing the best combinations together.
"Nine out of ten patients are diagnosed with NASH just by chance; that's something we have to improve greatly"
For example, we recently announced a collaboration with Pfizer. We're excited to be working with Pfizer because they have a great depth of knowledge in the fields of metabolic and cardiovascular diseases, so the combination of tropifexor with their three agents is a very important part of their portfolio.
We are also collaborating with Allergan to combine tropifexor with their cenicriviroc, and last year we announced we were acquiring IFM Tre, which is developing a number of NRP3 inhibitors – which is a real speciality of Novartis, as we've been studying inflammasome for over a decade.
Internal combinations will continue to be important too – for example we have an SGLT-2 inhibitor called licogliflozin that we're combining with tropifexor.
We're always open to talking to people about collaborations.
When pharmaphorum spoke to you about NASH in 2017 you said Novartis wanted to be a leader in this space. Do you think you're still on track to do that?
Absolutely. Back then we were already talking about collaboration so we're very excited to see the field moving forward. It's really important to state again the complexity means that people absolutely have to work together to tackle NASH.
There's already quite a lot of competition in the NASH space. Do you think it's important who gets out there first with a drug, or are you looking to take a more patient approach?
I think you'll see an evolution; you'll see a number of different ups and downs, and it'll be a bit of a rollercoaster with successes and failures. There will be a first, important wave of monotherapies, and then a second wave of combination therapies. With that second wave I think we'll really see that big leap in transformational efficacy. Right now we're seeing relatively modest effects with monotherapies.
What would you say are the main needs for patients in NASH and how do you hope to address them?
One of the first and possibly the most important things to address now is disease awareness. We know that approximately nine out of ten patients are diagnosed with NASH just by chance, and that's something we have to improve greatly – not only for patients but also for physicians. They need to know that this disease that has no current therapies is actively being studied now and will soon have options for their patients.
What is the most exciting thing you are seeing in this field at the moment?
The most exciting thing right now is that people are really having a concerted effort to address this disease that affects 5% of the world population. They've been studying it for many years but now the effort is really ticking up, such that soon we'll be able to get treatments for patients that prevent the decompensation of the liver, liver transplants, and ultimately death. These are very important outcomes that we're working on.
About the interviewee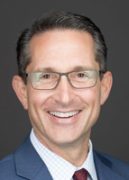 Eric Hughes joined Novartis in 2015 and leads the Immunology, Hepatology & Dermatology (IHD) Development Unit and China regional development. He and his team are responsible for managing the clinical development and regulatory approvals of Cosentyx and a number of innovative treatments within the Unit, including Xolair and Ilaris.
Prior to joining Novartis, Eric worked for Bristol-Myers Squibb (BMS) Company for five years, most recently as vice president and head of specialty discovery medicine, exploratory clinical and translational research.