The post-Covid New Normal: a golden opportunity for the NHS?
R&D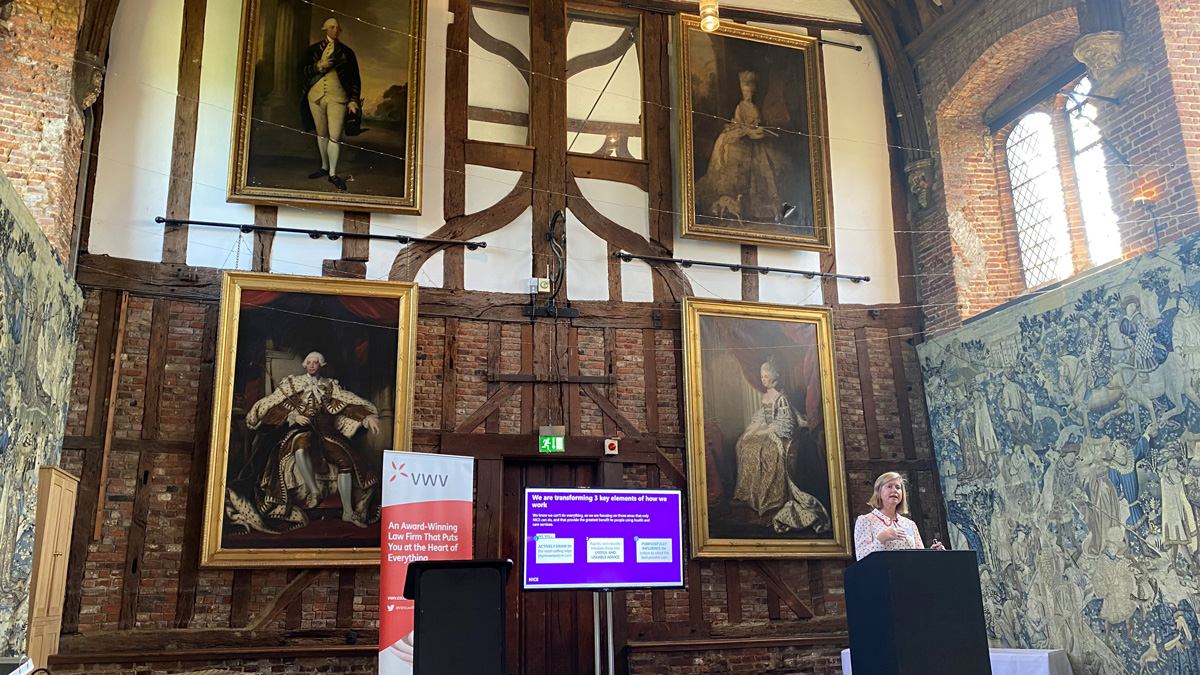 I recently had the pleasure of attending the PING Conference 2022, which had the tagline of 'The Golden Age for Life Sciences Innovation'. In part, this was due to it being held at The Old Palace at Hatfield House, a location steeped in history and formerly the residence of Queen Elizabeth I, with whom 'a golden age' is often associated.
However, it also reflected the optimistic tone of the event, organised by VWV, which aimed to present some rays of light for the future as we (hopefully) emerge from the COVID pandemic.
Aspirations for the UK in life sciences
George Freeman, minister for science, research and innovation at the Department for Business, Energy and Industrial Strategy, opened proceedings by reminding us of some of the UK's recent achievements and aspirations for the future.
Notable highlights include the central role the UK has played in the field of genomics, with over 500 thousand patients now in the biobank, and the recent RECOVERY trial – the world's largest clinical trial into treatments for Covid-19, with more than 40,000 participants across 185 trial sites in the UK.
But it is clear there is still much to do, and Freeman reminded us of the billions being invested into UK life sciences to drive three imperatives:
Faster access to patients for research
Faster access for patients for interventions
Data on all aspects, including stratification of patient types
Within those, two things are critical for him: helping NICE become the "world class benchmark agency for HTA", and a focus on 'disease missions' that bring together digital technology with the NHS's network.
Reducing complexity across the NHS
Matthew Whitty, NHSE innovation and life sciences director, followed on, opening by stating, "Research and innovation cannot be a sexy side project for the NHS… it must be core to brilliant care today and better care tomorrow."
He then outlined five key areas of focus to help reduce complexity in the NHS, thereby increasing efficiency and innovation through:
Better horizon scanning for new diagnostics and treatments, building on the rapid C19 programme;
reinforcing the UK's reputation as a leading global centre for research and encouraging more companies to conduct research here, through closer cooperation between the NIHR and NHS, plus embedding it into adjacent strategies, such as the nursing strategy;
more rapidly integrating NICE-approved medicines, diagnostics and devices into care;
greater emphasis on systems and workforce across the NHS, including more education programmes around the adoption of innovation and initiatives such as the Clinical Entrepreneurs Programme, which allow innovators to develop and test solutions while still working within the NHS;
a renewed focus on industry support to make it easier for companies to navigate the UK research environment, with the 'NHS Innovation Service' sitting at the core of this.
While Whitty deftly deferred a question around the impact of Brexit on funding to his government colleagues, he does see supporting the workforce as the most pressing priority, along with the need to manage press around the NHS as it innovates.
Accelerating access for patients
Dr Sam Roberts, the new chief executive of the National Institute for Health and Care Excellence (NICE), as of February 2022, discussed the challenges of access to medicines within a health system that is under immense pressure off the back of the pandemic.
Self-proclaiming that she is "naturally cheery by nature, as a South African", Roberts thinks NICE is doing 'ok', despite the occasional negative press at home and feels that its perception outside the UK is more positive.
Indeed, she emphasised that the work done on ensuring access to novel CAR-T therapies was the 'poster child' for how it should be done – engaging early with industry partners and collecting informative real-world evidence to guide decision-making.
In view of this, Roberts does not see big changes to the plans already set out by her predecessor in the 'NICE strategy 2021-2026' report, however, she does want particular focus on four areas:
Improving the usefulness and usability of NICE's guidelines by developing digital living guidelines recommendations in breast cancer;
providing quicker assessments of early value to identify the most promising medical devices, diagnostics and digital products;
expanding NICE's capacity for technology appraisal guidance for medicines by 20% through developing a more proportionate approach;
starting an internal transformation of the way NICE works.
On the latter two points, she outlined how NICE is moving to having a 'semi-skimmed' appraisal process for certain interventions, which is being trialled this year, as a lighter version of the current 'full fat' approach. In addition, NICE is investigating models around how to bring 'disease area blueprints' into the HTA process to take a more holistic approach in specific indications.
Driving predictive health and encouraging innovation
In the second half of the event, the presentations turned more towards the cutting-edge of digital innovation and how to encourage a vibrant start-up ecosystem.
Andy Roddam provided a glimpse of his work as CEO of Our Future Health, a bold initiative that is aiming to get 10% of the UK population – around five million people – to share their health data in the hope of using artificial intelligence to help drive earlier disease detection, prevention and intervention.
The initiative is already well underway and working with 'traditional' life science companies, technology/wearable players and those on the frontline of patient contact. For example, it is already partnering with Boots to recruit patients and aligning awareness with routine procedures, such as blood tests, to encourage diversity of uptake.
For sure, Our Future Health is incredibly ambitious, but without better prediction and early intervention, the NHS will continue to face an increasing backlog of patients to treat, so let's all hope it can succeed (and do get in touch if you can help!).
For initiatives like this, and the broader transformation of the NHS, a vibrant start-up ecosystem is critical, and so the final words went to two investors with some sage advice to entrepreneurs.
Tim Rea (head of Early Stage Investments at BGF) and Alun Williams (investment director at Parkwalk Advisors) have collectively invested well over half a billion into around 200 companies. They see a tough period coming up for smaller companies in view of the global economy and urge them to have a 'survival plan' in place for the next two years that allows for no additional fund-raising.
But that said, they do see a lot of good innovation and provided some clear advice for those seeking investment: make sure you have a solution to a problem (and not vice versa), make sure you can tell a good story and think about what's in it for the investors.
So, with all that said, are we really in a golden age for UK life sciences?
Well, if you come back to the story of Queen Elizabeth I it's clear that things are very tough right now. We're probably still aligned to the stage of her life where she was imprisoned, wondering if she would face execution the next day.
But perhaps, with right determination, collaboration and creativity, UK life sciences might come to look back on COVID as a turning point, rather like Elizabeth seeing off the threat of invasion from a foreign fleet, and now remembered as a great monarch.
A golden age? Perhaps. A golden opportunity to innovate out of necessity? Absolutely.
About the author

Dr Paul Tunnah is chief content officer and UK managing director for Healthware Group, a global health innovation and technology leader providing transformational advisory and technology services for commercial, medical, and R&D operations of life-sciences and digital health companies, combined with design and development of digital medicines and digital therapeutics products.
Prior to this, he founded the industry-leading publication, pharmaphorum, in 2009, which also provides broader content communications and marketing services to enable more effective customer engagement. He is a recognised author, speaker, moderator and industry advisor with a passion for helping organisations tell authentic stories that resonate, co-create solutions and unlock the power of digital and social media in connecting with stakeholders and understanding markets.
Dr Tunnah holds a BA in Biochemistry and DPhil in Biological Sciences from Oxford University, where his work focused on identification of novel anticancer therapies. Connect with Dr Tunnah at https://www.linkedin.com/in/paultunnah/ or https://twitter.com/ptunnah