SMi's 11th Annual Social Media in Pharma Returns to London!
Partner Content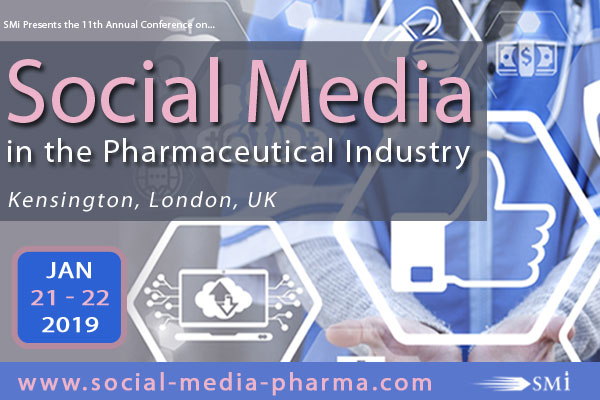 SMi is excited to present the return of their 11th annual Social Media in the Pharmaceutical Industry conference to London, UK on the 21st - 22nd January 2019!
This year looks at opening the speaker line up to represent all industry stakeholders, from pharma to social media pioneers, all whilst keeping the patient at the forefront. The conference will explore the most recent advances in digital application within the pharmaceutical sector and address some of the key challenges within the industry, including optimisation of upcoming technologies such as AI.
The conference will be discussing how to leverage social media platforms to develop a robust digital strategy and discuss the latest challenges and techniques in the field of 'social pharma.'
Chairs For 2019:
- Jason Browning, Global Head of Digital Communications & Social Media, Novartis
- Emma Sutcliffe, Director Patient Engagement and Innovation, NexGen Healthcare Communications
Featured Speakers:
- Roeland Van der Heiden, Digital Director, AstraZeneca
- Lin Lei, Associate Director Digital Customer Engagement, Teva
- Joao Bocas, CEO, DigitalSalutem
- Paul Tunnah, CEO, PharmaPhorum Media
- Jacob D Flindt, Founder, InforMed.pro
- Alan Shaw, Director, Strategic Planet; Senior Lecturer: Digital Marketing, Northumbria University
- Dennis Fink, Campaign Manager and Social Media Channel Expert, Qiagen
- Stefania Alvino, Multichannel Manager, Daiichi Sankyo Co
Key Highlights – Jan 2019:
Explore a results driven, value focused social media strategy in the pharmaceutical industry
Gain insight into procedures and practices required prior to the implementation of social listening
Discuss how to personalise the content relationships with AI
Understand the optimisation of disease awareness through social media channels
Learn how to use social networks and digital communication to engage HCPs and patients
Discover pharmacovigilance in social media - specifically in adverse events reporting
Download a preliminary agenda online: www.social-media-pharma.com
Here's a few of last year's attendees:
Business Unit Director | CEO | CEO | Chief Advisor | Co-Founder | COO | Corporate Partnerships Manager | CRC | Digital Marketing Manager | Digital Marketing | Digital Marketing Director | Director Social Media | EU Market Research Manager | Global Digital Content Lead | Head of Content | Head of Client Solutions Management | Head of Marketing | Lecturer | Marketing Manager | President | Product Manager | Public Relations | Public Relations & Corporate Communications Specialist | RA PM | Senior Account Manager | Senior Regional Digital Marketing Manager | Senior Marketing Manager | Senior Digital Marketing Manager | Social Media Manager | Social Media, Pharmaceutical Radio Presenter | VP Global Head Health & Digital Solutions | Vice President of Business Development | VP Marketing
Download the full attendee list in the download centre: www.social-media-pharma.com/
For those looking to attend, there is currently a £400 early-bird saving, only valid online! Register today!
Follow 'SMi Pharma' on LinkedIn for latest pharmaceutical industry updates. #pharmasocialmedia19
SMi presents the 11th annual conference:
Social Media in the Pharmaceutical Industry
Date: 21st – 22nd January 2019
Location: Holiday Inn Kensington Forum, London UK
Website: www.social-media-pharma.com
---end---
Contact Information:
For all media inquiries contact Pav Solanki on Tel: +44 (0)20 7827 6048 / Email: psolanki@smi-online.co.uk
About SMi Group:
Established since 1993, the SMi Group is a global event-production company that specializes in Business-to-Business Conferences, Workshops, Masterclasses and online Communities. We create and deliver events in the Defence, Security, Energy, Utilities, Finance and Pharmaceutical industries. We pride ourselves on having access to the world's most forward-thinking opinion leaders and visionaries, allowing us to bring our communities together to Learn, Engage, Share and Network. More information can be found at http://www.smi-online.co.uk