KOL Validation: An Opportunity To Benchmark Mindset
Partner Content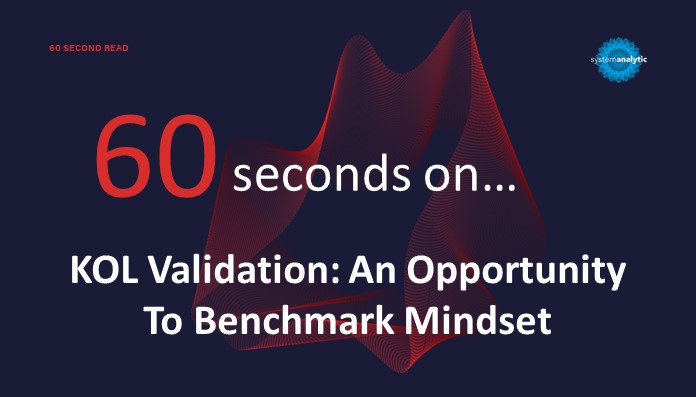 The benefits of conducting a regular KOL validation exercise to refresh your KOL list are well established. Such exercises implemented on a regular basis ensure you avoid the dangers that come from working continuously with the same people while keeping your KOL list refreshed and relevant.
But the risk of becoming myopic in your view of the KOL landscape, and possibly even your KOL decision-making, extends beyond just the actual list of your KOLs. The KOL landscape changes over time, not just with new voices but also with shifting views amongst existing KOLs. Ideas come and go, the next new thing takes hold, people change, opinions evolve. KOL validation should therefore be treated in opportunity to go well beyond just refreshing your list of KOLs.
Consequently, a validation exercise gives you a unique opportunity to also re-assess the mindset of your experts – where do they stand on key management and therapeutic issues, how has that thinking changed over time in response to competitor activities and market shaping events, how do they resonate with different parts of your scientific story today?
Such insights can then be used to benchmark the 'state of play' amongst your experts, help you to segment, classify them with greater accuracy and precisions based on up-to-date data. All of this should feed into your KOL engagement plans as well as ultimately govern the allocation of your resources – which KOLs need more engagement on specific issues, which ones will be most suited to support in your next cycle of tactical activities?
In summary, an effective KOL validation exercise should be viewed as not only an opportunity to ascertain which KOLs should stay on your list, which ones should go, and which new ones should be added to your list; it should also give you deep, up-to-date insights into their mindset which can ultimately significantly boost every facet of your KOL management programme.
SIDDIQAH KHANOM
Services & Innovations Associate Executive
e: siddiqah.khanom@systemanalytic.com
t :+44 (0)20 3637 9416
a: Alphabeta Building, 14-18 Finsbury Square, London, UK, EC2A 1AH