Join Pharmaceutical Social Media Experts in Just 1 Week!
Partner Content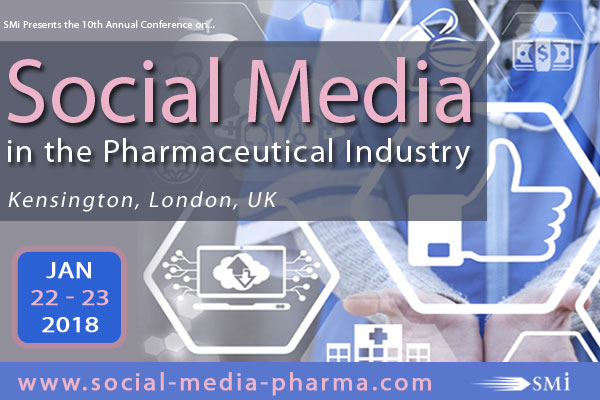 Next week, SMi's 10th conference on Social Media in the Pharmaceutical Industry will open its doors to a global audience of HCPs, healthcare marketers and social media experts to discuss key themes within the pharmaceutical industry's digital revolution.
With just 1 week until the event, here's a little checklist of updates for you:
1. An Updated Programme:
Featuring 18 leading pharma and social media experts, 15 thought-provoking presentations, an exclusive keynote address, and 4+ hours of networking, the agenda has been curated to reflect and to address key themes and issues surrounding the importance and use of social media within the industry. Key themes include leveraging social media to build stronger brands, digital content marketing, mHealth apps and pharmacovigilance, a virtual assistant, regulatory updates and building social networks for HCPs.
2. A Stellar Line-up of Digital Pioneers:
From big pharma to digital marketing pioneers and patient associations, our panel of experts are sure to deliver the best top tricks of the trade to help you revolutionise your digital strategy. Our speakers include IBM, Janssen, Roche, GSK, Bristol-Myers Squibb, pharmaphorum, MSD, Pfizer, CREATION, UCB and more! The full speaker list can be viewed online.
3. Exclusive Content:
Check out the Download Centre on the website to read interviews with some of the industry's social media pioneers including an exclusive radio session!
Interviews Include:
- [RADIO INTERVIEW] - Radio Bezs: Pharmacists As Influencers
- Dr. Paul Tunnah, CEO, pharmaphorum
- Jacob D Flindt, Founder, inforMed.pro
- Jackie Cuyvers, Co-Founder & CEO, The Conversationalist Agency
- Adam Doggett, Senior Research Analyst, CREATION
- Sarah Holiday, Social Media Strategy Lead, Pfizer
- Richard Brady, Consultant Colorectal Surgeon, RVI, Newcastle and SoMe Lead, BJS
- Tim Juergens, VP Global Head - Health & Digital Solutions, Roche Diabetes Care
4. The Pharma Social Network:
Get social! Network and compare top tricks of the trade with the cream of the crop!
- Keep updated on the go by following SMi on Twitter: @smipharm & LinkedIn: Search 'SMi Pharma'. Join the conversation by using #pharmasocialmedia.
5. The Conference Doesn't Stop There!
Attend our post-conference workshop, focusing on the combination of latest advancements in 'Social Networking and Strategic Competitive Intelligence', and the benefits/pitfalls when embracing these tools. Workshop hosted by LucidQuest.
- Don't miss out on this sell-out series! Spaces are quickly filling up so get involved! -
To hear from our speakers on their real-life industry experiences, visit the download centre: http://bit.ly/2DeeEgx
For more information on all sessions, view the full agenda: www.social-media-pharma.com/phpr
SMi Presents the 10th Annual Conference:
Social Media in the Pharmaceutical Industry
Date: 22nd – 23rd January 2017
Location: Kensington, London
Website: www.social-media-pharma.com/phpr
---end---
Contact Information:
For all media inquiries contact Pavan Solanki on Tel: +44 (0)20 7827 6048 / Email: psolanki@smi-online.co.uk
About SMi Group:
Established since 1993, the SMi Group is a global event-production company that specializes in Business-to-Business Conferences, Workshops, Masterclasses and online Communities. We create and deliver events in the Defence, Security, Energy, Utilities, Finance and Pharmaceutical industries. We pride ourselves on having access to the world's most forward-thinking opinion leaders and visionaries, allowing us to bring our communities together to Learn, Engage, Share and Network. More information can be found at http://www.smi-online.co.uk