Thread, Eversana join forces on real-world data platform
News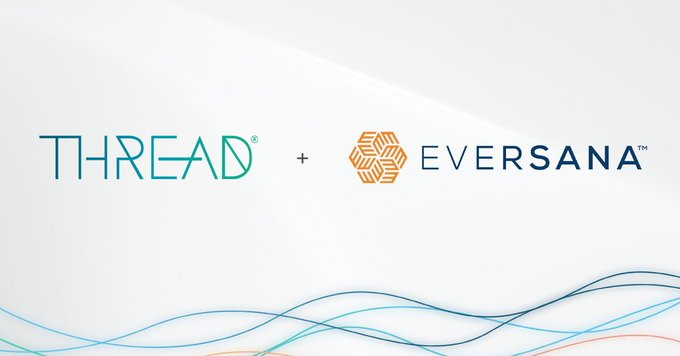 Eversana's expansion into real-world data (RWD) handling has gathered pace via an alliance with Thread, a specialist in decentralised clinical trials and electronic clinical outcome assessments (eCOAs).
The two companies have collaborated to launch a new digital platform that promises to make clinical studies "more efficient, comprehensive and inclusive" – building in RWD from the ground up – and provide researchers "with a totality of evidence to inform their research," according to Thread chief executive John Reites.
The platform combines Eversana's commercial services, electronic medical record (EMR) data, and RWD-driven recruitment capabilities with Thread's platform for decentralised trials, which have come to the fore amid the social restrictions forced by the pandemic.
Technology from Roivant spinout Datavant will be used to link the different data elements and ensure patient privacy and data security.
While randomised clinical trials remain the gold standard for testing medicines, showing how they perform in real-world settings is gaining increasing importance for both regulators and payers.
Eversana and Thread's combined offering enables a more holistic view of clinical research participants by connecting patient-generated RWD such as study and registry data with secondary RWD obtained from claims and medical records, according to the partners.
The result is a single, digitally-enabled platform that reduces data collection burdens and can lead to more efficient and inclusive research, they claim.
Bringing all this together into a centralised platform is far from a straightforward task, according to Eversana CEO Jim Lang, but the result is that can reduce the time client need to spend on running RWD studies and allow them to "refocus their time and energy on future innovations for patients worldwide."
"We've reduced the data collection and security burden on sites and participants and enabled rapid go-live, consent and enrolment while reducing registry and startup costs," he said.
Eversana push into RWD gathered momentum last year when it launched a data management and analysis platform for chronic diseases.
That has started to attract the attention of pharma companies, and last December the company announced an agreement with Janssen to assist in evidence-based development of the drugmakers therapies and patient support models.