Support bot for cancer patient relatives wins WHO Health Hackathon
News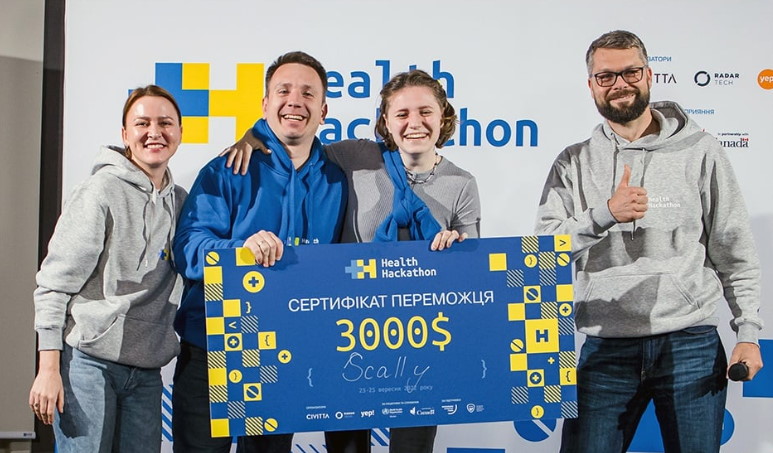 A bot that provides support to relatives of people with cancer – called Scally – has been named the winner of the World Health Organization's inaugural European competition to find and nurture digital health projects.
The Health Hackathon – which took place in the western city of Lviv in war-torn Ukraine – saw more than 40 teams showcase digital solutions to the challenges faced by patients and doctors, competing for recognition and promise of financial backing to take their projects to the next level.
Students, healthcare workers, marketers, IT specialists, and activists spent 48 hours developing people-centred digital approaches that can contribute to the Ukrainian national health care strategy, receiving mentoring sessions, educational workshops, and pitch training.
Scally won the top prize of €3,000 and was one of several digital health ideas in line for additional financial backing and offers of support from incubators and mentorship for further development. Others included software that monitors and analyses patient data to recommend further diagnostics to doctors, and artificial intelligence (AI)-based diagnosis of symptoms according to international clinical standards.
All told, 10 teams will continue to work with business mentors and WHO field experts to "advance and finalise their products," said the health agency, noting that digitalisation is an essential step forward in strengthening health systems and public health functions.
"E-health has advanced over the past years, and Ukraine has been developing its IT products in different fields, including health care," said Dr Jarno Habicht, WHO Representative in Ukraine.
"We invited participants of the Health Hackathon to contribute by tackling challenges around health promotion, disease prevention, mental health, health workforce support, and health-care management," he explained.
The Health Hackathon was organised by the WHO Country Office in Ukraine and implemented by consultancy group CIVITTA and Ukrainian accelerators Radar Tech and YEP, in partnership with experts from the Academy of Family Medicine of Ukraine and the Ukrainian Start-up Fund. The Canadian government provided financial support.
Despite being eight months into a brutal invasion, Ukraine's health system continues to function, but is facing growing logistical challenges as Russian forces target national infrastructure.
Habicht reported recently that the major barriers to accessing healthcare are cost, time constraints to get to and from health facilities, and limited transport availability, with one in three Ukrainians living in occupied or active conflict areas reporting reduced access to services and medicines, compared to one in five people nationwide.
Main image source: WHO