FDA clears Myovant's relugolix for uterine fibroids, setting up AbbVie clash
News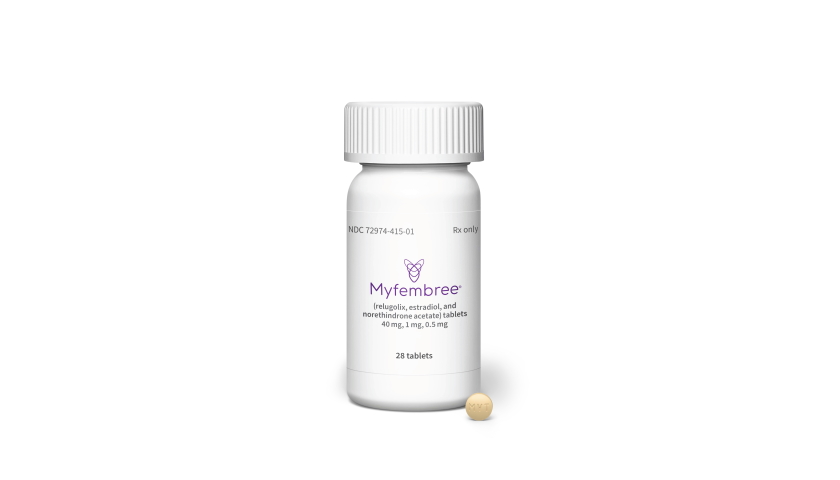 Myovant has chalked up a second approval for its flagship drug relugolix from the FDA, becoming the first once-daily oral drug in the US to treat heavy menstrual bleeding associated with uterine fibroids. 
The drug will be sold as Myfembree (relugolix) for the uterine fibroids indication, and is already available to treat prostate cancer under the Orgovyx brand name. Approval for uterine fibroids could also come shortly in Europe, as relugolix was recommended for approval last week.
The approval is good news for Myovant's partner Pfizer too, as the big pharma agreed a $4.2 billion collaboration to develop the drug in women's health and oncology in late 2020, including $650 million upfront and $200 million for regulatory milestones.
The two companies share marketing rights to relugolix products in North America, while Pfizer has exclusive rights elsewhere.
Myovant will doubtless need the marketing muscle of its partner as it tries to dislodge AbbVie and Neurocrine Biosciences' rival drug Oriahnn (elagolix), which has already been on the US market for a year but needs to be dosed twice a day.
Uterine fibroids are benign tumours that develop in the womb, causing debilitating symptoms including heavy bleeding, pain and abdominal bloating, and in severe cases can cause infertility, leading to 250,000 hysterectomies each year.
It is thought that around five million women in the US have uterine fibroids that cause symptoms, with two-thirds of them inadequately treated with current drugs – generally off-label oral contraceptives or injectable gonadotropin releasing hormone (GnRH) agonists like leuprolide acetate or goserelin acetate.
Myfembree combines relugolix – a small molecule, GnRH receptor antagonist – with two hormonal drugs (oestradiol and norethindrone acetate) and works by reducing the release of oestrogen and other hormones produced by ovaries that drive symptoms in uterine fibroids.
Combining it with the hormonal drugs reduces side effects – such as bone loss – that can result from reducing oestrogen levels. It has however been approved in the US for use over a two-year treatment period only to minimise the risk of adverse treatment effects.
Myovant reckons Myfembree is a best-in-class therapy for uterine fibroids, pointing to a 72% response rate in two phase 3 clinical trials (LIBERTY 1 and 2), with significant reductions in blood loss as well as other symptoms including pain, as well as its convenient dosing.
Analysts have suggested the prostate cancer indication alone could make relugolix a $1 billion product, with applications in women's health having the potential to more than double that figure.
For comparison, Oriahnn brought in $121 million in sales last year, although its growth seems to have stalled with first-quarter 2021 sales at $30 million.
Myovant is also developing the drug in combination with hormonal therapies in women with endometriosis – a programme that is nearing the regulatory filing stage after two positive phase 3 trials – as well as for pregnancy prevention.
The Myfembree approval is also a boost for Japanese drugmaker Sumitomo Dainippon Pharma, which currently owns 56% of Myovant following its $3 billion deal with parent company Roivant in 2019.