ESMO21: First combo data with Amgen's Lumakras hit the mark in CRC
News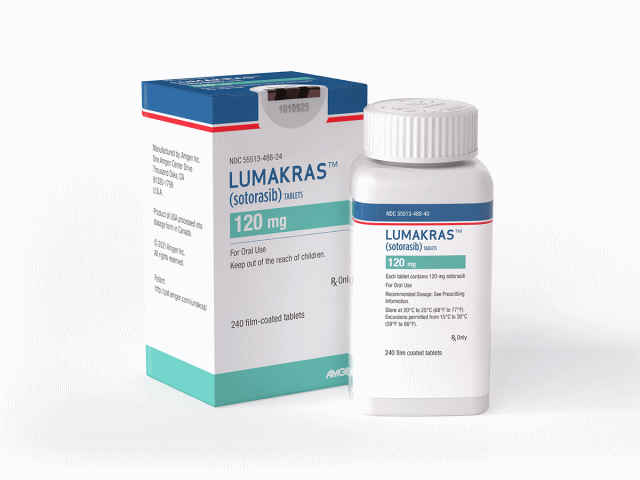 Amgen has made progress with its plans to expand the use of its first-in-class KRAS inhibitor Lumakras, reporting encouraging results when the drug is used alongside its EGFR drug Vectibix in colorectal cancer (CRC).
The phase 2 study due to be reported at the ESMO cancer meeting – in patients KRAS G12c-mutated CRC – is the first combination data for Lumakras (sotorasib).
The overall response rate of 27% with Vectibix (panitumumab) seen in the trial is almost three times the 9.7% rate seen with the drug given on its own in phase 1 as a third-line treatment option.
All told, 81% of patients treated with the combination had either a partial response or stabilised diseases, although there were no complete responses and some of the partials are so far unconfirmed.
The data from the 26-patient CodeBreak 101 – while preliminary – has encouraged Amgen to press ahead with a new phase 3 trial of the duo as a third-line therapy for KRAS G12c-positive CRC. It also reignites positive sentiment for the drug after the earlier monotherapy readout in CRC disappointed.
Lead study investigator Marwan Fakih of City of Hope in Duarte, California, pointed out that response rates in heavily pre-treated CRC patients can be as low as 2%, so "developing new treatment approaches for these patients is of critical interest".
Lumakras was approved in May by the FDA as a second-line treatment for KRAS G12c-mutated non-small cell lung cancer (NSCLC), becoming the first drug against a target that was long considered "undruggable" and defied drug developers for decades.
Analysts have said that Lumakras could eventually make blockbuster sales of $1 billion or more, assuming Amgen can extend the label for the drug into the first-line NSCLC setting, as well as other KRAS-mutated tumour types.
Boehringer alliance
Amgen is testing a range of Lumakras-based combinations in KRAS-positive tumours, and yesterday also entered into an alliance to pair its drug with Boehringer Ingelheim's  BI 1701963, a SOS1::pan-KRAS inhibitor in a clinical trial.
Boehringer said in a statement that pairing the two drugs may result in increased anti-tumour activity in KRAS G12C-driven cancers.
The trial will investigate "potential synergistic effects" of the combination, possibly improving therapeutic outcomes beyond those Lumakras alone, in lung and colorectal cancers, said the German pharma company.
Attention now shifts to a readout for Mirati Therapeutics' rival KRAS inhibitor adagrasib, with late-breaking data in colorectal cancer from the phase 1/2 KRYSTAL-1 due to for presentation at ESMO this weekend.
That study is looking at adagrasib on its own and in combination with another EGFR-targeting antibody – cetuximab – in KRAS G12C-mutated CRC.