Digital health funding set for record-breaking year
The digital healthcare sector is on track for its biggest year of fundraising to date, according to a new survey from Startup Health. 
Following on from the sector's impressive first half of 2016, new figures from Q3 suggest the market is well on its way to a record year of funding.
In Q3, the digital health market has received $2.37 billion in funding, beating the previous Q3 funding record of $1.91 billion set in 2015.
The impressive quarter has raised year-to-date funding to a total of $6.5 billion, surpassing 2015 total funding of $6.1 billion and remarkably close to the highest overall total of $7.1 billion set in 2014.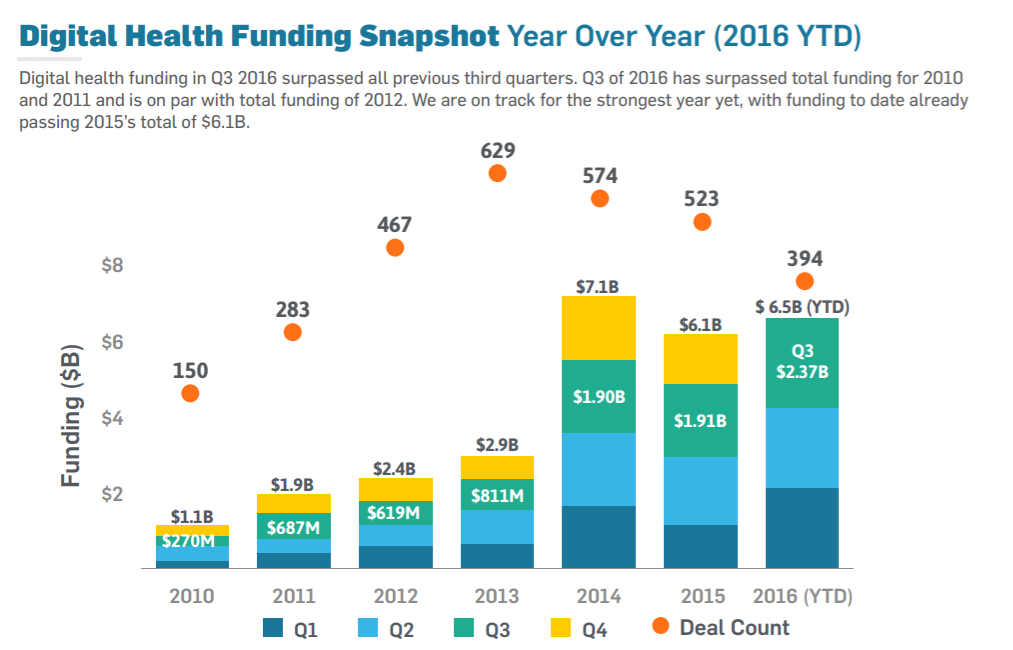 The patient/consumer experience market has been the biggest beneficiary so far this year, receiving $2.53 billion – almost triple the second most popular area of funding of 'wellness', which received $919 million.
The sub-sector has been boosted by the two biggest digital health deals of 2016 in the Ping An Good Doctor series A funding round and the new joint diabetes venture between Sanofi and Google, Onduo. Both deals are worth an estimated $500 million.
Babytree, a start-up aimed at helping young mothers in China, also attracted $448 million in funding, further bolstering funding in the patient/consumer experience sub-sector.
Outside of patient/consumer experience and wellness, personalised health and big data continue to attract plenty of investment.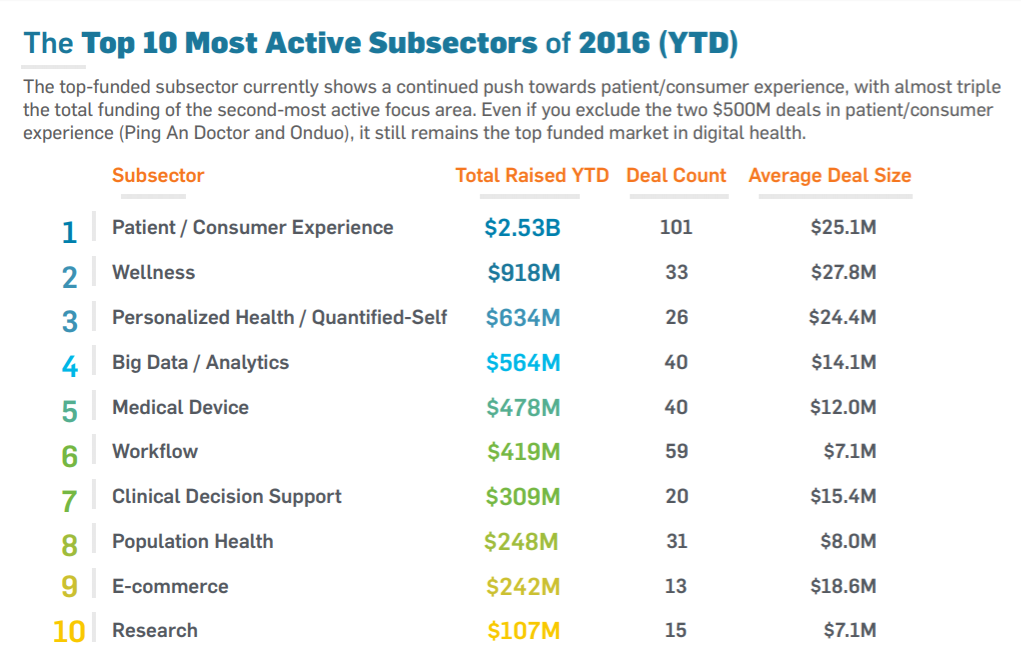 In the US, the San Francisco Bay Area and New York City continue to be the leading hubs, sealing 79 and 46 deals respectively. However, the remainder of the top 10 US digital health funding hotbeds has seen some noticeable shifts.
Boston, Minneapolis and Philadelphia now complete the top five most active areas, raising $704 million, $200 million and $189 million respectively. Salt Lake City and Phoenix have both dropped out of the top 10, replaced by newcomers Washington, DC and Dallas.
The most promising statistic in the first half of 2016 funding was the number of unique investors in the digital health market, at the time sitting at around 368. The number has since climbed to over 500, with 52 organisations investing in three or more deals, indicating a continually growing interest in the digital health market.
Click here to read the full Startup Health Insights report.
Don't miss your daily pharmaphorum news.
SUBSCRIBE free here.