Why cell therapy manufacture is a team sport
Louis van de Wiel, Vice President, Site Head EU Manufacturing, Kite, a Gilead Company, reveals the complexity that sits behind the process of individualised cell therapy – and why team culture makes it work
This thought leadership series has been paid and developed by Kite, a Gilead Company.
In 2018, we were preparing to build a European facility to produce individualised cell therapies for the treatment of cancer.
Roll on two years and the team has achieved what at the time appeared a major challenge, putting 1,000 tonnes of steel, 1,800 solar panels and 176km of network cable into the creation of a centre of excellence for cell therapy near Amsterdam in the Netherlands.
In my experience, completing the design and build of a facility such as this, through to qualification, licence and becoming fully operational, would normally take four to five years. Our ambition was always to do this within two years, a goal we achieved despite the unprecedented challenge of a global coronavirus pandemic.
Indeed, while undoubtedly putting new hurdles in our path, the arrival of COVID-19 into our lives has transformed our business and operations by presenting an opportunity to be adaptable, flexible and responsive – and to continually evaluate and mitigate risk.
"There is huge complexity involved in cell therapy manufacture, with hundreds of personnel responsible for ensuring the quality and supply of an individual patient's cells"
It's been a complex process that's required highly technical and skilled personnel. Not only did we build a specialised facility from the ground up, but we built an organisation, from 10-15 people two years ago to more than 400 now. We put energy and emphasis into creating the right team and a culture where everyone understands the values and drivers, allowing us to operate in a collaborative and cohesive way.
Now the new €130 million, 19,000m2 manufacturing facility near Amsterdam is able to support delivery of up to 4,000 cell therapies each year for eligible cancer patients across Europe.
But backtrack to August 2018 and the very first European patients were also receiving treatment, part of an expertly crafted operation that ran in parallel to the build. Our supply chain group worked with the existing US team to manage the shipment of patients' cells to the US for modification and their return for treatment.
Having a fully operational site in Europe versus the US has several advantages; reducing transportation time, strengthening the chain of custody and, potentially, cutting lead time to the patient by approximately one week. This allows us to potentially provide the therapy quicker for eligible cancer patients who have stopped responding to or have progressed despite other treatments. At this stage of their disease, for patients who have no other options, a week can make a difference.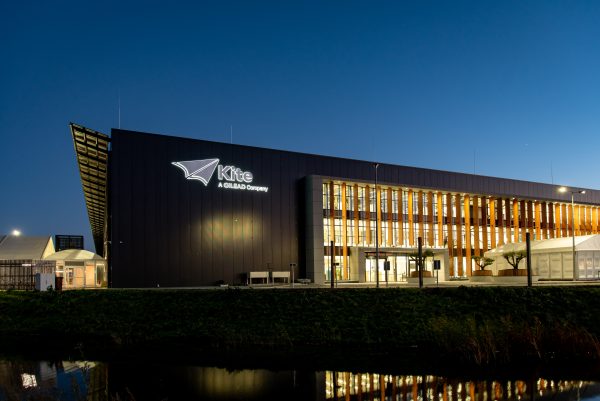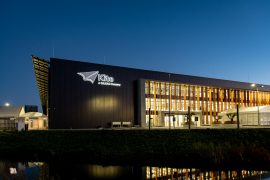 The journey of the cell
The very nature of cell therapy manufacture means employees work in tightly controlled environments to ensure adherence to good manufacturing practice standards and, ultimately, to ensure the quality and integrity of the product.
Ultimately, it's a team sport between Kite and Gilead and the 100-plus qualifying hospitals across Europe, all of which have been individually trained and assessed to ensure they are fully compliant with the necessary procedures and meet exacting standards.
So, what does the journey of the cell look like?
To achieve consistent, timely delivery of a high-quality product requires a robust and efficient approach to engineering patient's own T cells, which in itself encompasses apheresis, cell modification and final formulation – coupled with rigorous quality control testing throughout – reflecting the highly complex nature of the manufacturing process.
Understandably, teamwork is vital and requires an integrated network and seamless communication between Kite and the treating hospital. The journey starts with the hospital making a treatment reservation through KiteKonnect and shipping of the apheresis kit to enable the process of extracting the patient's own white blood cells, kickstarting both the chain of identity and chain of custody.
Here, our quality and supply chain experts are integral to every stage of the cell therapy manufacturing continuum to ensure the product is returned to the patient in a timely manner.
As soon as apheresis has completed, the cells are shipped in temperature-controlled conditions to our facility near Amsterdam where they are assessed for quality and condition. One patient equals one individual treatment, so it is critical to preserve the chain of custody and chain of identity to ensure the product comes back to the same patient.
Why chain of custody and identity is critical
The chain of custody and chain of identity must, therefore, go hand-in-hand. In this way, not only do we know which cells belong to which patient, but we have precise location and up-to-the-minute feedback on storage conditions to ensure quality and safety is paramount at all times.
Once the cells have completed this first stage, the manufacturing process can begin, with T cell selection, activation, and genetic modification using viral vector technology to ensure the ability to recognise the patient's cancer cells. Cell expansion follows to multiply the modified cells into their millions.
Further critical quality testing then takes place to ensure the cells are of a required standard and to create a finished purified product, which will be stored and returned to the originator hospital in temperature-controlled conditions (see diagram below).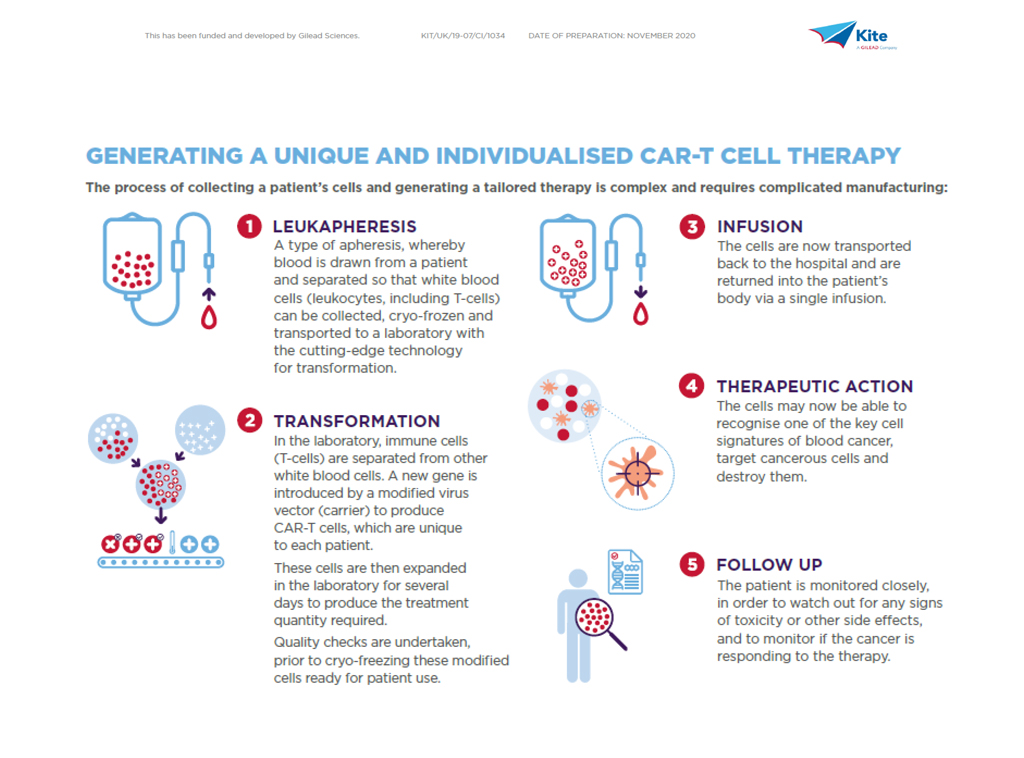 Several quality attributes will be tested at this stage and the cells must meet these rigorous criteria and specifications. There is huge complexity involved in cell therapy manufacturing, with hundreds of personnel responsible for ensuring the quality and supply of an individual patient's cells.
As part of this process, the supply chain team simultaneously coordinate with the hospital to prepare the individual so when the cells are infused back to the patient they are primed to potentially fight the cancer.
Individualising the approach
In stark contrast to basic biopharmaceutical products with a robust starting material, the cells of a patient with cancer who has already undergone multiple treatments will not have the same quality. Consequently, there can be unforeseen hurdles during the process and I am proud that the team has managed each situation to safeguard the patient's cells and ensure they receive treatment in an efficient and timely way.
This is particularly important when you consider the turnaround for each individualised product from starting material to the patient is typically four weeks – versus months or even years for a standard biopharmaceutical product.
Additionally, each patient equals one product batch – we do not keep inventory – and the potential impact on the patient if something happens to that batch is why we are so passionate. From quality manufacturing, facility engineering, supply chain, we're driven to make sure the batch is returned to the patient safely and effectively.
What of the future? For me, it's all about leadership, clarity, direction, and commitment of the entire team. It's about the opportunity to be involved in an innovative field of cancer therapy where the body is stimulated to fight cancer cells. It's about optimising the manufacturing process to become more effective and efficient. But, most of all, it's about the patients, their care partners and families
This was supported by Kite, a Gilead Company
UK-CTH-2020-11-0075 | Date of preparation: December 2020