Facebook Preventive Health leads with cancer and heart disease
Facebook wants to start alerting its users when their next medical test is due as part of a push into preventive health that will also see it offer a range of health information resources.
Beginning in the US, the social network's new Preventive Health tool will show people where to find affordable places to receive care, set reminders to schedule tests and even mark when they have been taken.
Facebook's head of healthcare research Freddy Abnousi wrote: "Many of today's leading health threats aren't ones that science or medicine can solve alone. Changing trends in communication and unequal access to care mean we need new solutions and partnerships to overcome these global challenges.
"Tens of millions of people in the US are missing out on recommended preventive care, according to the Centers for Disease Control and Prevention. Preventive measures have the potential to detect disease early when it's most treatable and, in some cases, prevent it from developing."
The company will initially focus on heart disease and cancer, as two of the leading causes of death in the US, with resources provided by the American Cancer Society, the American College of Cardiology, the American Heart Association and the Centers for Disease Control and Prevention.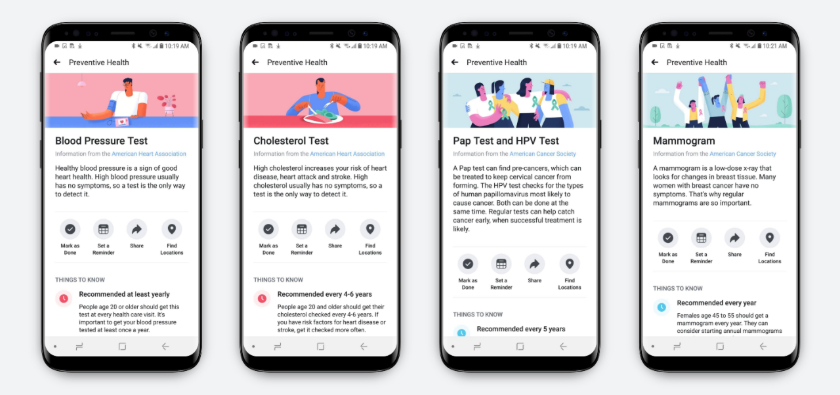 Its new Preventive Health tool sits within the Facebook mobile app and, on searching for 'preventive health', users can find out which check-ups, such as cholesterol tests or mammograms, are recommended based on their age and sex they provide.
Richard Kovacs, president of the American College of Cardiology, said: "Heart disease is the number one killer of men and women around the world and in many cases it is 100% preventable. By incorporating prevention reminders into platforms people are accessing every day, we're giving people the tools they need to be proactive about their heart health."
The mobile tool will also see flu shot reminders appear to users at the appropriate time of year, an application the Centers for Disease Control has given its blessing to.
Nancy Messonnier, director of its National Center for Immunization and Respiratory Diseases, said: "New tools like this will empower users with instant access to information and resources they need to become a flu fighter in their own communities."
Over time Facebook said it plans to work with additional organisations to include more resources and expand access to the new Preventive Health tool to countries outside the US, opening up the possibility that it could start to cover a wider range of health conditions too.
The social media company was at pains to point out that neither it, nor the health organisations it's working with, would have access to any actual test results, but it's not clear how data generated from the new tool would otherwise be used.
And recent protestations by the company that, when it comes to political adverts, "we shouldn't become the gatekeeper of truth", are unlikely to draw a line under another damaging row about information accuracy on its platform.
Nevertheless, when it comes to health Facebook has been taking some steps to improve its reputation and earlier this year moved to filtering out misleading health posts.
Don't miss your daily pharmaphorum news.
SUBSCRIBE free here.