Delivering pharma innovation: Takeda and Novo Nordisk on the rise
Articles
Andrew McConaghie reviews the findings of the latest pharma ranking index, which assesses on the premise: if you gave the same molecule to two different companies in early phase, which would make the best of it?
Getting a clear view of which companies are really 'walking the talk' in pharma and delivering meaningful innovation can often be less than straightforward. Hype, a relentless focus on shareholder returns and other distractions, such as mergers and acquisitions, can cloud the issue.
There are many 'top 30' rundowns and rankings for pharma, but IDEA Pharma's Productive Innovation Index tries to get to the heart of the matter: which companies have been most successful in bringing valuable innovation to the market over the past five years?
The sixth annual Productive Innovation Index was unveiled by IDEA Pharma yesterday, with Johnson & Johnson (J&J) heading the industry table for the fourth year running.
The path-to-market design practice says its Index objectively evaluates performance data based on a rolling five-year period (2010-2015), and operates on the premise: if you gave the same molecule to two different companies in early phase, which would make the best of it?
The success of the Janssen Pharmaceutical division of J&J, and its consolidation of first place across the past four years' rankings, is thanks to a string of new treatments it has launched in oncology, immunology, neuroscience and cardiovascular/metabolism.
Notable performers include Zytiga (prostate cancer), Imbruvica (chronic lymphocytic leukaemia and mantle cell lymphoma (co-developed and co-marketed with Pharmacyclics, now an AbbVie company), Simponi for rheumatoid arthritis, Stelara for psoriasis and psoriatic arthritis, plus Invega Sustenna and Invega Trinza (schizophrenia).
Takeda and Novo Nordisk
While Janssen is holding on to the top spot, there is plenty of change elsewhere in the rankings. Perhaps the most surprising company on the rise is Takeda.
The Japanese company rose 14 places to second place. The principal driver for this change is strong sales growth across the US and emerging markets, Takeda having benefitted from a significant number of new drugs in the last 12-18 months in the form of Entyvio (ulcerative colitis and Crohn's disease), Takecab (for acid-related GI disorders), Adcetris (lymphoma) and Brintellix (major depressive disorder).
Meanwhile Novo Nordisk has also seen its ranking surge up 15 places to third place. The Denmark-headquartered company remains a leader in front-line therapy in type 1 diabetes and has a significant share of the type 2 diabetes market. This is largely thanks to strong performances from GLP-1 analogue Victoza, insulin analogue Levemir and the 2015 launch of longer-acting insulin analogue Tresiba.
Other companies rising strongly include AbbVie, moving up 12 places to fifth and Otsuka, rising from 24th last year to assume ninth place.
Pharma giants flagging
While the Index has good news for the likes of Takeda and Novo Nordisk, three giants of the industry fared less well.
Roche, Novartis and Merck all saw their places in the rankings fall sharply.
Roche fell back nine places this year, largely because of modest sales growth in its lead oncology products Avastin, Herceptin and Perjeta.
IDEA Pharma says that, while many companies would have been pleased with the approvals and US FDA breakthrough designations gained by Roche last year, comparison to previous years' performance pushed them down the table.
Similar problems hit Novartis and Merck, which both fell back a full 12 positions on the Index.
Novartis reported flat 2015 sales and the acquisition of GlaxoSmithKline's oncology assets has yet to make an impact on cash flow.
Meanwhile one of its key growth drivers, multiple sclerosis drug Gilenya is losing ground to Biogen's Tecfidera. This is because Novartis' oral treatment has FDA-mandated restrictions and monitoring, coupled with increasing concerns around risk of the potentially-fatal progressive multifocal leukoencephalopathy (PML).
Merck saw its annual sales fall back $3 billion last year, and IDEA Pharma says it endured a 'lacklustre' regulatory year with one (minor) FDA approval and little in the way of ground-breaking phase 3 data.
Nevertheless, Merck could bounce back on these terms in 2016, with immunotherapy flagship Keytruda expected to see sales grow strongly, though this depends on the battle with Bristol-Myers Squibb's rival Opdivo for superior trial results and market share.
Also generating great interest is its new hepatitis C challenger Zepatier (elbasvir and grazoprevir) launched this year. The drug is not only much cheaper than Gilead's Harvoni, but recent analyses suggest it could also carry few side effects.
Commenting on the Index, IDEA Pharma's CEO, Mike Rea said: "Johnson & Johnson continues to be the most successful biopharmaceutical innovator globally. Their strategy of pairing externally sourced innovation with strong internal research, development and commercialisation capabilities has secured the company the top of the Productive Innovation Index for another year. Their strength in maximising success per compound is, in no small part, due to the ability to match products to patient need."
The Index tries to look beyond turnover figures and raw approval rates, or more subjective measures of 'innovation'. Instead, it assesses companies based on a range of hard factors, including speed to market, attrition rate across phases – in particular phase 3, reimbursement rates, regulatory approvals and analyst rankings.
There is no gaming the Productive Innovation Index, says Mike Rea. "Serial success on the Index is achieved by discovering and developing meaningfully great medicines and getting those medicines to patients. It is wonderful to see a company of the scale of Johnson & Johnson that is able to maintain a consistently excellent innovation profile."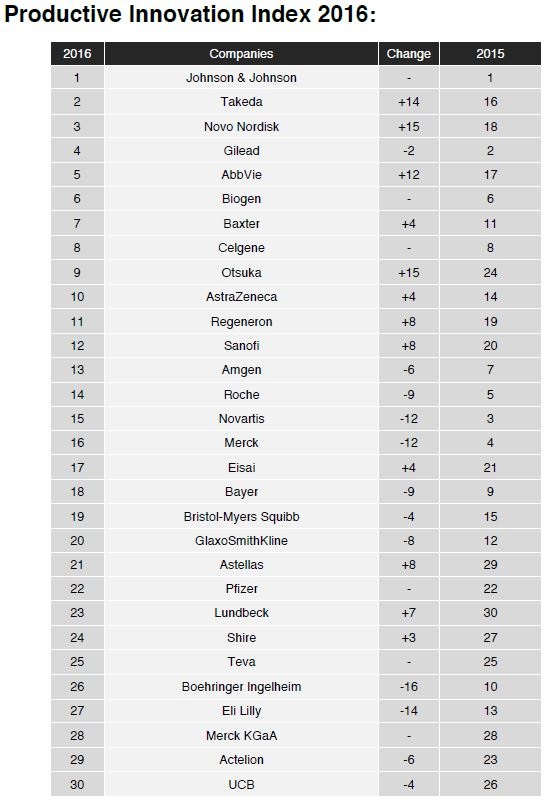 Download the Productive Innovation Index white paper here.
About the author:
Andrew McConaghie is pharmaphorum's managing editor, feature media.
Contact Andrew at andrew@pharmaphorum.com and follow him on Twitter.
Read more from Andrew McConaghie:
Countdown to pharma disclosure in Europe – but cultural divides remain