Engaging with HCPS: what do HCPs want from medical meetings?

Sales & Marketing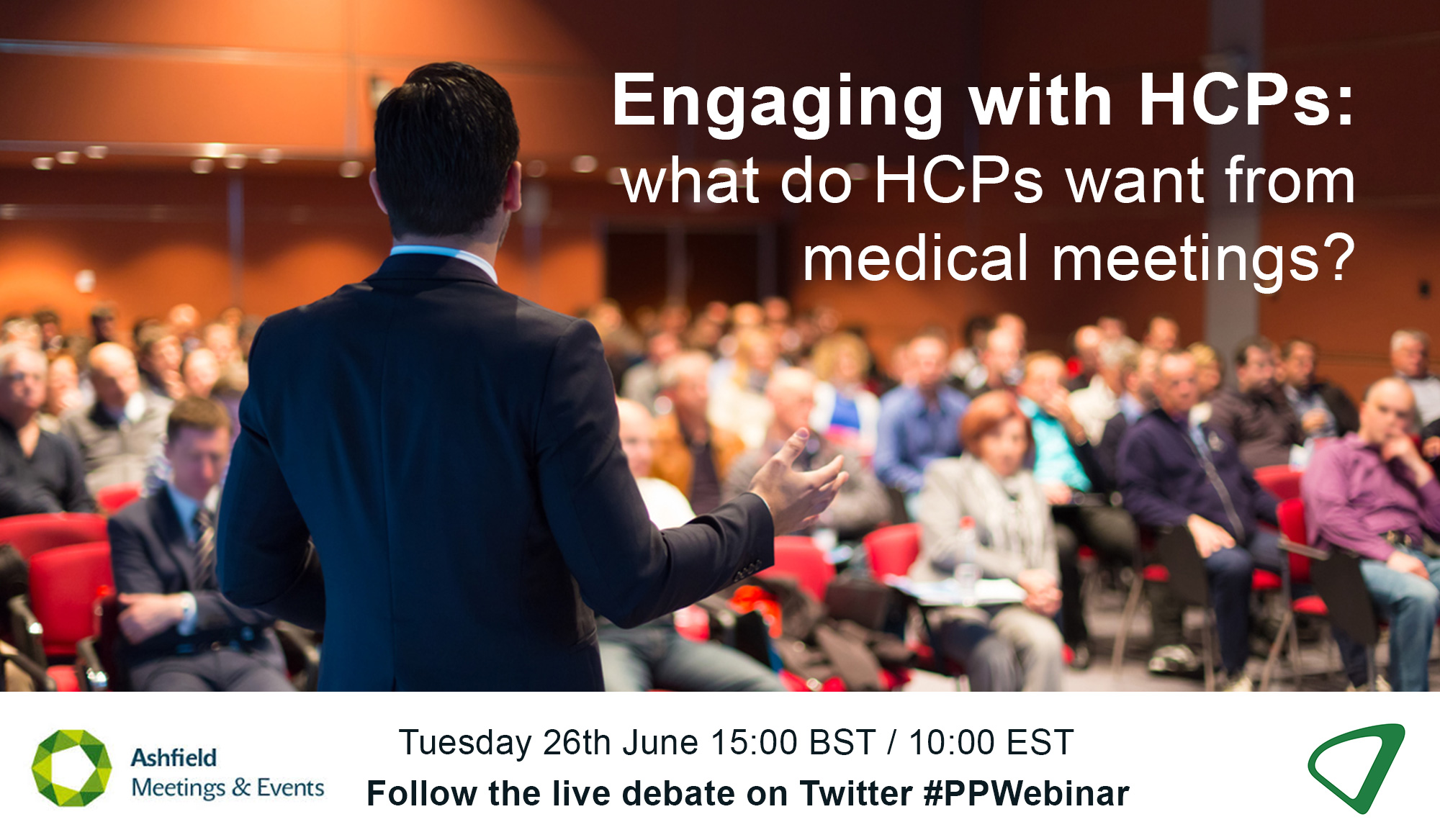 There has been a myriad of reasons over the past few years to safely assume the popularity and perceived worth of face-to-face medical meetings was well and truly on the decline – from advances in technology, to funding challenges.
Separate, yet complementary studies looking at global HCP preferences reveals that the medical meeting is in fact their preferred channel for scientific communications.
Furthermore, HCPs exhibit consumer behaviours in selecting and attending events – which means that while these conferences offer potential engagement riches, they have to offer a specific mix of focus, value and ROI to be successful. To analyse this situation, discuss the learnings from the research and offer guidance on what a modern medical meeting needs to be we present an exclusive debate.
Bringing together experts from Ashfield Meetings & Events and the European Society of Cardiology our panel discussed:
Findings from the 2018 Ashfield Science of Healthcare Professional Meetings whitepaper
Findings from the 2018 European Society of Cardiology association members survey
How HCPs want to engage with pharma and scientific communications
What works? How to create the events that HCPs want to attend
The future of meetings - balancing face to face and digital
How HCPs determine whether a meeting is likely to be worth the investment
Strategies and tactics for planners and meeting stakeholders to implement to continue to add value for HCPs attending medical meetings
The live debate took place on Tuesday 26th June at 15:00 BST / 10:00 EST.
Click here or on the button above or below to register your interest and listen to the debate on demand.
Participants:

Aoife Delmas, Director, Industry Division, European Society of Cardiology
The European Society of Cardiology (ESC) represents cardiology professionals from over 56 countries. The mission of the society is to reduce the burden of cardiovascular disease, which it achieves by representing its members' needs through educational, scientific, research and advocacy projects. Having worked in international business development for over ten years, Aoife joined the European Society of Cardiology (ESC) in 2007 as Sponsorship Officer with responsibility for the sponsorship portfolio of the nine cardiology congresses managed by the ESC. In this role, she has managed both the creation and delivery of the complete industry offering at ESC Congresses. The ESC Congress notably attracts 30,000 participants to its annual meeting. She now leads a business team at the ESC responsible for corporate relations, managing the relationship between industry partners and the medical society; covering education, research, advocacy and congresses. In her role, Aoife works closely with the medical professionals concerned with best practices for medical care, and industry partners leading new research and development as well as regulators and legislators.

Katie Koziol, Director of Client Services, Ashfield Meetings & Events
Katie has been in the pharmaceutical meeting planning industry for over 14 years. Her unparalleled meeting planning background consists of managing global programs including congresses, advisory boards through to sales meeting, providing her a solid foundation in cultivating strategic partnerships across key clients and operations teams. Katie's current role extends to understanding client needs and supporting them in finding solutions so they can get back to focusing on business operations.

Andrew Moore, Head of Technology and Compliance, Ashfield Meetings & Events
Andrew has worked with Ashfield Meetings & Events for 15 years and has become a specialist in compliance regulations; with a global remit, he is tasked with aligning practices across all of our offices. Andrew drives best practice and ensures relevant measures are in place to prevent any compliance breaches; we are proud to have had zero breaches in 40 years. Andrew's role also extends to understanding developments in technology that support the capture of data and reporting requirements for TOV/Open Payments.

Dominic Tyer, Contributing Editor, pharmaphorum (moderator)
Dominic Tyer is a trained journalist and editor with 19 years of pharmaceutical and healthcare publishing experience. He serves as a Contributing Editor at pharmaphorum media, which facilitates productive engagement for pharma, bringing healthcare together to drive medical innovation. He is also Creative Director at the company's specialist healthcare content consultancy, pharmaphorum connect.



* When you click to register for this webinar you will be taken to a website run by BrightTalk who host the webinar and gather your registration data.
This data may then be passed to pharmaphorum media limited, and in turn passed to Ashfield Meetings & Events, who we are partnering with to bring you the webinar. This data may be used by us and them to share the latest infographics, webinars, white papers, videos, news, articles or conference information about healthcare and event management topics straight to your inbox. It will not be shared with any further third parties.
By clicking to register for this webinar you give consent for any data you provide to be used in this way. If at any point you no longer wish to be contacted based on the information you provide during the registration for this webinar, please send an email to info@pharmaphorum.com requesting that your information is deleted in accordance with the General Data Protection Regulation.