World Biosimilars Congress 2012: is it up to the goats to save our healthcare problems?
Hannah Blake
pharmaphorum
This article is about the current situation of the biosimilars market, following the World Biosimilars Congress 2012. pharmaphorum's Assistant Editor, Hannah Blake attended day two of the conference. Read on to find out what she learnt, including why goats may be the answer to our healthcare problems…
It can be said that our healthcare system is stuck in a catch 22. Why? Because our population is ageing, there is a financial crisis on our hands and healthcare costs are increasing, at the same time as the pressure builds on healthcare systems to reduce costs. These issues were first introduced by the Chairman of the conference, Dr Mohamed Oubihi from Abbott Laboratories.
The largest healthcare market is undoubtedly in the United States. There is increased pressure on managed care to control costs, and patients are becoming increasingly concerned about high medication expenses.
The EU also has significant pressures to reduce costs, as many countries are facing huge financial challenges. This has meant these countries are now looking more closely at cost versus benefit.
&nbsp,
"The biologics market accounts for 16% of global pharma expenditure…"
&nbsp,
The emerging markets are large and rapidly growing. Governments in countries, such as China and India, are spending more money than ever on healthcare as their populations increasingly aspire to have a higher standard of care. And because they are spending lots more money, they want to know they are getting value for money.
That's where biosimilars come in.
So, what is a biosimilar?
A biosimilar is a similar version of an innovative biologic medicine – biologics are therapies typically derived from living organisms or organic substances. The biologics market accounts for 16% of global pharma expenditure and is growing faster than all other pharmaceutical sales. There are multiple high value biologics in rheumatoid arthritis, diabetes and cancer, which are going off patent. This is where innovative, personalised therapies, focusing on unmet medical needs step in and this market will, no doubt, grow substantially over the next few years.
Why would you substitute a drug for a biosimilar?
Dr Regine Buffels, Medical Consulting International, discussed the issues of substitution in her presentation. The reason drugs are substituted for biosimilars is because biosimilars offer, potentially, much larger savings. They also have the potential to increase access and make treatments much more widely available to patients.
Nowadays, technological advances allow for sophisticated characterization and there is also more clarity on regulatory requirements than there ever was. In March 2010, the United States' President, Barack Obama, signed into law the Patient Protection and Affordable Care Act, creating legislation meaning the FDA has to approve the marketing of biosimilar therapies for patients in the Unites States.
This legislation balances the interest in providing access to lower cost versions of biologic medicines, whilst also protecting patient safety and encouraging biotech companies to continue the difficult work of inventing and developing new breakthrough medicines1.
&nbsp,
"…biosimilars offer, potentially, much larger savings."
&nbsp,
In reality, according to Regine, drug substitutions are decided at the pharmacy level, but can also be decided by the prescribing physician. It's best for drugs to be substituted to biosimilars at the beginning of treatment – if a patient is doing well on one drug, don't change it. And if you do need to change it, monitor the patient carefully, in case of any side effects.
Are there any challenges associated with biosimilars?
One of the challenges is in sourcing comparators for biosimilars research and trials, as discussed by Michael Cohen from Myoderm. Certain products in the US are restricted by manufacturers, protected because of the competitive nature of the pharmaceutical industry. Other products are very specialized and therefore have a small turnover, which can be an issue if you need lots of samples for large phase 1 clinical studies. In phases 2 and 3, retention of samples can be more of an issue. Michael also discussed the issue involving local sourcing of products, as this may take several months.
However, in the EU sample supplies are more readily available. This is because once a product has been approved in the EU you can accumulate samples from each different European country, making it a lot faster.
What are biobetters / bio-superiors?
Many of the first generation biologics have patents that are coming to an end and will begin to face tough competition from biosimilars. However, some drug manufacturers are now opting to invest in the development of biobetters, instead of waiting for the regulatory approval pathway for biosimilars to be finalized (which may take a while).
A biobetter, or bio-superior, is the name for a drug built on the success of an existing, approved biologic. They are being developed using protein or glycol-engineering in order to reduce the risk of immunogenicity and make the drug safer and more effective – they also require lower dosing.
Biobetters tend to have lower R&amp,D costs and are considered less of a commercial risk than developing a brand new class of biologic. And unlike biosimilars, they also have 12 years of market protection in the US and other markets.
&nbsp,
"Biobetters tend to have lower R&amp,D costs and are considered less of a commercial risk than developing a brand new class of biologic."
&nbsp,
A unique case study of a biobetter was presented at the conference, by Dr Yann Echelard from GTC Biotherapeutics, which aims to deliver cost-effective, yet safe and efficacious, protein therapeutics. The idea? To use transgenic production (this is where the goats come in!) in order to drive down costs, yet increase access.
How does transgenic production work?
Transgenic production is the use of technology to alter an animal's DNA to make human proteins that have medicinal value. The protein encoded by the transgene (new DNA) is secreted into the animal's milk, eggs or blood, and then collected or purified. In Dr Yann Echelard's case, goats are the livestock used for the production of ATryn® Recombinant Human Antithrombin.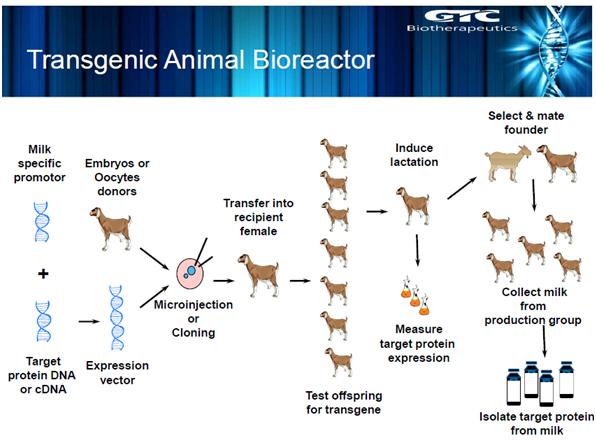 Figure 1 – a diagram showing the process for a transgenic animal bioreactor. The slide is used with kind permission from Dr Yann Echelard.
ATryn is the first, and only, transgenic protein therapy approved in the US and EU. It is approved for the treatment of hereditary deficiency, but is currently in phase 2 clinical trials for the indication of preeclampsia. Large doses of ATryn are often required, which is why transgenic production is ideal.
Using goats has many advantages: they are cheap, reproducible, easily maintained and have a much easier way of recovering large quantities of transgene-encoded proteins – by milking them.
&nbsp,
"Using goats has many advantages: they are cheap, reproducible, easily maintained…"
&nbsp,
One of the points raised was that, if a goat gets an infection during production, it will defend itself, but if cells become contaminated, the whole process has to start again. Plus, because milk is not part of the main life support system of a goat, the transgenic process has hardly any risks towards the animal.
What are the advantages to transgenic production?
Transgenic production requires no new capital investment once set-up and no additional costs to run. It allows for production of almost any protein therapeutic (to produce biobetters). These production sites have virtually unlimited production capacity and an unparalleled flexibility for scale-up.
The process is also validated with both US and EU regulatory authority product approval.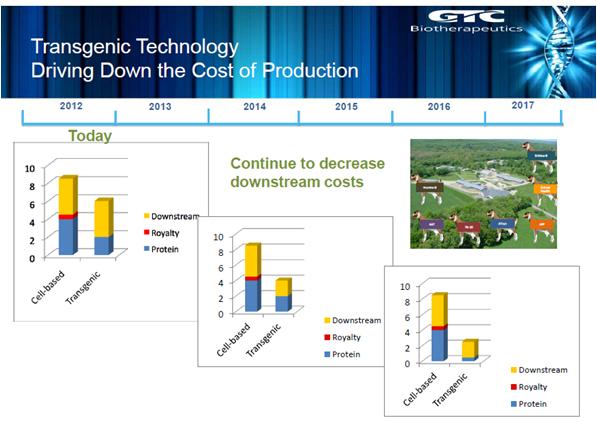 Figure 2: a diagram showing how transgenic technology compares to cell-based technologies over the next few years. The slide is used with kind permission from Dr Yann Echelard.
What effect will biosimilars and biobetters have on long-term global healthcare?
At the end of the day, it is easy to come to the conclusion that both biosimilars and biobetters will have an impact on lowering healthcare costs worldwide. But saying when this will happen? Now, that's the hard part.
References
1. http://www.amgen.com/pdfs/misc/An_Introduction_on_Biologics_and_Biosimilars.pdf
&nbsp,

About the author:
Hannah joined pharmaphorum in early 2012, after graduating with a degree in Magazine Journalism &amp, Feature Writing in 2011, and leads our news coverage, in addition to liaising with new and existing feature authors. With over three years' experience working within the journalism industry alongside university, Hannah has written for a number of different print and online publications, within the women's lifestyle, travel and celebrity sectors. Now focussed on the pharma sector with her role at pharmaphorum, Hannah is embracing the challenges of working within a fast growing media organisation in this rapidly changing industry sector.
For any queries or contribution suggestions, please contact her here or via Twitter @Hannah_Blake2.
What do you think the future looks like for biosimilars?