Unlocking the growth for pharma companies in India
Amit Backliwal
IMS Health
As emerging markets continue to drive global growth, IMS Health takes a look at the healthcare system in India and the key market drivers and game changers for pharma, ahead of the upcoming CPhI India event in late November.
When the vibrancy of a new market is as compelling as the pharma market in India, the scrabble to get a foothold is intense. With an average growth rate forecast of almost 14% to 2016 and the accompanying advancements in healthcare provision and health education, the prospects for those pharma manufacturers that get it right are bright indeed1.
However, unlocking the potential of one of the world's fastest growing healthcare markets presents a number of challenges, and pharma needs to really understand the metrics and dynamics behind the growth.
Growth in India driven by 'Western' diseases
This growth rate, a CAGR of 13.7% delivering a market worth $23.3 billion (Rs 1,279 billion) by 2016, is driven by a number of macroeconomic factors that are boosting the Indian economy as a whole, as well as higher literacy rates and increasing consumer awareness of the choices available.
&nbsp,
"…unlocking the potential of one of the world's fastest growing healthcare markets presents a number of challenges…"
&nbsp,
The story beneath these overall high growth rates is one of a country that is starting to more closely resemble the Western world in its disease demographics. Changing diets (resulting in greater levels of obesity) and an aging population will result in diseases such as cancer, diabetes and cardiovascular disease being at the forefront of this growth. As newer therapeutic agents are launched to cope with these challenges, the growth in prevalence will be reinforced by the growth in value, with the Indian diabetes market projected to be worth $1.76 billion by 2016 (as part of a $4.86 billion metabolic market), doubling in value from 20122.
Other disease areas driving the Indian market include cardiovascular disorders and infectious diseases (forecast to be worth $2.18 billion and $3.75 billion by 2016 respectively), with nervous system and respiratory disorders also projected to be billion dollar markets within the same timeframe2.
Healthcare cost containment drives regulatory change
Of course, as with other global healthcare systems, the government response to rapidly escalating costs is to impose new regulatory measures designed to control prescribing of higher-priced medicines. India has been at the forefront of the news recently with proposals around price-capping, compulsory licensing and even a potential move towards eliminating pharma brand names altogether3.
For example, the proposal to cap the maximum price at which essential drugs, like some commonly used anti-AIDS and anti-cancer drugs, painkillers, anti-TB drugs, sedatives, lipid lowering agents and steroids, can be sold in the country, was cleared in September 2012 in a landmark decision. This proposal will affect all 349 drugs on the National List of Essential Medicines, which, with annual sales of around $5.3bn (Rs 290 billion), accounts for about 60% of the domestic market. There is also the possibility of price regulation upon patented drugs, most likely through an international referencing mechanism. This is a far cry from yesterday's market, where it could be observed that the price of therapeutically similar drugs could vary around 1,000% between the most expensive and the cheapest brands.
Despite these uncertainties, tighter regulatory controls will generally ensure a more stabilized marketplace in which to do business, as these measures will help align operations in India with other regions. No doubt pharma will be watching with interest the continued legal wrangling over the 2005 Patent Act and the possibility of further compulsory licenses being issued after the first issuance in March 2012.
&nbsp,
"Currently, hospitals account for 50% of the healthcare industry in India."
&nbsp,
Accessing the hospital sector is key for pharma
Despite such cost containment measures, improving access to basic healthcare provision by broadening the lowest level of health insurance is one of the Ministry of Health's main areas of focus. It has pledged to improve the availability of free essential medicines at public healthcare facilities, but this is coupled with substantive growth in the private sector, with privately-funded medical provision being rolled out across India, including lower-tier cities.
Currently, hospitals account for 50% of the healthcare industry in India. As the demand for better disease management increases in the country, more hospitals and stand-alone healthcare institutions are being established, creating unprecedented competition for existing centers of care. For this reason, the hospital sector is going to be a key driver of sales growth in India, with an annual growth rate of almost 20% to 2016 (figure 1).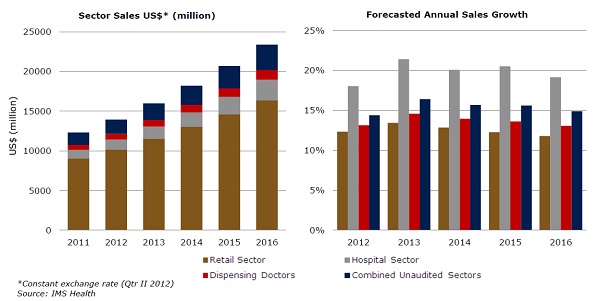 Figure 1: Overall India pharma market growth (left) is driven by the hospital sector (right)2
The following facts, taken from IMS Hospital Navigator, further illustrate the scale of the hospital sector in India and why it is so critical to pharma4:
• The top 63 cities in India have more than 14,000 hospitals with over 600,000 beds.
• More than 100,000 doctors are present in these hospitals.
• Each month, on average, more than 1.5 million patients are admitted to hospitals and 20 million patients visit for outpatient department consultations.
• Typically, over 70,000 surgical operations are performed each month.
As the hospital sector opens up to serious investment opportunities, the enthusiasm amongst drug manufacturers looking at the sector for new product launches, hospital developers and investors and insurers investigating new regions for expansion, is high. But this enthusiasm needs to be met with a thorough grounding in the infrastructure and requirements of a fast-changing environment.
&nbsp,
"The top 63 cities in India have more than 14,000 hospitals with over 600,000 beds."
 Conclusions
The potential for pharma growth in India exceeds that of most other global markets, but unlocking it requires implementing the right local strategies and being responsive to the environment, with critical success factors including:
• Accurate understanding, measurement and projection of key disease markets and new competitive product launches.
• Staying on top of the regulatory changes and the impact they will have on local operations, including new measures around drug pricing and branding.
• Understanding the fragmented hospital sector that is so vital to healthcare delivery within India to ensure good market access.
In conclusion, whilst there is significant opportunity for pharma in the Indian region, it is only those pharma manufacturers that have the information, insight and expertise to help healthcare providers steer through these changes that will reap the benefits.
References
1. IMS Market Prognosis 2012, IMS Health.
2. The use of medicines in India: Outlook through 2016, IMS Health (available for download when registering for CPhI India).
3. Health ministry pushes for end to sale of branded drugs, The Times of India, October 2012.
4. IMS Hospital Navigator, IMS Health.
&nbsp,

&nbsp,
About the author:
Amit Backliwal is General Manager for IMS Health India.
For an overview of IMS Hospital Navigator and how it can aid your business planning visit our website here. IMS Health will be demonstrating this service at CPhI India, November 21-23 in Mumbai.
IMS have been present at CPhI events for over 15 years and the India event attracts over 26,000 delegates from all sectors of the pharmaceutical industry, big, medium and specialist pharma, biopharma, generics, CROs CMOs CRAMs and API manufacturers.
Visit IMS in Hall 3, booth V48 to hear how multinationals can benefit from the increase in promotional tie-ups between foreign and domestic companies to increase market penetration, how generic manufacturers can assess market size and how chemical suppliers can measure API consumption and future needs.
How can pharma unlock the growth potential in India?