'Real world' COPD trial gives GSK a dose of reality
Views & Analysis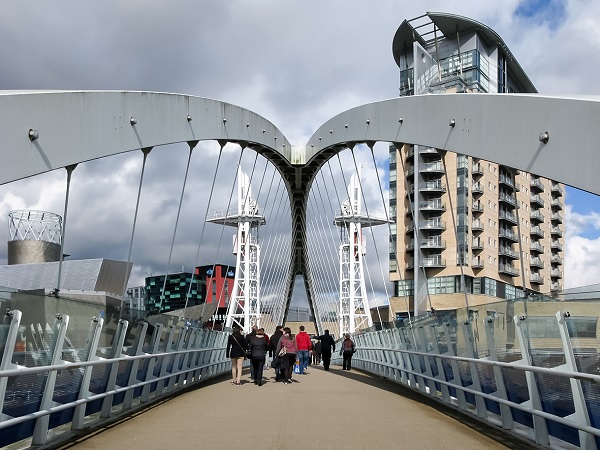 Topline results from the groundbreaking Salford Lung Study are encouraging for GSK's new respiratory drug - but the 'real world' story isn't quite so simple. 
GlaxoSmithKline (GSK) has announced full results from the Salford Lung Study (SLS), a pioneering study of COPD treatment aimed at creating a clinical trial much closer to everyday clinical practice.
The phase 3 trial represents a break from the highly controlled, artificial standards of double blind trials. The SLS is an open label study, and allows a broad range of patients to enrol, creating a more accurate picture of how medicines are used by patients with chronic obstructive pulmonary disease (COPD) in the real world.
But while topline results, published in May, suggest its new drug Relvar Ellipta is a step forward in treatment, the full trial data paints a more down-to-earth reality – with some disappointing real-world outcomes for GSK.
Data published by the New England Journal of Medicine (NEJM) on Sunday shows the drug didn't cut visits to hospital and primary care, which are inconvenient for patients, and costly for the National Health Service (NHS).
These measures were among the secondary endpoints of the trial, providing a contrasting picture to the positive top line which show Relvar Ellipta (fluticasone furoate 'FF'/vilanterol 'VI' or 'FF/VI') cut the rate of moderate or severe exacerbations by 8.4% compared to patients receiving usual care.
The NEJM publication also showed the drug failed to cut the time to first moderate or severe exacerbation or the rate of severe exacerbations in the total clinical trial group of just over 2,800 patients.
Worse still, those patients on Relvar Ellipta visited their general practitioner (GP) more frequently (12.3% increase) – adding to the cost of treating COPD, rather than cutting it as was hoped.
The drug didn't show any superiority in the number of serious adverse events (SAE), and in pneumonia showed non-inferiority to usual care.
There was evidence that patients on the drug improved their health compared to those on standard care, as measured by the COPD Assessment Test (CAT) but, overall, the full data is less than convincing.
The results further undermine Relvar Ellipta, which is already struggling to establish itself in the COPD market. The drug is positioned as a follow-up product to GSK's blockbuster Advair/Seretide, but the company is now facing generic competition against its older drug, plus new rivals from the likes of Novartis and AstraZeneca.
Novartis yesterday presented data at the European Respiratory Society (ERS) congress in London, which showed its new Breezhaler outperformed GSK's Advair/Seretide in COPD.
GSK's share price dipped slightly, but didn't see a major impact from the news – suggesting that investors had already factored in its problems in the respiratory market.
The drug, known as Breo Ellipta in the US, has already disappointed in one pivotal study. The Summit trial, published 12 months ago, showed the drug failed to cut the risk of death in COPD patients with cardiovascular disease.
This would have set it apart from the crowded field of competitors and this, and the new underwhelming SLS data, means the drug is unlikely to reach GSK's previous forecast sales of $1.6 billion by 2020.
Developed with US respiratory specialist firm Innoviva, Relvar/Breo Ellipta recorded sales of £257 million ($341 million) in the first half of 2016. Its growth is offsetting the decline in Advair/Seretide at the moment, but won't come close to replacing the older drug's $5 billion in annual sales.
Welcome to the real world
GSK should, nevertheless, be congratulated on its forward-looking approach to clinical trials, and for working closely with England's NHS on developing real-world outcomes via joined-up data collection.
The company worked with a variety of NHS organisations to enrol just COPD patients from one single geographical area, Salford and South Manchester, in the north west of England.
https://youtu.be/5Zl6m9hubgs
The results have been much anticipated, especially because of GSK's bold use of a novel approach to the study. Unlike most trials, the study had minimal exclusion criteria, and doctors were allowed to switch or modify patients at any point in the study, the only exception being a switch from usual care to Revlar Ellipta.
GSK would have been well aware that taking away many of the usual controls of a clinical trial would make the trial riskier: with an open label, and without strict inclusion criteria and the ability to ensure patients take their medication, the results are open to all kinds of random, real-world influences.
The SLS trial was made possible by Salford's existing single electronic medical record (EMR), which allowed patients and their health to be tracked over the 12-month period.
A total of 2,802 patients with COPD were randomised 1:1 to receive FF/VI 100/25mcg, with or without a long-acting muscarinic antagonist (LAMA), or to continue to receive usual care.
FF/VI was administered once daily via the Ellipta inhaler. Patients who were taking a LAMA in addition to ICS/LABA therapy (triple therapy) who were randomised to the FF/VI group were able to continue to use LAMA therapy in addition to FF/VI. Usual care was taken, as advised by the prescribing clinician, and could include single or dual long-acting bronchodilator therapy, inhaled corticosteroid either alone or in combination with a long acting bronchodilator or triple therapy of a LAMA, a LABA and an inhaled corticosteroid.
The study team was able to monitor all hospital admissions, outpatient and emergency department visits, as well as data from primary care (including all healthcare contacts, out-of-hours activity and prescriptions of antibiotics or oral steroids) via the EMR.
So, while the study hasn't borne fruit for GSK, it has helped accelerate progress towards a more data-led, integrated model of care in Greater Manchester – a strategy which has been identified as vital for the long-term viability of the NHS.
A second SLS is already under way in patients with asthma, and GSK will be hoping for more compelling results in these patients when data is published in 2017.
Even so, Revlar Ellipta and the Salford study underline how difficult it is to advance COPD care beyond current treatments. Moreover, this kind of 'real world' study, focusing on more meaningful endpoints, and not using a tight exclusion criteria, will become increasingly common. Salford shows real-world studies aren't for the faint-hearted, and can be expected to frequently deliver a dose of harsh reality.
Links
Read more about the Salford Lung Study from GSK here
Read the 2014 paper by members of the team who designed and implemented the Salford Lung Study and its methodology here