Networked integration required for healthcare gamification to succeed
Dr. Richard J. Law
(Continued from "Gamification of healthcare")
Previously we looked at the opportunities for healthcare gamification, and looked at examples such as Keas, Team Wellness challenge, Earndit, Virgin HealthMiles, Healthrageous, Redbrick Health, Partners Healthcare, along with the major insurers and providers that provide such incentivised schemes, to see how that can work. The businesses that will succeed in this incentivized healthcare arena, will likely be those that can best partner and integrate with each other, and with the institutional aspects of the healthcare system, helping to provide an integrated, preventative healthcare system. So in considering whether or not they will continue to succeed, we should assess whether or not they are creating these connections and integration. The figure here is a non-exhaustive list of groups that companies can and should partner with in order to succeed long term. These companies are in a position to be at the hub of such relationships.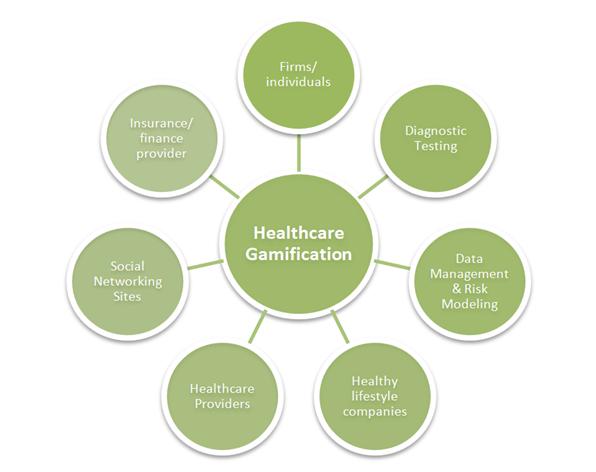 &nbsp,
Figure 1: Potential / required value network or partnerships that companies will need to succeed long term
Principally, companies are going to need to demonstrate real improvement in the health of participating individuals for insurance companies to lower premiums and for companies to see the financial benefits of involvement in the long-term. This is going to require the provision of the kind of information used by the health insurance risk management and modeling companies, which principally involves characterizing the real health of individuals through physical examination and diagnostic testing. Linking this information to the risk management and modeling companies so that the lowering of risk for a group of insured people at a company can be predicted.
&nbsp,
"Who will be the first player in the healthcare gamification space to link up with Nintendo Wii?"
&nbsp,
Companies should connect to other healthy lifestyle organizations like healthy food providers and gym / sports organizations. Mobile software application platforms like Endomondo and Strava help to track sporting activity and link it to social networking. Earndit is already partnered with Nike+ in this way. UnitedHealth has a mobile app called "OptumizeMe" and allows people to gain rewards for achieving health related goals. The network effect benefits make the inclusion of social networking sites / strategies potentially important in the future and companies involved in gamification for healthcare will have to carefully and successfully design their social media / networking strategy.
As an extension of this, Wellpoint is already partnered with Microsoft Kinect games consoles with the aim of getting kids to exercise. Who will be the first player in the healthcare gamification space to link up with Nintendo Wii?
The most important partners will be their customers – both in terms of companies and individuals. For instance, Cigna is partnered with DailyFeats to advertise their program and provide rewards such as store vouchers for completing tasks such as eating fruit.
The many other partnerships with different parts of the healthcare system will help strengthen their relationship with these customers. This will really give customer firms the confidence that they can yield downstream financial benefits. Larger and more sophisticated firms may already have the involvement of risk management / modeling and / or insurance firms in their ongoing wellbeing schemes, and healthcare gamification companies will slot nicely into this system.
Companies need to demonstrate the real long-term direct benefits of the programs. They should connect with data management and modeling companies such as the John Hopkins ACG system. In fact many partnerships are going to be required for companies to really succeed and really make an impact.
&nbsp,
"For instance, Cigna is partnered with DailyFeats to advertise their program and provide rewards such as store vouchers for completing tasks such as eating fruit."
&nbsp,
Healthcare gamification companies are currently mainly based in the US as they fit well into the pain of companies wanting to lower expensive healthcare insurance premiums within a mainly private insurance. A similar fit could be imagined in out-of-pocket expense based systems, like that in Singapore, although extensive marketing might be required, and social networking even more important, as here the participation of the individual, rather than companies, would be crucial. But would it work in a primarily tax based healthcare system like that in the UK? Of course in the UK the main player in healthcare is the NHS and would therefore have to be involved. Considerable reform of how the NHS works in underway. Incentives for healthier lifestyles are a service that the NHS is already starting to provide, with the aim of lowering their own costs in the future. People could be encouraged to sign up for a healthcare gamification service at their NHS GP surgery. Social networking would again be important. UK companies do also have wellbeing programs and may also be interested in healthcare gamification as a service.
Healthcare provision across the globe is undergoing significant change. The only affordable future is for the growth of preventable diseases to be controlled by the switch from a sick-care system to an incentivised preventative healthcare system, and this strategy for change offers a huge opportunity for healthcare gamification companies to truly help it succeed, if they can create the necessary network partnerships, and hence be successful innovative healthcare businesses of the near future.
&nbsp,

About the author:
Richard Law is an Oxford educated PhD MBA with 10 years experience working in the biotech/pharma industry.
How can gamification promote a healthier lifestyle?