mHealth Monthly Mashup: Release 7.0 – 5 game changing mobile health apps of 2011
Michael Spitz
Ignite Health
If 2010 was the year social media trumped search as the predominant online activity, then 2011 will historically be characterized as the tipping point where mobile has proven itself as the location-independent digital future. Few doubt that in only a few more years the very term "mobile" will seem as antiquated and redundant as "World Wide Web," smartphones, tablets and countless variants in between not only supplementing desktop computers but imminently replacing them entirely.
Similar to how social media has revolutionized healthcare in terms of enabling and encouraging two-way communication between patients, caregivers, physicians, and the public about disease, wellness, treatment options, and research, mobile health has transformed how physicians practice, patients learn, caregivers assist, and institutions manage. By removing the shackles between device and user, mobile health has brought the world's data to the point of care, and the point of care back out into the world.
For the past six months this column has reported on major trends impacting mHealth in 2011, including FDA draft guidance, the vital role of non-profits, impact on emergency services, potential of electronic health records, and the gamification of mobile health. So as we commence the new year let's take a look at 6 mobile health apps that epitomize these astonishing trends and pave the way for a future of improved patient outcomes and incredible advances in diagnostics, treatment, and adherence.
"Let's take a look at 5 mobile health apps that epitomize these astonishing trends and pave the way for a future of improved patient outcomes…"
Physician mobile radiology app
Issuance of draft guidance for medical devices was big news in 2011, so Mobile MIM gets the honor for receiving FDA 510(k) clearance not only once, but twice, most recently last December. Also noteworthy for being one of the first medical apps to appear in the Apple AppStore but pulled due to regulatory concerns, the app has evolved in sophistication and FDA approval to now provide radiologists and physicians with high resolution diagnostic X-ray and ultrasound images downloaded from the cloud or a workstation. The latest features enable radiation oncologists to view histograms, isodose curves, contours, and images for treatment plans through an intuitive, highly streamlined interface.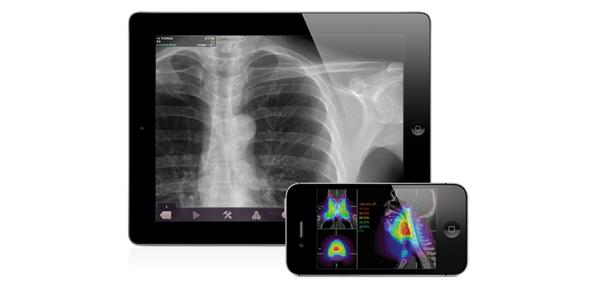 Figure 1: Mobile MIM
Patient diagnostic image sharer
The patient-centric complement to MIM Mobile is "VueMe," an app that lets patients view and share their DICOM images. Although the app is a bit cumbersome in terms of demanding that these images be originally uploaded from a CD, the tool nonetheless makes the year's list due to the importance of empowering patients with their actual diagnostic images, and facilitating cloud-based sharing with specialists and caregivers. By crossing the boundary between what has conventionally been considered doctors-only data and the patient's own education, apps such as "VueMe" contribute to a state-change in the patient role within healthcare.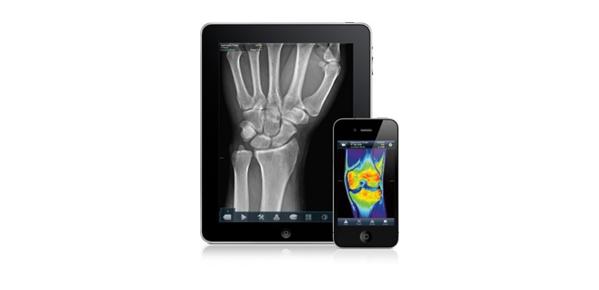 Figure 2: VueMe
Physician cardiology app
Accurate and actionable ECG history can mean the difference between life and death for a cardiac patient, and the AirStrip – Cardiology app is on our list for revolutionizing how this vital diagnostic information is utilized and shared by physicians, EMS personnel, and cardiology teams. By providing a native application from which original ECG data is rebuilt with the highest possible resolution, users can view, review, analyse, and share content directly from an iPhone—so critical information can flow from paramedics to specialists in real time enabling expert consultation in the field and all the way to the emergency room.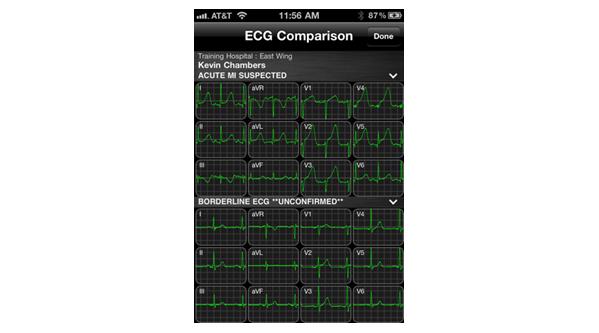 Figure 3: AirStrip – Cardiology
Blood glucose monitoring app
The iBGStar Blood Glucose Monitoring Systems makes the list for being a pharma-sponsored app recently granted FDA 510(k) premarket clearance. The app measures glucose levels and provides numerous ways to analyse patterns over time by recording and tracking readings, carbohydrate intake, and insulin doses. The app demonstrates commitment from a pharma to create an unbranded tool that utilizes the latest in sensing technology coupled with data management software to help diabetics improve their lifestyle management through better and more actionable glucose measurement and control. Already available in many countries in Europe, the FDA clearance brings the tool to America and opens the door to continued commitment from pharma in the mobile health space.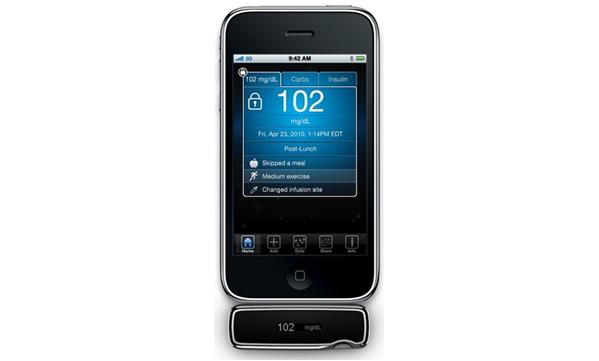 Figure 4: iBGStar blood glucose monitor
Patient nutrition guide
Consumers make their food purchasing decisions hastily at the grocery store, where labels are rarely sufficient to properly inform about nutritional value, or typically lack thereof. "Fooducate" is a clever and informative app that enables consumers to directly scan an item's UPC barcode using their smartphone camera and instantly access detailed nutritional information, including any deceptive branding, excessive sugar and fat content, and suspicious additives. The app even recommends healthier alternatives, compares similar items, and enables liking, commenting, and sharing. The app gets on the 2011 list because it capitalizes on the unique quality of mobile to access data directly from food sources, and seamlessly integrates into the food purchasing experience resulting in healthier food choices, ultimately impacting the user's overall health and wellness.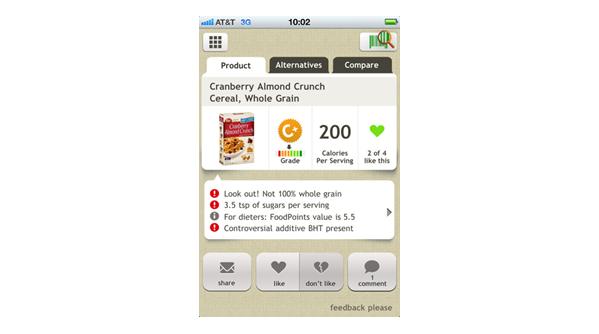 Figure 5: Fooducate
"If the whirlwind of excitement and activity surrounding mobile health in 2011 weren't enough, the momentum promises to make 2012 even more vibrant…"
What does the future have in store for mobile health?
If the whirlwind of excitement and activity surrounding mobile health in 2011 weren't enough, the momentum promises to make 2012 even more vibrant for this burgeoning and transformative channel. As Brian Edwards, mHealth feature editor at iMedicalApps has discussed, mobile health trends to look out for this year include:
• Patient activity tracking apps: Destroying the boundary between device and user eliminates barriers and heightens adoption across all industries, with opportunities particularly prevalent in mobile health where real time diagnostic information is so vital. The next year will introduce a bevy of improvements to sensor technology and binary networks, making remote patient monitoring increasingly seamless and comprehensive, opening the door to a treasure trove of data mining potential.
• Diagnostic apps: A logical and inevitable extension of continuous and unobtrusive patient monitoring is diagnostics, where streaming data is used for risk mitigation, diagnosis, and even predictive evaluation. As the technique becomes increasingly prevalent data can be collected and analysed in aggregate, providing unprecedented insights into medical conditions and their treatments from Alzheimer's to Zygomycosis.
• Patient empowerment: The rise of the "ePatient" has been celebrated since the dawn of social media, mobile health now providing additional DIY tools and resources delivered via smartphone and tablet. Geolocation, for example, already enables patients to find locally relevant information including health facilities, physician and caregivers, and disease-specific resources nearby, while compliance programs and patient-driven research are no longer anchored to a desk or office.
• Health-focused games: As we have seen in our last column, the gamification of mobile health is already underway, revolutionizing the medium with the unprecedented levels of engagement only characteristic of video games and similarly competitive entertainments. By "gamifying" otherwise repetitive, tedious, and burdensome healthcare tasks, the technique will continue to exponentially evolve as users tap their innate enthusiasm for games to improve health and wellness.
This new year holds tremendous promise for mobile health, so remember to catch the latest news, product updates, and expert interviews throughout 2012 here at the mHealth Monthly Mashup.
Happy New Year!
About the author:
Michael Spitz is VP of Digital Strategy at Ignite Health, with offices located in New York City, New York, and Irvine, California. Spitz combines his passion for technology with more than 15 years of clinical content expertise to help engineer healthcare communications solutions across numerous treatment areas for many of the pharmaceutical industry's major companies. Follow @SpitzStrategy on Twitter for his daily – often hourly – updates on all things digital for the ultimate benefit of patients worldwide.
What do you think is the future of mobile health?