Macron's France: advancing towards a European vision for healthcare?
Emmanuel Macron is a 'change candidate' for France, but also pro-EU. What will his government mean for healthcare in his country and Europe?
Emmanuel Macron, a political novice, is now President of the Republic, and France's youngest leader since Napoleon.
Macron has swept to power with a landslide victory over far-right candidate Marine Le Pen, but also trounced the socialist and centre-right parties with En Marche!, his new political movement.
By launching his own party, Macron has been able to present himself as an agent of change, and still very much an anti-establishment candidate – while being very much opposed to the populist politics of Le Pen, Brexit and Trump.
Indeed, the 39-year-old doesn't fit into any conventional political type, being a man of letters (a fervent student of classic French literature) and a former banker. He will need to exploit his charismatic and youthful profile to help him bring about the ambitious reforms that most believe France needs.
But Macron is also a very clear proponent and defender of the European Union, and is already re-energising belief in the European project, and consolidating the power of the Franco-German alliance which has driven the EU since its inception.
Macron could also be a new catalyst for a move towards greater integration, including in healthcare.
While Brexit has threatened to destabilise the EU, Macron is likely to use the UK's exit to strengthen France's place in the EU – and has made clear he wants to see the European Medicines Agency (EMA) make the short trip across the Channel from London to find a new home in Paris.
That goal also has the enthusiastic backing of France's pharma industry, but what of Macron's other policies for health?
Extending health insurance
For a French presidential election campaign, healthcare was unusually high up the agenda – a major factor for this being the call to roll back compulsory health insurance to cover only serious and long-term illnesses, such as cancer and diabetes.
This policy had been put forward by conservative candidate François Fillon, but Macron championed the opposite, vowing to extend public health insurance coverage to include things such as free glasses, hearing aids and dentures.
At the same time, Macron is a former economic minister, and knows France faces an ever-growing healthcare budget (like all developed countries), and must find ways to pare back costs.
The magnitude of savings needed is huge, so Macron has proclaimed the need for a fundamental switch away from a sickness-focused health service to one emphasising prevention and public health.
Macron has promised €5 billion extra for hospitals, but is targeting billions of euros in savings from a greater reliance on primary care and prevention.
Macron's health policies
Neil Grubert, an expert on global and European market access issues for the pharma industry comments: "Macron believes that the French healthcare system can save €15 billion through a much greater emphasis on prevention. To that end, he proposes that the training of all healthcare professionals in France should include at least three months devoted to disease prevention. He also plans to invest €5 billion in technology to support his prevention strategy."
Grubert says Macron also plans to tackle the problem of medicines wastage by promoting unit dose dispensing, and to promote improved medicines management.
For the global pharma industry, France is one of the world's most important markets. Currently the fifth-biggest market in the world, and second only to Germany in Europe, it was worth $31 billion in 2015. However Quintiles IMS Health estimates its growth will be sluggish compared to its European neighbours up to 2021, and is set to be overtaken by Italy and the UK in terms of revenues by then.
This is because France's government has been enforcing cuts to health and social spending for several years. Its wide-ranging Loi de Financement de la Sécurité Sociale (LFSS; Social Security Finance Act) has also consistently made the life science industry a prime target for savings in its healthcare budget.
The LFSS for 2017 has a target of €1.7 billion in savings from the life sciences industry.  Macron has also spoken of the need for greater support and investment in innovative and hi-tech industries in France, so is there any chance these cuts might be reviewed?
Macron has indicated that he will adhere to the current government's Objectif National des Dépenses de l'Assurance Maladie (ONDAM; National Target for Health Insurance Spending), which projects annual growth in healthcare spending of 2.3% in the period 2018-2022, says Grubert.
"Although he hasn't yet elaborated on specific plans for pharmaceutical cost containment, it seems plausible that he will stick to the cost-cutting measures in place for 2017, he explains. "He has stated that he wants to replace the practice of changing pharmaceutical policy every 6-12 months with a multi-year pharmaceutical industry strategy."
Meanwhile, like most European nations, France now has a well-established system of price control, which increasingly scrutinises the cost of new drugs. The organisation is called Comité Economique des Produits de Santé (CEPS; Economic Committee for Healthcare Products) and can impose a price on a new medicine, including at that of the lowest-priced competitor, such as generics, if it can't reach agreement with a pharmaceutical company.
The new President hasn't commented explicitly on this process, but says he wants to improve the transparency of the pricing process, such as integrating the views of patients in the CEPS's deliberations.
Overall, Neil Grubert says Macron has made encouraging noises towards France's pharma industry, which is led by its one home-grown 'big pharma' company Sanofi, plus mid-sized Servier and a host of promising biotech and specialist firms such as Genfit and Cellectis.
"Macron has declared his support for building a strong pharmaceutical industry in France. He acknowledges the substantial cost of developing new medicines and wants to reward genuine innovation with fair prices in return for rapid access to the important French market," says Grubert.
Brexit and European reform
Finally, as Macron is a true believer in the European  project, but also recognises it needs reform, he has signalled the need for action on an EU migration policy, the environment and inequities of the single market.
That's not to say he will have a clear run: other countries in the EU, most notably Poland, are not entirely happy with its current direction, or indeed Franco-German leadership, and major disagreements could turn into roadblocks.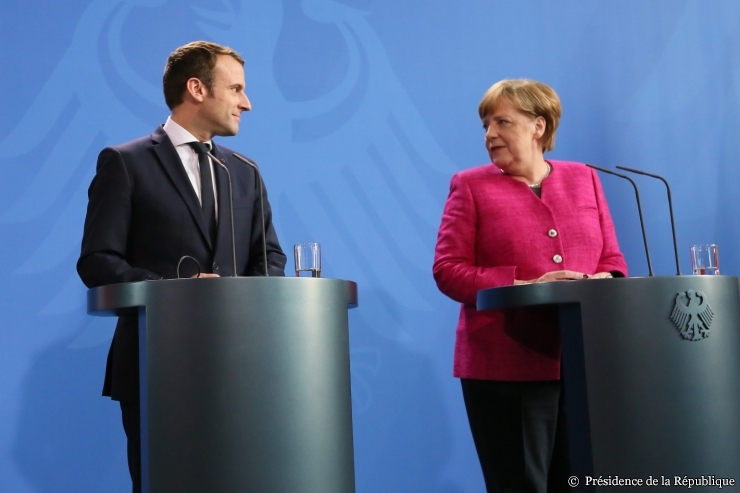 In healthcare, the spoils of Brexit for the remaining EU27 include the EMA – many countries want to be the new home for the prestigious regulator and its 900-strong workforce.
And, while the pharma industry has had misgivings about greater EU integration, many industry leaders believe it could benefit from some small but significant steps towards a single market of medicines.
There is already momentum behind closer integration on health policy, health technology assessment (HTA) and market access, and Macron's government and France's medicines regulator HAS (Haute Autorité de Santé) could accelerate this.
"The HAS is already a prime mover in terms of HTA convergence and collaboration, a trend that is likely only to be reinforced under a pro-European Macron administration," Gruber continues. He adds that, in addition to supporting an EMA move to Paris, the President also want to explore ways of cutting the regulatory burden on pharma companies in Europe.
However France's high unemployment, and the difficulty of reforming labour laws in the face of powerful unions, remain just two of his biggest challenges. He is now assembling a cabinet which is likely to span the political spectrum, and will aim to turn his mandate into concrete policy victories.