Bridging the gap: helping physicians make a difference
Diane Freeman
MicroMass Communications, Inc.
Three months ago, I had a strange experience at an appointment with a new physician. After a brief consultation, the doctor recommended I start a daily medication. Noticing my hesitancy, he asked a few probing questions related to my feelings about his diagnosis and the treatment. This led to a conversation about my concerns about my illness and the pros and cons of the treatment. After a few minutes, we agreed that it was right for me to take the medication.
This was unusual. Normally, a doctor breezes in and out before I've barely uttered a word. I often find myself clutching a prescription for a drug I can't pronounce, and have a bewildered look on my face. But this experience was completely different.
The physician role in engaging with patients
A 2009 study of British and American physicians demonstrated some of the challenges patients face in being active participants in their healthcare. On both sides of the pond, results showed only moderate agreement from physicians that patients should make independent choices about their medical care or act as integral members of their care team.
Behaviorists at our company recently surveyed almost 400 primary care physicians and specialists to gain a greater understanding of how they make treatment decisions. The results showed some progress and desire for patient integration in care, but we still have challenges. For example, providers strongly agreed that patients should be highly involved in their care, but were less likely to agree that patients should take a list of questions with them to their appointments.
While most doctors suggest that they want their patients to be partners in their care, many physicians are falling short of the mark when it comes to actually involving them in treatment decisions. This points to a real need for actionable steps to make it easier for physicians to engage with patients.
"As marketers, we have the power to help providers make connections with their patients by giving them tools that help bridge the communication gap."
What role do marketers play?
As marketers, we have the power to help providers make connections with their patients by tools that help bridge the communication gap. But as no two tools are created alike, we recently conducted an evaluation of patient support programs in 13 chronic disease categories to understand what really drives improved patient outcomes. We uncovered several key factors that make a difference.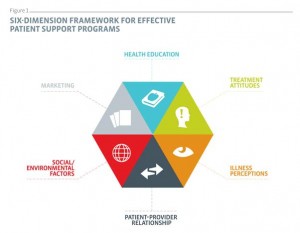 Patient-provider relationship
Above all other things, the relationship that a provider has with a patient is fundamental. Physicians can set a tone that is conducive to developing a partnership with their patients, using communication styles that invite trust and are motivational. Because some patients appreciate a more directive style, it is important to assess just how active a role each patient is willing to take. When patients feel that they are partners in their healthcare and involved in the decision making, they are more likely to adhere to their treatment plans.
Health education principles
It sounds like common sense, but healthcare providers need to speak to patients in a way that maximizes comprehension. By using language free of jargon and displaying complementary visual aids, providers can get patients to understand, not just listen. Thinking about each patient as an individual rather than as a set of symptoms can allow the provider to tailor the discussion to the patient's needs and barriers. Follow this up by partnering with the patient to set individual goals. This is a tangible way to involve the patient in the management of his or her condition.
Social / environmental factors
Every patient faces barriers to optimal treatment. Perhaps it's a busy work schedule, financial hardship, lack of transportation, or difficulty getting daily exercise. Having a sense of these functional challenges helps providers anticipate and overcome obstacles to positive patient outcomes.
Illness perceptions
Many physicians still assume that if a drug is prescribed, the patient will take it as directed. This is pretty unlikely unless the patient clearly understands both the illness he has and how the prescribed medication works in treating it. While this may seem like a minor point, it actually plays a big role in compliance. For example, with a condition like asthma, a patient may think he only needs treatment when he "feels sick" and therefore not get the full benefit of a preventative regimen. Physicians who educate their patients about their condition and explain how and why a particular treatment plan is being recommended set their patients up for better compliance and, ultimately, better outcomes.
"Providing clear value by being there with the right message at the right time and following through will show the commitment of your brand, not just to the patient, but to the provider."
Treatment attitudes
Yes, the doctor prescribed a treatment option, but what if the patient isn't sure it'll work? Patients need to understand and believe in a treatment's efficacy, have realistic expectations of what the treatment can and cannot do, and be aware of potential side effects and how to manage them. For many chronic conditions, the efficacy of a medication is the primary driver for the treatment decision. By contrast, that's not necessarily what's most important for patients. When physicians set patient expectations and explain why they are making a treatment recommendation, the patient is more likely to follow the plan.
Conclusion
As marketers, we can be more focused on how our outreach tactics translate into useful tools for providers and their patients. Is your program comprehensive and well thought out? Does it truly speak to patients, or is it a random series of communications that fails to consider who the patients are and what they need? Providing clear value by being there with the right message at the right time and following through will show the commitment of your brand, not just to the patient, but to the provider. Ultimately, providers will appreciate materials that help spark and guide in-office conversations, while patients will appreciate information that is relevant, responsive, and easy to digest.
After my conversation with my doctor, I felt heard, confident and empowered. All because he took an interest in both understanding and addressing my concerns. It didn't take much longer than a normal consultation, and my adherence rate on the medication is near perfect. Why isn't this the norm? We owe it to both providers and patients to improve how they communicate with one another and give them what they need to be successful.
About the author
Diane Freeman is a behaviorist at MicroMass Communications, Inc., a company that specializes in the use of behavioral science to meet marketing challenges. Diane's current work focuses on uncovering insights and translating them into actionable strategies to achieve improved patient outcomes.
Diane spent several years in Cambodia designing and implementing marketing and behavior change communications campaigns for malaria patients and providers.
Diane graduated from the University of North Carolina at Chapel Hill with a Master of Public Health in Health Behavior and Health Education and a certificate in Global Public Health. She also holds a Bachelor of Arts in International Business from Notre Dame University of Maryland.
For more information, email Diane at diane.freeman@micromass.com or visit www.micromass.com.
What can be done to help physicians make a difference?