Biosimilars 2012 – what does the current landscape look like?
Rebecca Aris
pharmaphorum
Biologic treatments have revolutionised medicine and, following in their footsteps, biosimilars are set to continue the progression in healthcare. With the reduced cost of biosimilars comes increased access for the patient, which brings great benefit to patients. As pharma companies wisen up to their possible potential, we will undoubtedly see a rise of biosimilars in the future.
The recent 'Biosimilars Congregation 2012' event organised by Virtue Insight covered the latest trends in biosimilars, from regulatory to development, all of which are discussed below.
What is a biosimilar?
The regulatory definition of a biosimilar is:- A Biosimilar is similar to another biologic, which has already been authorised for use.
A biologic is classed as medicines made by living organisms, such as bacterium or yeast. Biologics can be a smaller molecule or a more complex heavy chain molecule such as a monoclonal antibody.
"The key advantage of biosimilars is that they cost 20-25% less than originator product due to reduced clinical trials."
The key advantage of biosimilars is that they cost 20-25% less than the originator product due to reduced clinical trials, which results in increased patient access to treatment. This makes it an attractive market for pharma, and the future looks promising – with 63 billion dollar global biologic sales products due to come off patent by 2016. The Biosimilars market will have achieved 172$ mn in 2010 and is expected to reach 3.99 bn$ by 2017 – an attractive compound annual growth rate.
Figure 1: By 2016, seven of top ten pharma products worldwide will be biologics – Used with permission from Sandy Eisen with data sourced from Evaluate pharma
For approval of biosimilars proof is required that it is similar to reference medication (with PK / PD tests) and that there are no meaningful differences from references meds.
Some important points to consider about biosimilars are:-
• Biosimilars don't have to be proved for every indication.
• Other than looking at the guidelines there are no requirements for development / trials of biosimilars.
• Biosimilars must have comparable quality, safety and efficacy.
• Each biosimilar will have gone through the appropriate regulatory pathway.
• Every biosimilar product is different and each should be considered an individual brand in their own right.
• Because every biosimilar is different – no one set of regulatory rules will work for all developing the need for each to be considered on a case by case basis.
In principle, the concept of biosimilar development applies to any biological medicine – but just how far can we go? The possibility of molecules that we can develop a biosimilar for is moving towards increasingly complex molecules (figure 2). At one point aspirin was the only type of molecule within our reach but we are advancing in complexity.
"…the future looks promising – with 63 billion dollar global biologic sales products due to come off patent by 2016."
As to whether we could one day create a biosimilar of a molecule as complex as factor VIII remains under question – but who knows what the future holds?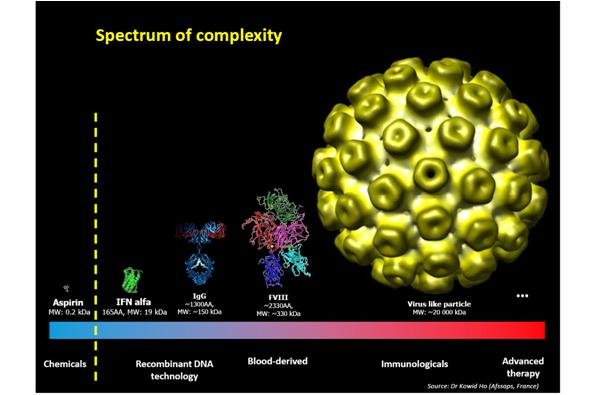 Figure 2: Spectrum of complexity with regards to molecules
Used with permission from Sandy Eisen and Dr Kowid Ho
Biosimilars monoclonal antibodies – the next big thing?
As large pharma move into the biosimilars space they are increasingly targeting early monoclonal antibodies (MAbs). Excitement around monoclonal antibodies coming off patent is clearly increasing as demonstrated by the following:-
• Over 90 companies involved in MAb development.
• 300 MAbs in development in over 200 indications including oncology, inflammatory disease, autoimmune diseases, metabolic and CNS disorders, infectious and cardiovascular disease and transplant rejection.
• There are currently over 45 MAbs in the market with sales in excess of $40 billion.
• 21 Companies are looking for new indications and new therapy areas.
There are challenges associated with MAbs including difficulty in manufacturing and commercialising. With increasing molecular weight comes a more complicated manufacturing process. In addition, guidelines are not yet finalised. The EU final guidelines for the requirements of MAbs were expected at end of last year. However, guidelines remain in the draft phase and are expected now to be released in either March or April of this year.
Regulations and legislation in the EU
To licence a biosimilar product in Europe the EMA have to accept that it is sufficiently similar to the originator product.
The EMA released basic guidelines for biosimilars in 2005 (see figure 3).
Figure 3: EU law and guidelines: summary of biosimilar guidelines
Used with permission from Dr Sandy Eisen
The environment and experience to date in Europe remains positive.
Putting biosimilar guidance into practice
• Use guidance
• Request scientific advice from EMA
• Product development and dossiers remain complex – there is no magic shortcut!
Throughout 2012 we can expect an EMA guideline update and a EMA new product guideline.
Regulations and legislation in the US
• US laws and guidelines have been much less favourable that EU to date. The BPCI act, 2009, has been in effect since 2010 but never used (US biosimilar application 351(k) has never been filed).
US guidelines have been delayed, however, the FDA have recently released draft guidance on biosimilar development, which is flexible and in line with EU guidelines. It is hoped that the new draft guidelines will open up the US market.
The US law has several specific disadvantages compared with the EU law making it less favourable:-
• Data exclusivity 12 years.
• Need to disclose dossier to reference product – will promote frequent and length IP litigation.
• Approvability as a biosimilar is formally separated from approvability as 'interchangeability'.
o Legal definition of interchangeability raises a very high barrier, with potentially very demanding requirement making clinical trials almost impossible.
Monoclonal antibodies will present the next challenge for both the EU and US.
Biosimilars in emerging markets
Early market entry, state funding and low costs make biosimilars an attractive opportunity in emerging markets and a rise of such products has been seen in these markets.
There are several advantages of developing biosimilars in emerging markets, such as:-
• In countries where IP protection is reinforced much shorter data exclusivity applies.
• Low development and manufacturing costs allows up to 50% price reduction vs original product.
• State funding available in some countries
As a result many biosimilars are being developed in emerging markets. Unfortunately, due to lack of regulations, the products are not always of a quality that would be expected in the EU or US (figure 4).
Figure 4: Gel electrophoresis of 12 'biosimilar' products. Results should be similar but this image shows the wide variance in similarity.1
Used with permission from Anna Harrington-Morozova
And whilst opportunities appear attractive challenges do remain. Quality is a big issue, which could create inferiority in patient care. In addition, post marketing support can often be insufficient in emerging markets and pharmacovigilance systems can be less developed.
For these reasons it is questionable as to whether available clinical data from emerging markets could help to accelerate entry of biosimilars in international markets as currently there is no incentive for emerging markets to enter international markets.
Advance planning of global clinical development programme could increase the value of clinical data used for first registration in emerging markets for international expansion so that we don't need to repeat clinical trials where data exists.
Extensive experience with biosimilars is being accumulated by regulatory authorities and industry in emerging markets. Information exchange and harmonisation efforts are required in market surveillance, transparency and quality standards.
Emerging markets have the potential to play a key role in global biosimilar development and marketing.
Conclusion
It is clear that as we approach the biologic patent cliff, biosimilars are here to stay. In this age of austerity there is increased pressure for treatments to create value and biosimilars appear to be doing so. Biologics impact hugely on patient's lives biosimilar expansion can only be seen as a good thing.
With strongly integrated R&amp,D, rigorous clinical trials and acknowledgement of the importance of post-marketing safety studies, pharma can tap into this space and access the benefits offered in this space.
Emerging markets have the potential to play a role in overall biosimilar progression and with more refined global planning the data accumulated in these markets can make a difference.
We can expect to see biosimilar monoclonal antibodies marketed in Europe by 2015, if not before. With the favourable regulatory environment for biosimilars in Europe including monoclonal antibodies, we can anticipate a rapid uptake of them. In preparation it is a good idea to explore regulatory pathway so that MAbs can be rapidly adopted when they come through.
Regulatory evolution across both the EU and US is expected as is the rise of the biosimilar.
References:
1. Kuhlmann M , Covic A Nephrol. Dial. Transplant. 2006,21:v4-v8 12 commercial EPO? samples marketed in LA tested by isoelectric focusing showed very high variations in isoform composition
2. Combe C, Tredree RL, Schellekens H. Pharmacother. 2005, 25:954–962 Comparability study of biosimilar products manufactured outside the US and Europe revealed that products differed widely in composition, did not always meet self-declared specifications and exhibited batch-to-batch variation.
3. Schmidt CA, Ramos AS, da Silva JEP, Fronza M, Dalmora SL., Arq Bras Endocrinol Metab 2003,47:183–189 A Brazilian study in addition, found unacceptable bacterial endotoxin levels in three products

About the author:
Rebecca Aris is Managing Editor of pharmaphorum, the dynamic online information and discussion portal for the pharmaceutical industry. For queries she can be reached through the site contact form or via Twitter @Rebecca_Aris.
Dr Sandy Eisen is an independent biosimilars expert who can be contacted through www.frontlinepharmaconsulting.com
What does the future hold for biosimilars?