Addressing MS' two-tier healthcare system is about 'social justice'
NICE has reversed its decision not to approve a new drug that offers hope to thousands of people with a previously untreatable form of multiple sclerosis (MS). But while the announcement adds to a slew of treatments that have changed the lives of people with the condition in the last 10 to 15 years, drugs are only half the story.
David Martin, chief executive of the MS Trust, tells us about the postcode lottery of MS care, how funding pressures can block cost-effective solutions, and why the pharmaceutical industry must care about all patients, not just those taking its drugs.
Breakthrough drugs, but not for everyone
When the MS Trust was formed 26 years ago, there were no treatments for MS, a progressive neurological condition that affects everything from cognition to mobility.
"For the majority of people with MS there's next to nothing for them. I think it's on the verge of being scandalous"
Now, there are 13 disease modifying drugs (DMDs) for people with the relapsing-remitting form of the condition. Today's (9 May) announcement to approve Roche's Ocrevus takes the number of treatments for primary progressive disease to one, while secondary progressive MS remains untreatable.
David, who has been at the MS Trust for 18 months, said: "If you have relapsing-remitting (RRMS), you are newly diagnosed and you are early on in your MS journey, there are treatment options and, in most places, good services.
"For the majority of people with MS there's next to nothing for them. I've been shocked by that and I think it's on the verge of being scandalous."
As the number of DMDs have grown, the burden of monitoring has increased, and many overworked MS teams simply do not have time to help people with progressive disease.
The result, said David, is unacceptable variations in care. Services are focused on RRMS patients and those with progressive disease are essentially being discharged and left behind.
"When Chelsea football ground is full, there's about 40,000 people there. That's the number of people with advanced MS in the UK. That's the number of people who are getting next to no support from the NHS," said David.
Despite the breakthrough of Ocrevus, which was first turned down on cost-effectiveness grounds in November, and whisperings of future treatments filtering through, there is a huge hill to climb, he said.
"The stark reality is the variation in treatment and support for people with MS is huge. The services you can access depend largely on where you live. There is a real postcode lottery."
Pushing solutions
The MS Trust is attempting to address this by placing six Advanced MS Champions in areas of the greatest need across the country.
Three of the six are currently in post, signposting to clinics, therapy centres, social services and more. The champions act as navigators, ensuring all people with MS in their area can access all the services they are entitled to.
"The phone should be ringing hot with centres saying: 'Can I have an MS Champion?' But it almost feels like we're pushing uphill"
"For the one third of people with MS at the latter stages of the journey, we know the champions improve quality of life," said David.
"They focus on people who had effectively been lost to the service."
The Trust also believes the Champions will save the NHS money, through fewer people with MS needing to visit to their GP or A&E and needing fewer unplanned hospital admissions.
The charity has already demonstrated the cost effectiveness of new MS nurses. The post can offer NHS trusts a net saving of at least £77,000 through factors such as reducing infection rates and avoiding hospital admissions.
Yet the Trust, which offers to 80% fund the post for the first 15 months, still experiences resistance to the roles at the CCG and business manager level.
Said David: "We are offering better quality of life for the people with MS, and on top of that there's a net saving.
"You would have thought that services would be banging my door down, the phone should be ringing hot with centres saying: 'Can I have an MS Champion or an MS Nurse?' But it almost feels like we're pushing uphill."
Part of the problem is NHS trusts are reluctant to commit to anything that increases spending in the short term – even if significant savings are expected in the long term.
"We need to focus more on the figures, I think. We have to play the numbers back a little bit more explicitly and a bit more loudly and to do better at getting into the heads of the commissioners.
"We have to do this because if we don't get more MS nurses and therapists into the NHS, we're not providing a good enough service for people with MS," he said.
The role of pharma
That's not to say there isn't any money in MS. With 13 DMTs jockeying for position, funding is available, but it too tends to focus on the RRMS end of the spectrum.
Said David: "There is a lot of pharma money in the sector and it has a strong influence. It supports the conferences and the roles of people working in the NHS, but sometimes some of that money speaks a bit too strongly.
"Not that people are making wrong decisions because of it, but I've been to conferences that are all about people who are newly-diagnosed or who have RRMS."
The industry is now starting to change its focus, though, and this has been welcomed by David and the Trust.
He said: "The wider MS sector is starting to think 'how do we come together?' and 'how do we make better use of our resources so that people are not forgotten?'.
"I'm certainly trying to encourage some of the companies to do a little bit more in this space and I'm gaining traction."
Pharma has been a huge part of the transformation of RRMS services. It has developed life-changing drugs and worked with the MS Trust and the NHS to establish the services needed to deliver those treatments.
Now, said David, it is time to build on that success in a way that allows everyone with the condition to benefit from the UK's army of "passionate and dedicated MS healthcare professionals".
"I think some of that might only happen with the help of the pharmaceutical companies. My sense from some of the conversations I've had is that they are now starting to rise to that challenge.
"They accept that we've got an unfair system at the moment and they see that they have a responsibility in the wider MS sector."
Quality care for everyone who needs it is a responsibility for the whole sector, from NHS bosses to individual clinicians, and from patient organisations to the pharmaceutical industry.
David summed it up simply: "It's about social justice. It's about getting the people living with advanced MS getting a fairer system.
"Then maybe some of us will be able to sleep little bit better at night."
About the interviewee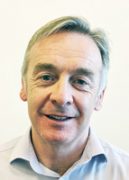 David Martin became the CEO of the MS Trust in 2017 where he has prioritised increasing the number of MS nurses, growing fundraising income and giving the national charity a bigger voice in the sector. He has previously worked at the leading disability charity Papworth Trust and at the BBC, after studying Economics at Newcastle University. Away from the office, David is a keen cyclist which saw him biking from London to Amsterdam for the MS Trust when he first joined the charity.
QuDos-MS
QuDoS-MS (Quality in the Delivery of Services in Multiple Sclerosis) is a UK programme that recognises innovation in the care of patients with multiple sclerosis (MS) and communicates it to the broader MS medical community (neurologists, nurses and other support teams), making a real difference to the lives of patients and their families / carers.
The innovation and recognition programme is run by pharmaphorum, in collaboration with the MS Trust.
To find out more about QuDoS-MS 2019 or how to nominate yourself, your team or a colleague visit the QuDoS website www.qudos-ms.com