Frontiers Health 19: Disrupting the future
Views & Analysis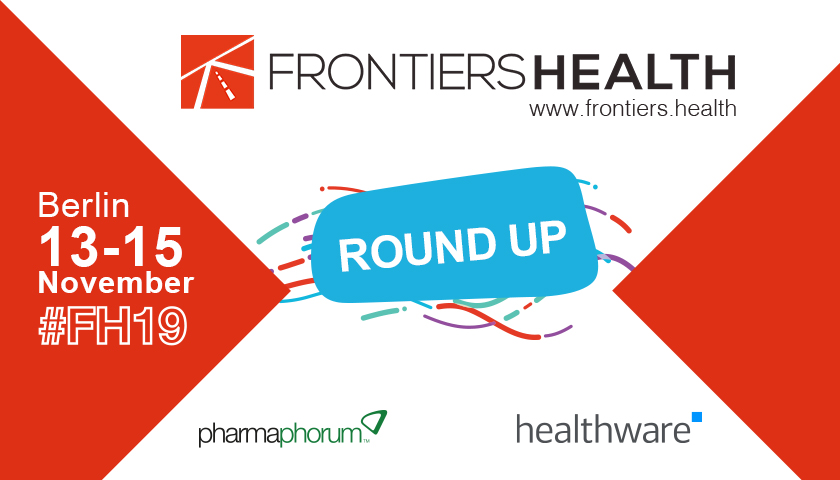 Disruption was the theme at this year's Frontiers Health conference, where delegates came to learn about cutting edge ideas in digital health and network with influencers from the industry.
Over the three days of the conference, representatives from 130 start-ups, 190 large companies, and 60 investors met, learned and exchanged ideas.
Held at the AXICA conference centre right next to Berlin's Brandenburg Gate, Frontiers Health provided a unique opportunity to find out more about digital health, and in some cases make deals that could lead to further developments in this exciting industry.
Now in its fourth year, the conference featured more than 100 speakers, and CEO Matteo Penzo kicked off matters by urging attendees to seek inspiration and "disrupt the rest of the year".
Focus on digital orthopaedics
Digital orthopaedics was the first topic on the first day of Frontiers Health 2019 to be focused on in-depth, with a five-hour preview of the main Digital Orthopaedics Conference San Francisco (DOCSF), which will take place next year in Silicon Valley.
Keynote speaker Lucien Engelen, CEO of Transform.Health, highlighted the role of digital health technology in helping prevent illness, before the audience at the plenary session were treated to a series of case studies showcasing the latest digital orthopaedic technology.
Tom Harte, an orthopaedic surgeon at NHS England gave a talk on founding an artificial intelligence (AI) based digital health company.
He has developed an app that monitors patients as they go into surgery and recover, tracking stats such as activity and pain using millions of data points.
This used to be monitored using expensive equipment, and Harte turned to the gaming industry to look for a less costly solution using smartphone cameras.
He created an algorithm to improve accuracy of the technology available that works using off-the-shelf camera technology to see if patients can use their legs properly.
The discussion then shifted to cardiology, and Nora Zetsche outlined the Care4Hearts project piloted by Veta Health, a digital health start-up she co-founded.
The pilot is based on using real-time data to optimise clinical pathways, and according to Zetsche has produced a 75% reduction in re-admissions in heart failure patients.
Patients felt cared for, knew whether they were on track or needed further care, and hospitals using the system enjoyed a 94% cost decrease from the reduced readmission rates, according to Zetsche.
Francis Namouk, CEO of Streaming Well concluded day one in a well-attended session in a side room with a talk about his documentary '15 Minutes of Fury', a self-funded film about mental health in football that was launched on World Mental Health Day last month.
The project is in partnership with AFTV - a YouTube fan channel devoted to Arsenal.
Namouk said he spoke with football influencers from the channel about why men don't talk about mental health.
Fans have been affected by depression in the social media spotlight when venting their feelings on AFTV, and the documentary pointed out that while most people use social media wisely there's a "loud minority" that abuse it.
However, the fans involved in the video concluded that social media can be a force for good, and help people talk about mental health problems, or discuss their feelings before problems escalate.
Day two: Real-life digital health deal-making
The second day of the conference looked at how digital health can have a real impact on people's lives and gave up and coming start-ups real opportunities to grow and develop their ideas.
Click Therapeutics' CEO David Benshoof Klein began proceedings by outlining how his company aims to use the technology to improve mental health.
Klein's company aims for a seamless approach for physicians that's underpinned by cognitive behavioural therapy theory.
Click has a proprietary neuro behavioural intervention that targets multiple indications, giving rise to a pipeline of therapies targeting major depressive disorder, insomnia, acute coronary syndrome, migraine, overactive bladder and chronic low back pain.
Other speakers on hand to give inspiration in the plenary session included Carmen Rios, VP of international at Limbix.
Evidence from the company's next clinical trial will be available within the coming weeks, based on a self-guided CBT-based programme for use in teen depression.
The app aims to help teens identify the behaviours and moods that impact how they feel. The company's next offering will target adolescent anxiety.
These and other speakers set the scene for a fascinating afternoon where digital health projects in the early stages of development got an opportunity to connect with real-life investors and incubator projects.
In AXICA's Sky Lobby, eight digital health start-ups were bidding for five places. One of these was Almirall's Digital Garden, a Barcelona-based incubator project that aims to help projects get ready for their first major round of investment.
After some tips from the co-founder of the Barcelona Health Hub Josep Carbo, the bidding in the Shark Tank-style event began from the range of dermatology-based start-ups hoping to impress a panel of investors.
The winners were a UV exposure measurement device UVisio, Intrepid Analytics with its clinical trial recruitment tool, a dermatology consultation app Derma2go, a digital health app builder specialising in skincare Haut.AI, and a dermatology search engine called AutoDerm.
In the main hall, Bayer's G4A challenge took centre stage, another programme focused on linking digital health start-ups with investors.
An example of those presenting was Upside Health, a chronic pain-focused digital health start-up. Like a number of the other start-ups presenting - and, indeed, digital health start-ups in general - the condition Upside targets is one its founder has personal experience of.
In Rachel Trobman's case, it has led to the development of the Ouchie app. Since being launched a year ago it has been used by more than 10,000 patients.
A fitting conclusion to the day was a live panel with pharmaphorum's CEO, Paul Tunnah, live streamed so that all the conference-goers could tune in, as well as those watching remotely over the internet.
Day three: Spirit of transformation
Healthware CEO Roberto Ascione began proceedings on day three with a rousing speech.
"Spirit is very important. The transformation of healthcare has only just begun and as it starts to mature, we shouldn't lose the pioneering spirit," he said.
Another point Ascione made is that digital technology should be used to make healthcare more focused on individuals' needs.
"We should aspire to reach a place where technology will humanise healthcare," said Ascione.
Livongo's CEO Zane Burke followed this up with observations that there is still "almost nothing" that offers healthcare in a personalised manner in the same way as tech giants such as Uber, Amazon, and Netflix.
Sadiqa Mahmood from HealthCatalyst discussed harnessing the power of data and what the future looks like.
She cited the example of Formula 1 racing, where around 300 sensors measure all aspects of a car that contribute 10TB data points for each race weekend for a racing team.
To create a true 'digital twin' for a patient, Sadiqa argued that we need a combination of patient-reported outcomes, wearables and other sources.
The last start-up to present to the panel was Sonde Health, which has a voice-based tech platform.
Co-founder Jim Harper finished the conference on a suitably optimistic note, observing that voice is the third wave of technology, after desktop computing and then mobile devices, and brings us into a 'Star Trek' era of tech.
In the slightly nearer future, Frontiers Health will return in 2020 on November 11-13, with either Milan or Berlin being the venue depending on a decision taken by the Frontiers team in the coming weeks.
• Revisit pharmaphorum's live coverage of Frontiers Health 2019